2017 First Place: Alexandra Kindahl, a psychology major with a certificate in LGBT studies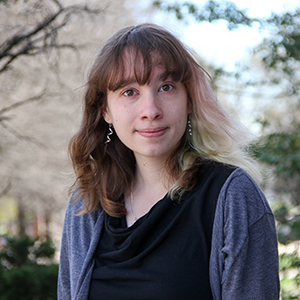 "At the University of Maryland, I have been able to continue my pursuit of fiction through creative writing classes offered by the English department, and am currently in my third seminar. The Honors Humanities program has also been invaluable for my development as a writer, giving me the opportunity to work on a two-year humanities-related project, and to receive feedback from professors and teaching assistants. 
I chose to combine my passions for fiction writing and psychology (my major), and wrote a young adult novel about mental illness. I am currently in the editing process. This the award will help me to pursue my passion for fiction and further improve my ability to write," Kindahl said.
Read Kindahl's winning entry, "Planned Missingness."
Alexandra Kindahl is a junior psychology major also pursuing a certificate in LGBT Studies.  She currently works as a research assistant for the Social Identity Research Team, and is involved in research on LGBTQ+ communities and other marginalized groups. She is a member of the Primannum and Phi Kappa Phi Honor Societies, and served as co-facilitator for a small group of UMD Pride Alliance for three semesters. While at the University of Maryland, she has won third place for prose in the 2017 Jimenez-Porter Literary Contest, and second place for poetry in this contest in 2016. She also completed the Honors Humanities program and received the Honors Humanities Keystone Prize in 2016 for her keystone project, a young adult novel about mental illness. She has participated in several TerpService days on campus, volunteering at A Wider Circle Center for Community Service. After graduation, she intends to pursue graduate study in psychology and continue writing fiction.
Runner-up: Elizabeth Geary, a criminology and criminal justice major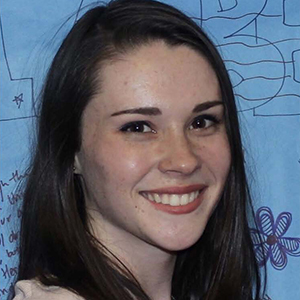 "The story I submitted is based off of one of the photographs my teacher showed us of a bridge over a pond. I wrote a short excerpt about a brother and sister who would take turns jumping off of the bridge as a rite of passage. After writing that excerpt, it inspired me to write this short story. I felt an incredible rush of creativity which I had not felt in many years. I never turned it in for a grade, but I treasured it," Geary said.
Read Geary's second-prize entry, "San Francisco."
Elizabeth Geary is a freshman majoring in Criminology and Criminal Justice. She also plans to add a double minor in Professional Writing and Law and Society. Outside of class, she is in the Pre-Law Fraternity Phi Alpha Delta and is an active member. After graduation, she plans on attending law school and working with the Innocence Project to overturn unjust convictions.