Class of 2020, we want to celebrate you! Share your favorite memories, post photos, messages, and plans for the future using #UMDgrad on your social media for a chance to be featured during #UMD's virtual commencement. Tag BSOS with #bsosgrad20 so that we can showcase you during the college ceremony, too!  Deadline is Monday, May 11th!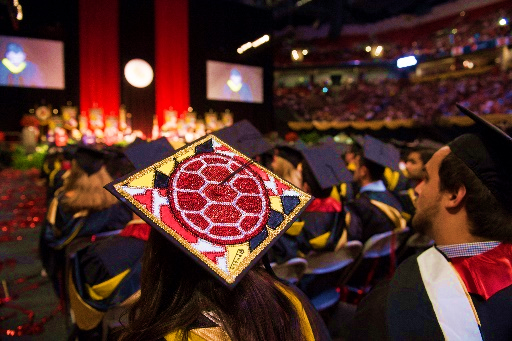 Congratulations on your upcoming graduation! While we can't celebrate in person this Spring, we are still making plans to recognize the accomplishments of our resilient graduates, including:
Virtual Campus-Wide Ceremony
Friday, May 22, 2020 / 1:00 p.m - 2:30 pm
The University's virtual commencement will be streamed live across multiple platforms. It will include remarks by graduating students and a commencement address by The Hon. Steny Hoyer (class of 1963 and former SGA president), the Majority Leader of the U.S. House of Representatives.
At this ceremony, President Wallace Loh will confer degrees to the graduates. He will also confer honorary doctorates to the first African-American male undergraduate student admitted to UMD in 1951 and to the first African-American female student admitted in 1955.
For more information for this virtual ceremony and for planned in-person recognition events for the Class of 2020 later in the fall, visit commencement.umd.edu.
BSOS Ceremony
Following the campus-wide virtual ceremony, BSOS and the other colleges and schools will also stream ceremonies. For general information regarding the college commencement ceremony, please contact the Office of the Dean at 301.405.8746 or bsosdeanevents [at] umd [dot] edu
Football Game Recognition
September 12, 2020
Complimentary tickets for graduates and guests to the home football game. Further details are forthcoming. 
Winter Commencement
December 20, 2020
Invitation for graduates and their families to attend and participate in the December 2020 in-person commencement ceremony. Further details are forthcoming. 
---
Graduation Checklist:
---
Regalia
Regalia is required. The University Book Center is the official supplier of commencement regalia for the university.
 
---
Photos
Each graduate participating in the campus-wide commencement ceremony will receive color proofs by mail approximately two weeks after commencement. There is no obligation to purchase prints. For more information, contact GradImages at 800.628.4509 or visit www.gradimages.com
Q: Do I have to apply for graduation?
A: Students who will be finishing degree requirements this Spring 2019 and intend to graduate must apply for graduation. The Application for graduation is due Friday, February 8, 2019 electronically via Testudo.
 
Q: Do I have to attend either of the commencement ceremonies?
A: Participation in the campus-wide and departmental ceremonies are encouraged, but not mandatory. If a student chooses not to participate in the commencement ceremonies, he/she will still receive their diploma.
Q: I am a double major. Which ceremony do I attend?
A: Students can choose to attend both departmental ceremonies, only one ceremony, or neither.  Attendance is at the discretion of the student.
Q: Will I receive my diploma at graduation?
A: No, you will not receive your diploma at graduation. Your diploma will be sent to the diploma mailing address specified at the time the student's application for graduation was submitted.  If a diploma mailing address was not specified, the diploma will be mailed to your permanent address.
African American Studies
  Contact: Marci Deloatch, 301.405.1167, mdeloatc [at] umd [dot] edu
 
Anthropology
  Contact: Erik Hanson, 301.405.1436, ehanson [at] umd [dot] edu
 
Criminology & Criminal Justice
  Contact: Diane Hou, 301.405.4729, ccjsevents [at] umd [dot] edu | CCSJ Commencement Website
 
Economics
  Contact: Shanna May, 301.405.7845, econcommencement [at] umd [dot] edu | ECON Commencement Website
 
Geographical Sciences
  Contact: Amanda Hoffman Hall, 301.405.4073, geog-advise [at] umd [dot] edu | GEOG Commencement Website
 
Government & Politics
  Contact: Gracie Riley, 301.405.4124, griley1 [at] umd [dot] edu | GVPT Commencement Website
 
Hearing & Speech Sciences
  Contact: Kristina Milvae, 301.226.8814, kmilvae [at] umd [dot] edu | HESP Commencement Website
 
Psychology
  Contact: Lori Kader, 301.405.5866, psycadvising [at] umd [dot] edu | PSYC Commencement Website
 
Sociology
  Contact: Nicole De Loatch, 301.405.6389, ndeloat [at] umd [dot] edu
 
Joint Program in Survey Methodology
  Contact: Jody Williams, 301.314.7955, jodywill [at] umd [dot] edu
Please note: The Environmental Science and Policy Program graduates should attend the following ceremonies:
Global Environmental Change – Geographical Sciences
Land Use – Geographical Sciences
Marine and Coastal Management – Geographical Sciences
Politics and Policy – Government & Politics
Society and Environmental Issues – Sociology
---