College of Behavioral and Social Sciences
Winter Commencement Ceremony
12 p.m. on Wednesday, Dec. 21 ~ XFINITY Center 
---
---
---
---
Information for Graduates 
Arrival Time and Checking-In:

Graduates please arrive at The Xfinity Center's Pavillion (Small Gym) between 11:00 and 11:15 a.m. on Wednesday.
 There is a ceremony before ours so please do not arrive before 11:00 a.m. Any students arriving later than 11:30 a.m. may not be seated with their classmates. 
Regalia:
Regalia is required. All graduates must be in regalia to be included in the procession of graduates.
Active duty military can wear their dress uniforms instead of regalia. 
Honor cords and medals are placed on top of the stole. 
The hood should be put on last (on top of the stole with honor cords). The button loop on your hood should be facing down.
Ceremony Information:  
Commencement programs will be placed on your seats.
You are not allowed to carry bottles, food, beverages, etc.
Please remember to silence your cell phones.
Graduates' names will be read and graduates will walk across the stage at the BSOS ceremony.

You will hand you name card to the name-reader as you walk onto the stage. As your name is read, you will cross the stage to shake the hand of Dean Gregory Ball and your department chair and a photograph will be taken.  Then you will return to your seats.

Students will not receive their diplomas at Commencement. Participation in this commencement does NOT mean you have been finally cleared for graduation.

Students who clear for graduation will receive diplomas in eight to ten weeks.
Students who do not clear for graduation will receive written notification from the dean's office.
Photos: 
Photos will be taken before and during the ceremony. While there is no obligation to purchase the prints, graduates will receive color proofs by mail approximately two weeks after commencement. In order to receive the proofs, please make sure that you complete the company's address card, which will be distributed in the line-up area prior to the procession. For more information, contact GradImages at 800.628.4509, or visit www.gradimages.com.
 
Please ask your guests to be seated by 11:55 a.m. The ceremony will be 90 minutes to 2 hours in length.
There will be a BAG CHECK upon entrance to the Xfinity Center.  Please encourage guests to leave bags at home or in the car where possible in order to expedite entry for everyone. Please note that no strollers or backpacks will be allowed in the Xfinity Center.
Ticket Information: 
Tickets and RSVPs are not required, however we do request that you limit your number of guests to approximately 6 per student.
Disability Services: 
Disabled parking can also be found in Terrapin Trail Garage (TTG) or Lot 6. Level 3 has a ramp leading directly into the Xfinity Center without stairs.
Wheelchair seating can be found behind Sections 106-109 by Heritage Hall on floor 2. Disabled guests may have ONE family member sit with them (seating is limited).  
Floor of Xfinity Center: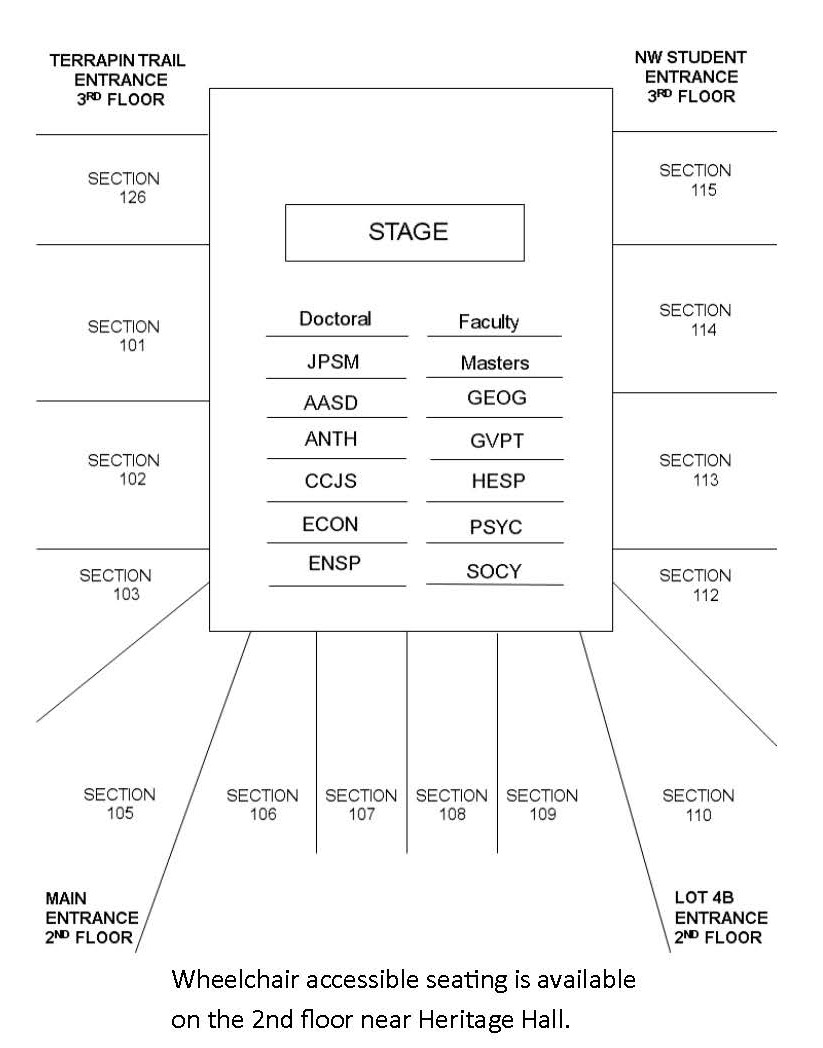 To Xfinity Center from Beltway: 
Take Exit 27 and then follow signs to Exit 25 (U.S. 1 South toward College Park). Proceed approximately one mile south on Route 1; take the exit for 193 West (University Boulevard). At the first light, turn left onto Paint Branch Drive. The Xfinity Center will be on your right.
Parking is open and free on commencement days. Please do not feed meters or park in fire lanes. Please do not park in accessible spaces unless you have a handicapped-accessible placard or license plates.
Commencement Speaker
Nela Richardson, ECON Ph.D. '05
Speaker bio
Commencement Student Speaker
Annie George, GVPT
Speaker bio
The University's Commencement ceremony will be held at 6 p.m. Tuesday, Dec. 20 in the Xfinity Center. For more information, contact events [at] ur [dot] umd [dot] edu, or call 301.405.4638.
For more information—and for assistance regarding special accommodations, including sign language services—please contact Michelle Slone at BSOSdeanevents [at] umd [dot] edu or 301.405.8746.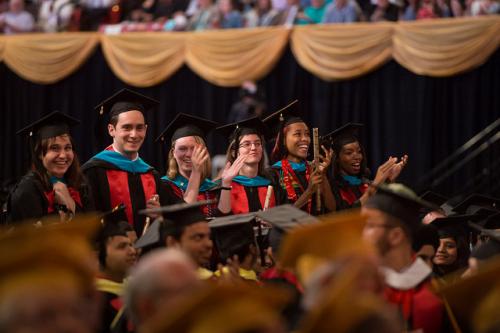 [[{"type":"media","view_mode":"media_large","fid":"2334","attributes":{"alt":"","class":"media-image","height":"364","width":"480"}}]]
[[{"type":"media","view_mode":"media_large","fid":"2529","attributes":{"alt":"","class":"media-image","height":"320","width":"480"}}]]