Thank you for your interest in the University of Maryland's Summer Research Initiative (SRI). This summer program is supported by the College of Behavioral and Social Sciences, the Graduate School, the Office of the Provost, the Division of Research, and other University of Maryland, College Park partners.
The 2023 program dates are Monday, June 5, 2023 - Friday, July 28, 2023. All participants are required to arrive at our College Park campus on Saturday, June 3rd for the required 2-day pre-program orientation.
The 2023 BSOS SRI will be an in-person experience.  We are excited to once again host students on our campus and deliver an engaging in-person research experience.  We will continue to be vigilant in monitoring COVID-19 and to inform you should conditions change.  To protect the safety of our campus community, SRI participants are required to adhere to the university and state of Maryland COVID-19 policies. To learn more information on the University of Maryland's current COVID-19 policies and guidelines, please visit https://umd.edu/4Maryland.
The 2023 BSOS SRI Application is closed. Please direct any questions or concerns to the SRI Coordinator, Brittney Robinson at (brobins7 [at] umd [dot] edu)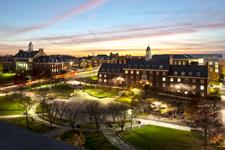 For questions or more information, please contact SRI Coordinator, Brittney Robinson, at brobins7 [at] umd [dot] edu