Dr. Kumea Shorter-Gooden, BSOS Alumna and UMD's Chief Diversity Officer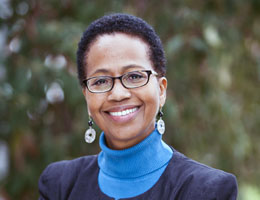 The College of Behavioral and Social Sciences is proud to count Dr. Kumea Shorter-Gooden, Ph.D. '78, the University of Maryland's inaugural chief diversity officer and associate vice president, among its distinguished alumni. Dr. Shorter-Gooden heads the Office of University Diversity, working with UMD's academic and administrative leadership and advising President Wallace Loh on a number of issues related to diversity, collaboration and community building.
Dr. Shorter-Gooden said her priorities in this key position include helping all students, staff and faculty members successfully navigate in and contribute positively to a diverse, global society, while at the university and beyond.
"Dr. Shorter-Gooden brings a wealth of relevant higher education experience and she has written cogently about the challenges and opportunities related to creating a diverse educational environment in which we all benefit," said Assistant Dean Kim Nickerson, who heads BSOS's diversity initiative. "The College is especially fortunate to have a university leader who understands the unique contributions of social and behavioral science to the overall national science, technology, engineering and math training efforts, as well as the unique needs and challenges we must explore to arrive at solutions."
Among the many ways Dr. Shorter-Gooden has demonstrated her dedication to the student body and to BSOS, she has helped the College welcome and inspire its Summer Research Initiative (SRI) scholars and their faculty mentors. The SRI reflects both BSOS's commitment to diversity and its mission to seek solutions to the world's great challenges through research, learning and collaboration. The program—which focuses on increasing the number of underrepresented minorities who pursue graduate degrees in the social, behavioral and economic sciences—brings 12 outstanding students to the University of Maryland College Park campus for an eight-week program. Participants work side-by-side with faculty mentors on a guided research project, attend weekly seminars and visit premier research institutions in the area and present their work at a poster session at the conclusion of the program. Dr. Nickerson said students and faculty are honored to have Dr. Shorter-Gooden show her support.
As a BSOS student pursuing a Ph.D. in clinical/community psychology, Dr. Shorter-Gooden worked closely with her mentor, Forrest Tyler, now a professor emeritus. Dr. Tyler's primary focus has been the development of psychosocial competence perspectives and their application to understanding and enriching human activities within individual, community, ethnic and racial and cultural contexts. Dr. Shorter-Gooden's dissertation was on identity and locus of control in African American women activists.
Dr. Shorter-Gooden said that while she appreciated the opportunity to work with dedicated faculty members and felt reasonably confident in her academic discipline, the campus culture in the 1970s was challenging for her and was not as welcoming as it is today
"The Psychology Department was a good home for me. At the time, there was notable diversity amongst the faculty and graduate students, and along with it, opportunities to be mentored by African American faculty. I had tremendous support from Forrest Tyler and the good fortune to be taught by Ellin Scholnick and Bob Steele," Dr. Shorter-Gooden said. "However, I didn't feel connected or well integrated into the rest of the campus. The racial and ethnic diversity on campus was minimal and there was a sense of not being fully welcomed as an African American woman."
While her time as a Ph.D. student at UMD was not always easy or comfortable, Dr. Shorter-Gooden said the overall experience helped prepare her for her successful career and her current role at the University.
"My focus on both clinical and community psychology has been central to my career. I am a licensed psychologist, but my work as chief diversity officer speaks to the 'community' side," she said. "My interest, nurtured in BSOS, in understanding organizations, communities and neighborhoods and in making systemic changes that foster psychologically healthy environments; that's what led to my becoming a chief diversity officer."
Dean John Townshend said he is proud to have an accomplished alumna in this key role, and looks forward to working with her to continue fostering diversity within the college and the university. "BSOS is committed to diversity and to building a truly global community and we are exceptionally proud that our highly dedicated and accomplished graduate, Dr. Kumea Shorter-Gooden, has excelled in this groundbreaking position," he said.