Eligibility
All students who will be juniors or seniors in Fall 2021 are eligible for the Summer Research Initiative. The University of Maryland has a strong institutional commitment to the principle of diversity.  In that spirit, we are very interested in receiving applications from a broad spectrum of individuals, specifically African American, Hispanic, and American Indian students.Applicants must also meet ALL of the following requirements:
Be citizens or permanent residents of the United States;
Be enrolled full-time at an accredited four-year higher education institution and obtain junior or senior status in the Fall 2021 academic year;
Demonstrate an interest in pursuing graduate study in one of the behavioral or social sciences;
Will have taken a basic statistics or research methodology course; and
Possess an excellent academic record including a 3.0 or better cumulative GPA.
SRI Expectations for Participants
The Summer Research Initiative is a full-time, 40-hour-per-week commitment; therefore, students should not register for any summer classes or hold employment during the 8-week program period.  Participants are required to attend all virtual seminar series and program events, meet virtually with mentors regularly, and complete all scheduled assignments. They will be expected to prepare a poster presentation of their research topic at the end of the program session.
Financial Support
Students will be provided a $3,000 stipend (before taxes).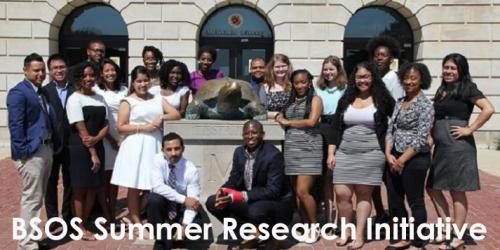 2021 BSOS SRI Virtual Program Dates 
The review period is from February – April 2021 and selection announcements will be made beginning April 2021. 
The 2021 SRI program will be all virtual and runs for 8 weeks, from Monday, June 7, 2021 - Friday, July 30, 2021.