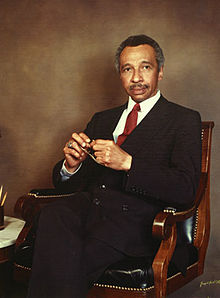 The College of Behavioral and Social Sciences honors the achievements and legacy of one of its most cherished alumni, the late Parren J. Mitchell. Congressman Mitchell was the first African-American student to take graduate classes at the College Park campus, and went on to become a noted civil rights leader, Maryland's first black member of Congress and a founder of the Congressional Black Caucus.
His fearless advocacy for his own continued education and the education of all people was instrumental in the integration of the University of Maryland in 1950. After returning home from World War II with a Purple Heart, Congressman Mitchell attended Morgan State University.  As he looked to continue his education at the master's level, he was recruited to be part of a series of test cases brought by NAACP lead counsel Thurgood Marshall and University of Maryland School of Law alumnus Donald Murray, which was ultimately successful. Parren Mitchell finished his master's degree in Sociology, with honors, in 1952. Congressman Mitchell stated later in his life that his sociological training shaped his activism in politics and social change.
Watch the video about Congressman Mitchell's extraordinary life and legacy produced by BSOS.
Read the University Archives Terrapin Tales' "Trailblazers" web series on Congressman Mitchell.
On April 29, 2014, The Critical Race Initiative (CRI), under the auspices of the Department of Sociology at the University of Maryland, held a symposium honoring Congressman Mitchell. The symposium employed critical race theory as a framework to examine the legacy of Congressman Mitchell by: chronicling past events at UMD and the state of Maryland that helped establish the landmark Brown v. Board Education Supreme Court decision; addressing current practices, strategies and policies aimed to transform barriers to graduate education for racial/ethnic minorities and eliminate racialized experiences on campus; and discussing future possibilities for UMD to increase minority student representation and become a positive presence in local minority communities, including Prince George's County and Baltimore.
This symposium focused on the structural and interpersonal barriers that members of minority groups face in higher education. It was moderated by sociologist and Distinguished University Professor Patricia Hill Collins, with panelists Odis Johnson (Interim Chair of the African American Studies Department), Sharon Fries-Britt (Associate Professor in the College of Education), Julie J. Park (Assistant Professor in the College of Education) and Kumea Shorter-Gooden (Chief Diversity Officer and Associate Vice President and BSOS alumna). These distinguished participants discussed key gateways of the education pipeline as minorities transition from students to professionals.
This symposium also focused on how Congressman Mitchell's legacy speaks to the importance of continuing the pursuit of racial equality through institutional policies aimed to address systemic inequities in higher education.