Dear Prospective SRI Applicant,
Thank you for your interest in the University of Maryland's Summer Research Initiative (SRI).  This summer program is supported by the College of Behavioral and Social Sciences and the University of Maryland, College Park. 
The application for the 2019 SRI will be available from November 1, 2018 to February 10, 2019 (letters of recommendation and transcripts must be received by March 1, 2019). Applications will be reviewed February – March, 2019 and selection announcements will be made beginning in April 2019. 
The actual program runs 8 weeks, from June 3, 2019 – July 26, 2019. Students are required to arrive on campus on Saturday, June 1 for mandatory Saturday and Sunday program orientation, but SRI programming will officially begin on Monday, June 3.
The 2019 SRI application is offered in conjunction with the Big Ten Academic Alliance's Summer Research Opportunity Program (SROP).  Applicants must first complete the SROP common/shared online application.  Applicants interested in the UMCP BSOS SRI must be sure to select "The University of Maryland" as one of the top three institutions that they are considering for graduate study.
After applicants have completed the common/shared BTAA SROP application, in order to specifically apply for the BSOS SRI, applicants must also answer supplemental questions through the UMD SROP Supplemental Questions form.
For technical problems or questions about the Big Ten Academic Alliance (BTAA) common application, please contact the BTAA SROP Coordinator at srop [dot] coordinator [at] btaa [dot] org. 
For more information about the Summer Research Opportunity Programs offered at the University of Maryland, please visit our UMD SROP website.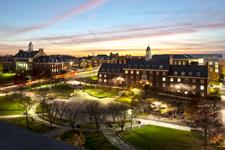 For questions or more information, please contact Mr. Joel Saunders at 301.405.1097 or bsossri [at] umd [dot] edu.