Location
Virtual - ZOOM Link to be provided after registration
There is one simple way to convey credibility and relevance without saying a word: your personal image.
Research shows it takes mere seconds to form an impression. There are no second chances to convey credibility and relevance to pitch clients, persuade decision-makers, or negotiate resolutions. 
In this workshop, you will:
Learn how color & accessories are your free-pass to update your wardrobe.
Receive wardrobe tips for virtual meetings and interviews.
Consider implementing sustainable consumption choices into your closet.
Learn how to create a wardrobe without breaking your budget.
Learn simple & powerful steps for looking workplace ready as you go back into your office environment.
This workshop is facilitated through the introduction of "The 4 Pilars of Style" core concepts, self-reflection of your personal image, exploration of practical style options for what to wear in workplace scenarios, and the know-how to adopt sustainable shopping and wardrobe practice. Dare to Wow style coaching is designed to build the infrastructure and roadmap of your wardrobe while remaining agile enough to meet your specific needs wherever you may be in your career path journey.
ABOUT DARE TO WOW
Dare to Wow is a minority, women-owned personal styling and wardrobe consultancy, with a specialized focus in leveraging authentic style for impact-driven leadership.
Driven by our core values of creating personal style wardrobe strategies, we were founded to help professionals committed to being their best version of themselves. Every client that we engage with is an opportunity to improve personal confidence, increase leadership and shifting consumer preferences for a green economy and sustainable planet.
ABOUT YOUR FACILITATOR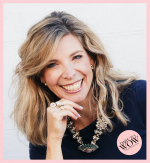 Susana Nudelman Perczek (she/her), Founder of Dare to Wow, style & wardrobe coach. For over 7 years, the core of Susana's work has been styling and coaching impact-driven professionals to leverage their authentic style to consistently show up as their best selves. Susana believes that it is easy for your personal style to get lost in the complexity of your responsibilities. When this happens, your presence loses its essence, and your leadership gets watered down. Prior to launching Dare to Wow, she managed the print production departments for two major advertising agencies and she also dedicated her time to mothering her 2 now young adult children.
Today, Susana works with clients across the professional ladder but with a particular focus on impact-driven leaders.
Raised in Buenos Aires, Argentina, Susana exudes an international flair that infuses her passion for fashion to influence professionals to own their style. She is a graduate of CSUF, former graphic designer & advertising executive.
Cost: 
This workshop is being sponsored and provided to you for free by College of Behavioral and Social Sciences Alumni Chapter Board and an official event of the Alumni Association's 2022 Career Week. Click here to view other events offered during Career Week 2022 coordinated specifically for our UMD alumni! 
For questions, please contact Jenny Kilberg, director of alumni and donor relations at jkilberg [at] umd [dot] edu.