Kathryn Hopps, the program director for experiential learning in the College of Behavioral and Social Sciences, coordinates the college's internship program which includes students from all majors pursuing a broad spectrum of interests. Her students' work sites have included foreign embassies, the U.S. Department of State, local and international NGOs, on-campus centers and offices, private businesses, Capitol Hill, the White House, The Maryland General Assembly and local government offices. Kathryn shares best practices in teaching internship courses and preparing students students to maximize their workplace experiences with faculty and staff and administers the personnel aspect of a cooperative agreement between the college and the National Park Service for the employment of interns. Kathryn serves as the college Gilman advisor and has been a Gilman panelist.  She co-advises the International Student Union.
Prior to joining the college in 2011, Kathryn was a consultant for AMIDEAST and the former executive director of the Hope Fund. Earlier in her career she served as the administrative manager for Cornell University's International Agriculture Program and the Cornell International Institute for Food, Agriculture and Development. She also worked on the developmental aspect of food aid and food security issues as an economist at the US Department of Agriculture. She worked in internal audit for two San Francisco-based banks and for the United Mineworkers Health & Retirement Funds.
A native Californian, Kathryn holds a Master of International Affairs degree from Columbia University where she also received a certificate from the Middle East Institute. She received her B.A. in religious studies from Lewis and Clark College. While a graduate student Kathryn was a resident of International House in New York City. As an undergraduate, she studied abroad in Iran.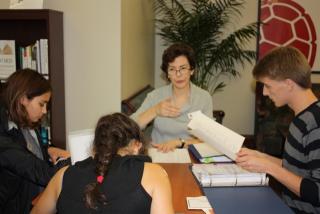 2148 Tydings Hall (office); 2141 Tydings Hall (mail)