On Feb. 5, the Bahá'í Chair for World Peace launched its Spring 2015 events with the semester's first symposium in the series on Structural Racism and the Root Causes of Prejudice. The symposium brought together Dr. Pedro A. Noguera from New York University and Dr. Odis Johnson, Jr. from Washington University in St. Louis to discuss race and inequality in the American education system.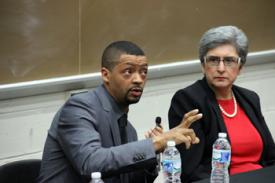 These speakers fully engaged with the more than 100 students, faculty, staff, visitors and campus leaders including Chief Diversity Officer Kumea Shorter-Gooden and BSOS Assistant Dean for Diversity Kim Nickerson, who gathered in Art-Sociology 2203.
The symposium highlighted what the latest research reveals about the racial achievement gap in education. The Bahá'í Chair is interested in exploring the role that schools have in creating a more equitable society. Holder of the Bahá'í Chair, Dr. Hoda Mahmoudi, believes that these scholarly presentations increase our learning about possible strategies toward the role of education in reducing racial inequality and increasing the quality of life for all Americans.
"The quality of education profoundly affects the future lives and well-being of all children," Dr. Mahmoudi said. "Our educational system can have a strong positive influence by ensuring that all students have equal access to opportunities and resources they need to fully develop their talents and capacities and to participate in the American society on an equal footing."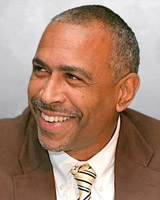 Professor Noguera presented "Racial Inequality and American Education: Policies, Practices and Politics," in which he explored the effect of policies and practices in the effort to close the racial achievement gap in education. His presentation shed light on questions such as how schools can play a role in creating a more equitable society and how the nation's education policies have helped or hindered the promotion of social equality.
"We need to ask, 'Under what conditions are schools able to mitigate the effects of poverty and exert a positive impact on the communities and children they serve,'" Professor Noguera said.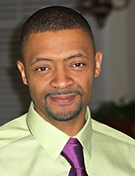 As former interim Chair of the University of Maryland's African American Studies Department, Professor Johnson continues his collaboration with the Bahá'í Chair in its exploration of Racism and the Root Causes of Prejudice. Coming now from the Departments of Education and Sociology at Washington University in St. Louis, Professor Johnson presented "Why did Convergence of the Achievement Gap Stop? Residency, Race & Inequality." His presentation posited the link between African Americans' residential opportunities and the convergence of the achievement gap that has been halted since the 1990s.
"We are in a period of 'Racism of Avoidance' when it comes to education," Professor Johnson said.
As communities across the nation grapple with the social, political and practical questions surrounding education, access, and achievement for the rising generations, the Bahá'í Chair's symposia provide a space for the discussion of the research that can inform the decisions of community leaders, administrators, teachers, families, and all concerned citizens.
Learn more other upcoming Bahá'í Chair events and initiatives.
Feature Image: