In a crowded setting, it would be easy to overlook senior cell biology major James Williams—he's sitting on the sidelines, observing quietly, and not drawing attention to himself.
"Group work in class is not so much a problem," Williams explained. "If I'm talking with someone and there's a purpose to our conversation and we're just trying to communicate information, I don't really have a problem with that. But starting a conversation and just thinking of something to say is the hardest part for me."
As a student on the autism spectrum, Williams is often daunted by the social component of campus life. Difficulty with social interactions is one of the most common symptoms associated with autism spectrum disorders.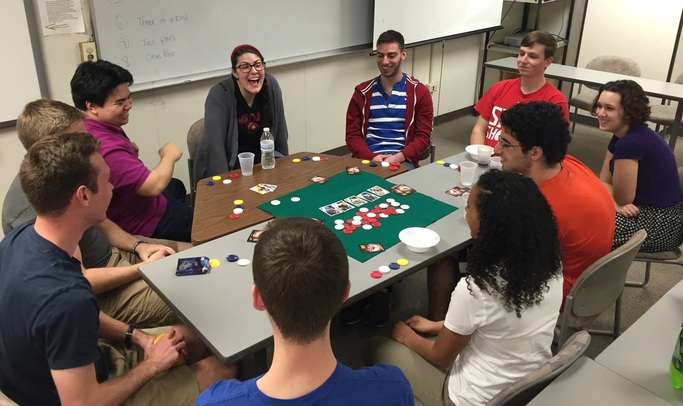 In the fall of 2015, the Department of Hearing and Speech Sciences (HESP) launched a new program designed to help make life easier for Terps like Williams: the Social Interaction Group Network for Students with Autism, or SIGNA. It was created by Kathy Dow-Burger, an assistant clinical professor in HESP and the associate director of the University of Maryland Autism Research Consortium.
"We want to give our students a chance to connect, because they're pretty amazing once you get to know them," Dow-Burger said. "It's not that they don't want to make friends, it's just that they often don't know how."
In SIGNA, students develop communications skills through several "tiers." This involves group sessions that bring together other students on the spectrum, as well as graduate and undergraduate hearing and speech student coaches who receive credit for their participation. SIGNA students also work one-on-one with a HESP graduate student and are paired up with an undergraduate student who serves as a peer mentor.
HESP senior Jessica Nolasco has been meeting with Williams weekly since the beginning of February as a peer mentor. The two catch up over coffee or play games at Board and Brew on Baltimore Avenue.
"A lot of these students want to become more social," said Nolasco, who also has a younger sister on the spectrum. "They want to be involved in these different environments, but they need more tools to be able to do it in a way where they feel more comfortable. So being able to provide that for someone is very redeeming."
For Williams, meeting with Nolasco every week gives him a chance to practice some of the skills and strategies he's been learning through SIGNA. So far, he said, it seems to be helping. 
Bridging the Gap
In its first year, SIGNA served 10 UMD students out of approximately 25 in the student body who self-reported as having an autism spectrum disorder. Dow-Burger said it's difficult to estimate the total number of UMD students on the spectrum, but that the total must be significantly higher than 25.
After working with UMD students on the spectrum as well as their families, Dow-Burger and colleagues realized they needed to reach them sooner—before their arrival on campus, to help ease the transition to life at a university.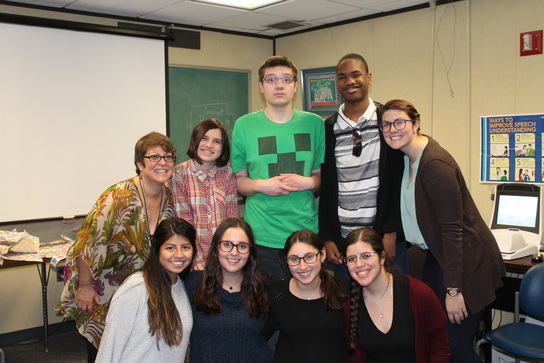 Dow-Burger discovered the Program for the Education and Enrichment of Relational Skills—PEERS®—originally developed by a UCLA researcher to help teenagers and young adults on the autism spectrum improve their social and communication skills. She tailored the program to specifically work with area high school students on the spectrum who are planning to attend a two- or four-year college. The first PEERS® cohort at UMD started in the fall of 2016.
Seventeen-year-old Elie, who asked that his last name be withheld, was accepted into the UMD Scholars program for the fall of 2017, and is currently enrolled in PEERS® at the university. An aspiring meteorologist, he isn't one to shy away from conversation, but struggles with finding the right context.
"With having autism, I'll sometimes say things that normal people would find to be offensive; sometimes, I might start talking about something personal when I really shouldn't be talking about that when I first meet someone," Elie said. "I want to be more social, and I want other people to think better of me. I don't want to say things that might give people negative impressions of me."
After a student on the autism spectrum turns 18, his or her family experiences what's known as the service cliff: when tax-payer funded programs are no longer available.
"That's the scariest thing for me," said Elie's mother, who did not want to be named. "If he fails in high school or does poorly, there are people to help pick him up. But if he does poorly in college for whatever reason, who's there's to help pick him up?"
Both Elie and his mother were happy to learn of the SIGNA program that can help him make connections on campus and reinforce the social skills he's learning through PEERS®. Dow-Burger hopes both the SIGNA and PEERS® programs can grow to give more students like Elie the tools and confidence to be successful at a university like Maryland.
"Without these support systems, I think could lose a lot of very smart students," Dow-Burger said. "We're not valuing their intellect. We're missing out on what they can contribute to the university and to society."
Learn more about how UMD HESP is serving students on the autism spectrum and their families by visiting autism.umd.edu.