Sen. Joseph D. Tydings passed away on Oct. 8, 2018 at the age of 90. BSOS was proud to have interviewed him just a few months prior, on the occasion of the publication of his memoir.
At nearly 90 years of age, former U.S. Senator Joseph D. Tydings (GVPT '51) has no problem jumping back a half-century in his memory to the mid-1960s, when he represented the state of Maryland in the United States Senate—what he refers to as "the Golden Age."
For the last 4.5 years, Tydings has worked with author John W. Frece to put his decades of memories about politics, policy, law and love for his country down on paper—344 pages of paper, to be exact. His memoir, "My Life in Progressive Politics: Against the Grain," was recently published by Texas A&M University Press.
In the book's foreword, former U.S. Vice President Joe Biden writes:
"In reading this memoir, you can't miss the salient parallels to challenges facing our nation today. The issues on which Joe staked his Senate career a half-century ago are the same ones that still require our advocacy and attention. Protecting voting rights. Safeguarding our environment. Pushing back against the forces of inequality that are hollowing out the middle class. Standing up for common-sense gun safety laws."
Senator Tydings visited the University of Maryland on April 30 for an event celebrating his political legacy and the publication of his autobiography. The senator also sat down with us recently in his law office in Washington, D.C., to discuss his book, his career, his life, and his beloved alma mater:
Always Going to be UMD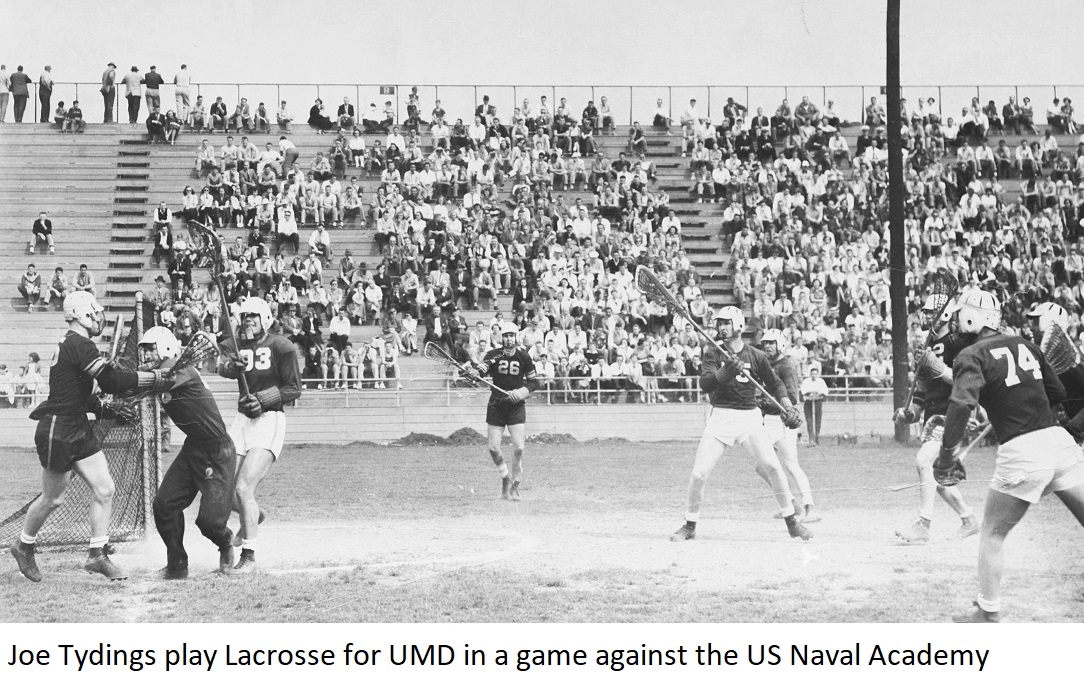 As a star athlete, honor roll student and son of a U.S. Senator, many expected Joe Tydings to attend college in the Ivy League, but Tydings wouldn't hear of it.
"There was never any question in my mind where I was going to go to school," Tydings said. "I was always going to go where my adoptive father went."
Former U.S. Senator Millard E. Tydings, for whom Tydings Hall on the College Park campus is named, attended the university when it was still the Maryland Agricultural College. Millard Tydings married Eleanor Davies in 1935 and adopted her two children, Joseph and Eleanor.
"I came in flying," Tydings recalled. "I had certain things I was set on doing: I was going to get straight As, be on the football squad and the lacrosse squad. I didn't date on campus until my last year."When Joe Tydings arrived at the University of Maryland in 1948, campus looked quite different than it does today. McKeldin Library hadn't yet been built, nor had the Stamp Student Union. The dormitories and Armory were bursting at the seams after the passage of the G.I. Bill and the end of World War II created an influx of students. But young Tydings was laser-focused on his future.   
As one would imagine, Tydings was heavily involved in the student government during his time at UMD and served as student body president. He also helped start a chapter of the Young Democrats on campus before graduating with a degree in government and politics and moving on to attend the University of Maryland School of Law.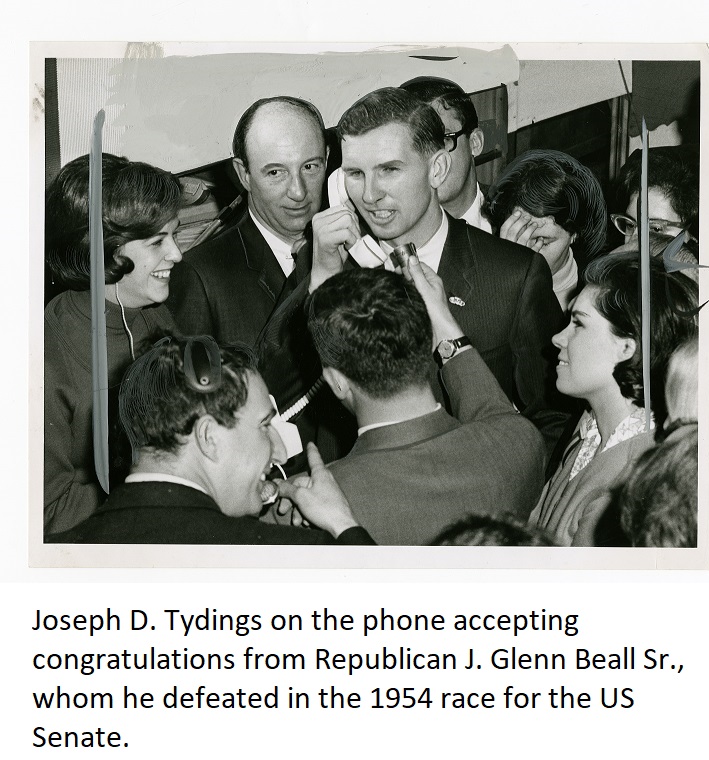 Progressive Politics
Even before attending UMD, Joe Tydings aspired to follow in his father's footsteps and seek election to public office. He served in the Maryland House of Delegates from 1955 to 1961 and as the U.S. Attorney for Maryland from 1961 to 1963. In what was seen as a "changing of the guard" in Maryland politics to a more progressive agenda, Tydings was elected to represent Maryland in the U.S. Senate in 1964.
Tydings describes an experience in Congress that seems foreign by today's standards—members collaborating across the aisle to successfully craft and pass landmark legislation.
 "I was there in the Golden Age," Tydings said wistfully. "We had great Republican U.S. Senators and everybody worked together."
Tydings was one of the main sponsors of the 1965 Voting Rights Act, a groundbreaking law that removed legal barriers preventing African Americans from exercising their right to vote. Tydings counts it among his proudest accomplishments.
Like many men of his generation, Tydings was inspired by the examples set by President John F. Kennedy and Senator Robert Kennedy. Both were personal friends of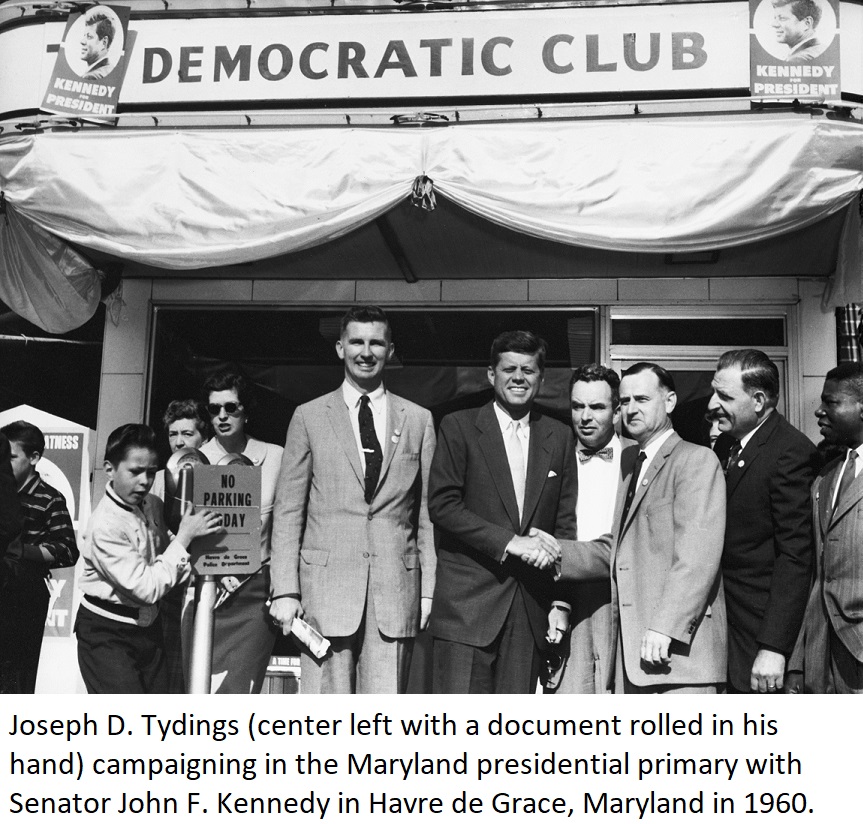 Tydings' at the time of their assassinations. Their deaths were one of the main reasons Tydings became a vocal proponent of common sense gun control legislation—a stance that made him a political enemy of the National Rifle Association and, he believes, cost him re-election to the Senate in 1970.
Today, Tydings still advocates for gun control measures and watched with great interest as the national debate heightened following the recent mass shooting at Marjory Stoneman Douglas High School in Parkland, Florida.
"Obviously what happened in Parkland was horrific but the way the young women and men have taken this and used it as an opportunity to speak out is very heartening," he said. "I think we now really have a chance to get meaningful gun legislation."
Passing the Torch
After losing his bid for re-election in 1970, Tydings went back to work as a lawyer, but never stopped fighting for what he believed in, including the University of Maryland, which he refers to in the book as "one of the great loves of my life." He was appointed to three different terms on the university's Board of Regents by three different governors in three different decades.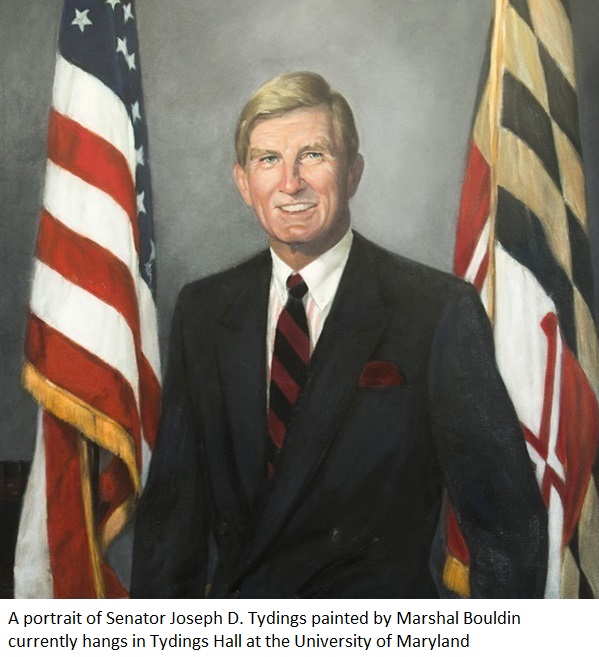 He now serves on the Board of the University of Maryland Medical System.
Senator Tydings concludes his memoir with a letter to his nine grandchildren encouraging them—and members of their young generation—to consider a life of public service. He makes the same plea to current and future generations of Terps:
"Anybody who has an opportunity to get an education at the University of Maryland has a great deal to contribute to the country," Tydings said. "There are so many various contributions you could make and you don't necessarily have to run for public office, but it does help if you're willing to run. Run for the legislature or city council. Take stands on vital issues. It's so important."