With one son attending Maryland, another attending law school and a daughter recently graduating from Syracuse University and entering the workforce in New York City, Joel J. Feller '90 and Kim A. Feller '89 know firsthand the challenges that young people face planning and starting their careers.
The longtime supporters of the University of Maryland will give countless students in the College of Behavioral and Social Sciences a leg up in that process through a new $4 million gift, the single largest donation the college has ever received. The Joel and Kim Feller Advising and Career Center supports academic and career-related programs, as well as dedicated staff members. The center will open this fall in Tydings Hall, following a renovation made possible by the Feller family's gift.   
"In the past few years, Kim and I have realized that there is something missing from the current academic experience. We want students to be prepared for not only the academic rigors of college, but for networking and landing a job," Joel Feller said. "We've seen how important it is for students to connect with talented alumni, to gain exposure to businesses and to real-life work situations."
While BSOS students already work closely with academic advisers, experiential learning experts and career advising staff, Dean Gregory Ball and Associate Dean Katherine Russell saw the need to expand and better integrate career services for BSOS students with existing academic experiences and advising.
"Over the past few years, we've moved from the attitude that these activities outside of the classrooms—internships, workshops, research projects—are optional, useful things to do, and have instead adopted the attitude that these experiences are actually an essential part of a broad education," Ball said. "This means that we need to ensure that we are making these opportunities available for all students."
The Fellers, who met at Maryland, have stayed connected to UMD through his service on the university foundation's Board of Trustees and by attending football games and other events. The couple has given more than $2 million in the past five years to recruit and retain outstanding faculty and to launch a high-profile lecture series in the Department of Government and Politics (where Joel Feller studied), establish a dean's level professorship in the college, establish an endowed scholarship in the MLAW program and most recently, help BSOS enhance career planning services and upgrade Tydings Hall.
The couple had been moved by talks with their children—Jordan, Emily and Cory—as well as with friends whose children have graduated and entered the workforce. The Fellers recognize how economic and social disparities leave some students at a disadvantage and have spoken with BSOS leadership about the importance of making the Feller Center an accessible and equitable resource for all students.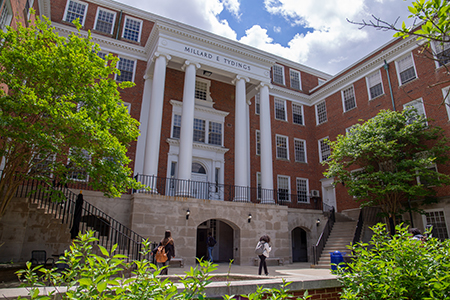 "We want every student to gain advantages and strategic assistance," Mrs. Feller said.
Students visiting the renovated and expanded existing BSOS Advising Center will have increased access to career-related events and opportunities as collaborations between the college and its departments and programs, as well as with the University Career Center, continue to grow.
"Faculty are eager to help students understand the value of what they are teaching in the classroom to future professional goals. Having professional career staff who can work with faculty to highlight the course-specific or curriculum-specific learning that is valued by employers will help students make the connections in their learning that might not be immediately obvious," Russell said.
While the COVID-19 pandemic disrupted learning, teaching and all manner of campus activities, it has already sharpened skills related to technology and virtual engagement. These skills could prove beneficial for advising and career preparation.
BSOS graduates already have favorable outcomes when they apply for their first jobs. In recent years, more than 90% secured employment or grad program entry after graduation. The Feller Center will focus on helping all students fully articulate their knowledge and skills so that they are ready to enter the job market with their strongest presentation of their strengths.
"It is very important to us that graduating students who don't immediately have a job do not feel lost," Kim Feller said. "We want them to have connections, to have a network. We hope that when alumni have opportunities and resources to offer, that they can look to these Maryland students first."
See the full story about this gift, featured on the cover of Be the Solution magazine, here. Illustration by Chris Campbell based on photo provided by Joel and Kim Feller.