On Nov. 1, BSOS and the University of Maryland campus gathered to celebrate the launch of the Center for Geospatial Information Science (CGIS). The CGIS hosted a special inauguration event showcasing both its research and education efforts in the field of geospatial information science, and unveiled its new Center space in LeFrak Hall.
CGIS focuses on a variety of research, including designing next-generation tools for use with geographic information systems, geospatial modeling and simulation, geocomputing, and visualization to address a broad range of applications, including public health, transportation, urban dynamics and atmospheric science.
"Geospatial information and technologies are rapidly expanding into new corners of our everyday experience, and there is an increasing need to include geospatial perspectives in ongoing research as well as educate a new geospatial workforce," said Professor Kathleen Stewart, director of CGIS. "Maryland is particularly well-positioned to play a strong role in geospatial research and education, given its long heritage of innovating in the development and application of geographic information systems for public, government, and commercial uses. This area is where many geospatial technology companies and organizations have built a home and a community."
CGIS is building a strong network of collaborators, including UMD's Institute of Advanced Computer Studies (UMIACS), Human Computer Interaction Lab (HCIL) at the iSchool, National Transportation Center, Center for Substance Abuse Research (CESAR), the University of Maryland School of Medicine, and the University of Maryland Marlene and Stewart Greenebaum Comprehensive Cancer Center, among others.
 CGIS offers advanced research capabilities using the latest theories and tools from geospatial science that are beneficial for partnerships with industry and government labs.
"In the strong t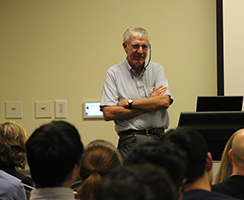 radition of innovation and leadership at the University of Maryland, our efforts are directed toward a future-forward geospatial information science and computational approaches that can expand the reach of geospatial information and these important technologies," Stewart said.
At the event, invited talks were presented by Distinguished University Professor Hanan Samet (pictured at left) and by Professor Harvey Miller of Ohio State University.
Professor Samet offered a demonstration of News Stand, an application being developed at UMD that enables users to search for information using a map query interface. News Stand combines location information with news, weather and other timely topics.
Users could, for example, search for diseases reported in an area when making travel plans, or read a news story about a terror attack in one location, and see a map with related stories linked in other parts of the world.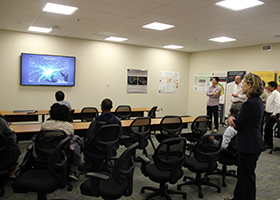 After the presentations, the audience was invited to a reception in the new CGIS space in LeFrak Hall, where researchers and students offered demonstrations and invited participants to view work drawn from ongoing projects as well as learn more about the CGIS's new MPS program in Geospatial Intelligence.