More than 600 people joined the College of Behavioral and Social Sciences for a virtual town hall, "Policing and Racism in America," on June 8 via Zoom.
To watch the full recording, click on the image below.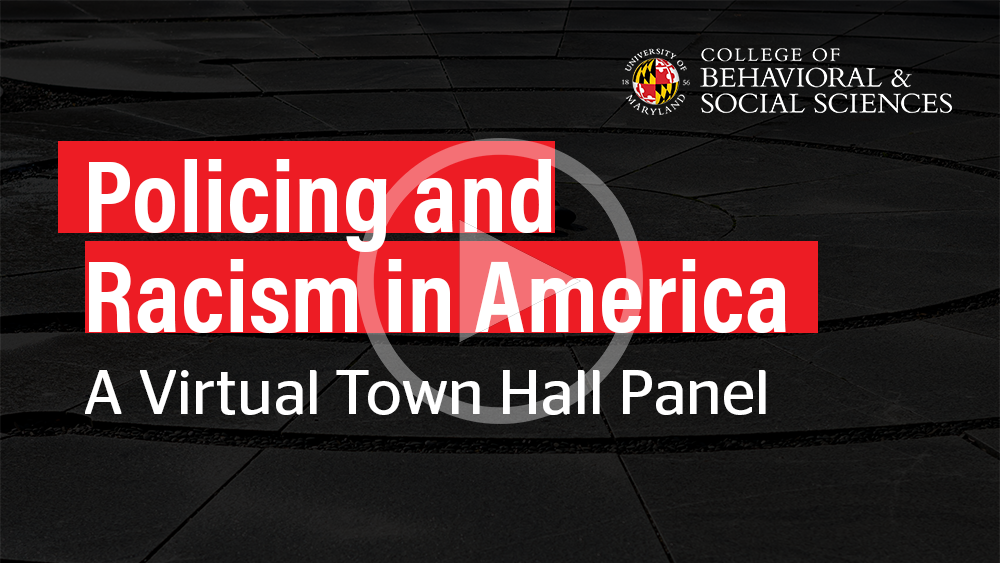 The online event brought together faculty from the Departments of African American Studies, Government and Politics, Sociology and the Bah'ai Chair for World Peace, for an open and candid conversation about complex issues facing the nation including structural racism, police violence and criminal justice.
In his opening remarks, BSOS Dean Gregory Ball pointed out that the recent murders of George Floyd in Minneapolis and Breonna Taylor in Louisville, Ky. at the hands of law enforcement may have served as a catalyst for the town hall, but that the issues central to the discussion are not new and did not start with these tragic deaths.
"Structural racism and how it influences the relationship between law enforcements of various sorts and the African American community have been plaguing the United States throughout its entire history," Ball said. "I do think though, I really do, that we are experiencing a moment now when there is widespread ferment to address these challenges facing our society."
Hoda Mahmoudi from the Bah'ai Chair for World Peace, said, "One simply cannot imagine a new peace without new policing and one cannot imagine new policing without new peace. Peace arises not from being ruled but from when those in authority obey the rules. Lawlessness at the top spreads outward. Lawlessness must be addressed where it first occurs."
Associate Dean for Diversity and Inclusion, Kim Nickerson, charged both panelists and participants with turning the information gleaned from the town hall into action: "No one can do everything but everyone can do something. This goes beyond simply racism and policing. Racism spans our entire society," Nickerson said.
Sociology Professor Rashawn Ray, who served as moderator for the event, affirmed that the U.S. is in the middle of two pandemics – COVID-19 and structural racism – that are colliding at a unique moment in history.
"One pandemic we will hopefully get past with more testing, more triage and a vaccine. The other pandemic, structural racism, it seems like we have never dealt with that," Ray said. "Here at the University of Maryland, we've been trying to do a lot of work in this area."
Panelists discussed how their research and positions in academia can contribute to furthering dialogue, developing policies and implementing measurable societal change.
For example, Dawn Dow, Associate Professor of Sociology and author of the book, "Mothering While Black," talked about her research with upper- and middle-class African American mothers and the difficult discussions Black parents have on a continual basis with their children about how to interact with police officers.
"If black parents are having to have conversations about racism with their children, white parents need to be having them too," Dow said. "These are not optional for us."
Kanisha Bond, a visiting research professor in the Department of Government and Politics who studies social mobilization and political violence, said she has noticed an intersectionality and cohesiveness in the current protests related to Black Lives Matter, that previous movements lacked.
"There is a broader understanding of who is impacted and you're seeing that being reflected in who it is that makes their way out to the streets," Bond said.
Government and Politics Associate Professor Antoine Banks, who studies race and emotion in politics, said that while he is encouraged by the current groundswell of activism, racism is passed down through generations and eradicating it is generally a very lengthy process.
"Attitudes change very slowly and I think we need to understand that it's going to take a lot of work, a lot of institutional work, to change the negative views people have toward African Americans specifically," Banks said.
Panelists also debated different approaches to comprehensive reform for police departments and the criminal justice system.
"I honestly don't think at this time that tinkering with the systems with police reform is going to work. Tinkering with the policies in the criminal justice system hasn't proven to work and we need to offer radical, transformative solutions and envision what we see as a new society and a new America," said Joseph Richardson, a professor in the Department of African American Studies whose research largely focuses on black men who have been violently injured. "We need peace officers, not police officers."
Jason Nichols from the Department of African American Studies, argued that police reform should be modeled after education reform, where faculty members are held accountable by their performance.
"If you are a failing police officer, who has all kinds of complaints and doesn't know the community you're policing, then you should be moved out," Nichols said. "If you are a police officer who is succeeding, you should move up."
Panelists also took time to honor the memory of friend and colleague, Jonathan England, a lecturer in the Department of African American Studies, who died unexpectedly June 1.
"(Jonathan) dedicated his life to equity and justice and the University of Maryland," Nichols said. "He would have loved to be a part of this conversation and, because of my spiritual beliefs, I believe that he is here watching us right now."