The College of Behavioral and Social Sciences is proud to announce that after a competitive national search—and in collaboration with dedicated CIVICUS stakeholders, including faculty, staff, alumni and students—Dr. Korey Rothman has been selected to serve as the full-time director of the CIVICUS Living and Learning Program, effective August 1, 2017. Dr. Rothman served as interim director throughout the 2016-17 academic year and this summer.
"Dr. Korey Rothman is a tremendous leader and community builder," said Associate Dean Katherine Russell. "The College of Behavioral and Social Sciences and the CIVICUS community are so fortunate to welcome a new director who is poised to lead this very successful and important program that teaches students how to be active and engaged leaders in a civil society." 
CIVICUS is a two-year undergraduate academic citation program created around five themes of civil society: citizenship, leadership, community service learning, community building in a diverse society, and scholarship.  One of the program's founding beliefs is that engaged members of a civil society have an obligation to be aware of the world outside of the classroom.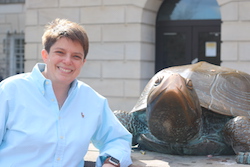 "Through my interactions with CIVICUS students and alumni, I have learned that this is a generation of people passionately committed to leadership, service and making the world a better place," said Dr. Rothman. "As director of CIVICUS, I get to work with and learn from talented students who are dedicated to making a difference in the classroom, on campus and in their communities. I am excited by the opportunity to honor the rich history and strong foundation of CIVICUS and to nurture its future growth and success."
CIVICUS courses and activities are linked with campus, local and national communities. CIVICUS students volunteer with nonprofit organizations, organize community service projects, and take advantage of internship opportunities while part of the program. In addition to working with current and new community-service partners in the greater Washington, D.C. area, and a strong network of stakeholders, Dr. Rothman's responsibilities will include strengthening relationships with campus partners including the University Career Center and the Office of Leadership & Community Service-Learning, and the Do Good Institute.
"CIVICUS students are leaders among leaders—they are presidents of the Student Government Association, board members of the Residence Hall Association, inductees into ODK, and at the forefront of Greek life.  These just a few the wonderful things our students do," said Dr. Rothman. "CIVICUS encourages and empowers students to make an impact beyond the walls of Somerset Hall."