As all eyes were trained on Philadelphia for the Democratic National Convention this July, Hilary Nachem '09 was working to make sure people could follow along with the action through their computers, mobile devices and social media feeds.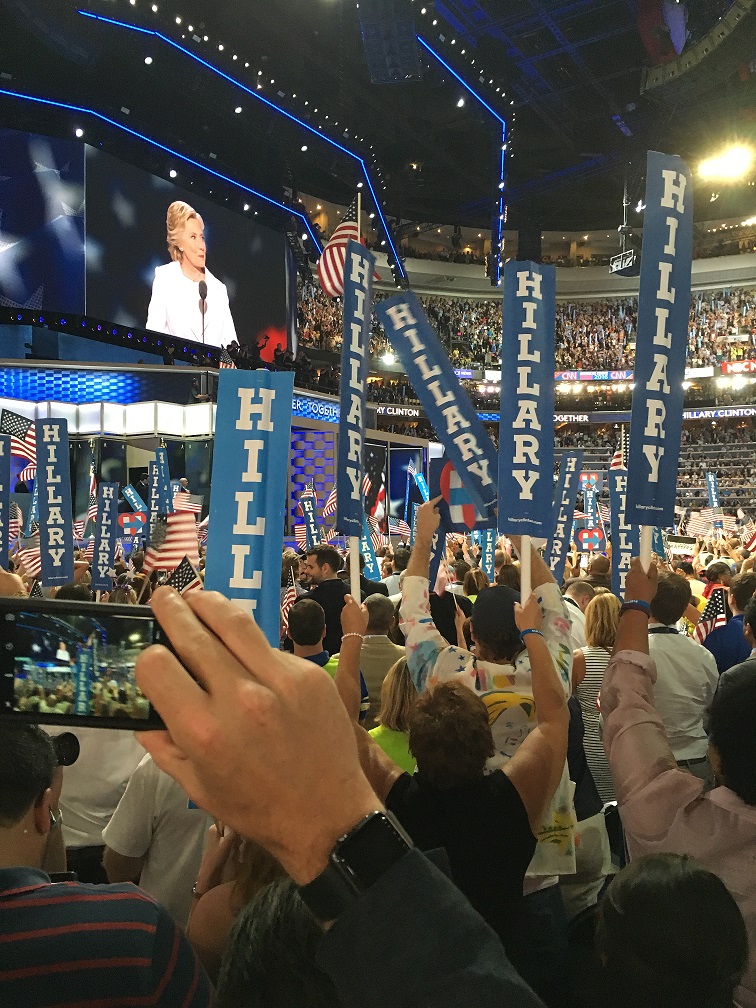 Serving as the teamcaptain for approximately 25 social mediavolunteers during the convention, the alumna of the Department of Government and Politics found no shortage of content to share with the public and had a front row seat for the history-making event.
"It definitely hit me… to think that one day I'll be able to tell folks that I was here when—for the first time ever—a woman became a major party presidential nominee," Nachem said. 
Pairing politics with digital technology is a skill that Nachem has been developing since her time as an undergraduate at the University of Maryland. She held internships on Capitol Hill and with EMILY's List, a political action committee that works to put female, pro-choice, Democratic candidates into office. Nachem eventually ended up working as digital advisor for EMILY's list, helping candidates utilize digital assets and technology to build effective campaign strategies.
"There are a lot of tools now that allow leaders to talk directly to their voters," Nachem said. "You can build your own platform to communicate what a campaign is working towards and communicate directly with the people you want to reach or continue to engage."
In 2012, Nachem led the digital campaign for Sen. Tammy Baldwin (D-Wisconsin), the first female Senator to represent her state and the first openly gay U.S. Senator in history. Nachem now heads up the digital team for political consulting firm Civix Strategy Group based in Concord, New Hampshire. She describes her experiences at UMD as a launching pad for her career in politics.
"I had professors who taught me how to think through problems and the department really pushed me to find internships to build my network," Nachem said. "Everything just grew from there."
Nachem vividly recalls being an intern and attending Hillary Clinton's speech in Washington, D.C. when she officially suspended her first presidential campaign in 2008. On Thursday, July 28th, Nachem was once again in attendance when Clinton officially accepted the nomination to become the Democratic candidate for President of the United States.
"Hillary kept fighting for our shared values, working with PresidentObama to deliver on those campaign promises," Nachem said. "I'm proud to be here as she takes the next step on her path to the White House."