The University of Maryland Department of Economics announces the formation of a new Economics Leadership Council (ELC). This newly appointed council will help promote students, alumni and faculty from the UMD Department of Economics in a variety of areas and elevate the reputation of the department regionally, nationally and internationally.

Specific activities of the ELC will include:
Providing internships and advice to students

Creating student scholarships

Encouraging a diverse population of students to pursue careers in economics

Helping the department attract strong undergraduate and graduate students

Supporting graduate student and faculty research

Assisting the department with outreach to the business, non-profit and policy communities
"I am thrilled at the interest and involvement of our alumni, and would especially like to thank the inaugural members of the Economics Leadership Council. The department is truly fortunate to have such support," said Dr. Maureen Cropper, Chair of the Department of Economics.
Members of the first ELC:
Kabir Chaudhary

(BA '05): Chief Executive Officer & President, NIKA

Ed DeMarco

(PhD '91): President, Housing Policy Council; Former Director, Federal Housing Finance Agency

Nellie Liang

(PhD '86): Senior Fellow, Brookings

Aparna Mathur

(PhD '05): Resident Scholar, American Enterprise Institute

Thomas McCarthy (

PhD '80): Senior Vice President & Managing Director, NERA Economic Consulting

Ahmed Mushfiq Mobarak (

PhD '02): Professor of Economics, Yale University

Frank Nitkiewicz (

BA '83): Executive VP & Chief Financial Officer, Federal Home Loan Bank of Boston

Andrew Palmer (

BA/MA '81,'84): Chief Investment Officer, Maryland State Retirement and Pension System

Gary Rozier (

BA '99): Senior Vice President, Institutional Marketing & Client Services, Ariel Investments

John Sabelhaus

(BA/MA/PhD '82,'84,'88): Assistant Director, Research and Statistics Division, Federal Reserve Board

Robert Satterfield

(BA '95): Senior Vice President, Investments, Morgan Stanley Wealth Management

Todd Snyder

(BA/BS/JD '85,'89,'94): Founding Member, Snyder Kearney, LLC

Chad Syverson (

MA/PhD '98,'01): Eli B. and Harriet B. Williams Professor of Economics, The University of Chicago Booth School of Business

Thomas Teles (

BA '92): Partner, Goldman Sachs, 2006-2018

Mark Turner

(PhD '96): Founder, President, CEO & Principal Research Associate, Optimal Solutions Group LLC.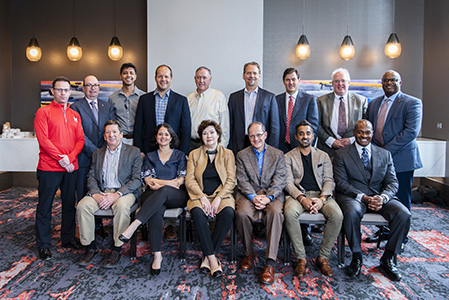 Council members are appointed for a three-year term, which is renewable. Over time, the Department of Economics hopes to expand the number of members on the ELC.
This article was originally published September 4, 2018.