Giovanni Baiocchi, Kuishuang Feng and Klaus Hubacek are the first to use highly detailed consumer data to see how specific segments of the U.S. population impact the environment
Where we rest our head each night; what we eat when we get up in the morning; how we get to work; these and other lifestyle decisions are just as—if not more—telling about our impact on the environment than income, the current go-to for researchers hoping to better understand  individuals' estimated emissions contributions.
This is according to a new, years-in-the-making research paper published in Environmental Research Letters by Department of Geographical Sciences Associate Professor Giovanni Baiocchi, Associate Professor Kuishuang Feng and Klaus Hubacek, a former department professor who is now teaching at the Netherlands' University of Groningen.
Baiocchi, Feng and Hubacek are the first to pair highly detailed data about U.S. consumers' geographical location and lifestyle tendencies with information about their direct and indirect carbon dioxide emissions, shedding light on why researchers tend to see variability when studying the emissions of different income classes specifically. 
"We basically use the same data as marketing people trying to sell products," said Hubacek. "[As a result], rather than one-size-fits-all approaches, we are able to differentiate households based on location-specific variables to better design emission mitigation strategies."
The marketing data the researchers used for this experiment was from the Environmental Systems Research Institute (ESRI) Community Tapestry Segmentation System, a cross-sectional data set in which every census tract in the U.S. is classified into one of 65 descriptively named segments such as "Metropolitans" or "Inner City Tenants." Segment classifications are based on consumers' dominant socioeconomic variables, including income, household size, housing location, population density, housing type, commuting information, education level and race.
"As a discipline, we've started to move to [studying] the demand side of the issue instead of the supply side, and that naturally leads to looking at consumer behavior and different lifestyles. We are trying to find ways to provide information to people on how their activities impact this issue,"  Baiocchi explained. 
Keeping consistent with prior research, the researchers found that the greatest emissions contributors are, indeed, in higher income groups. However, they also found that such high-income contributors tend to live suburban lifestyles accompanied by larger homes, multiple cars, and solo commutes to work.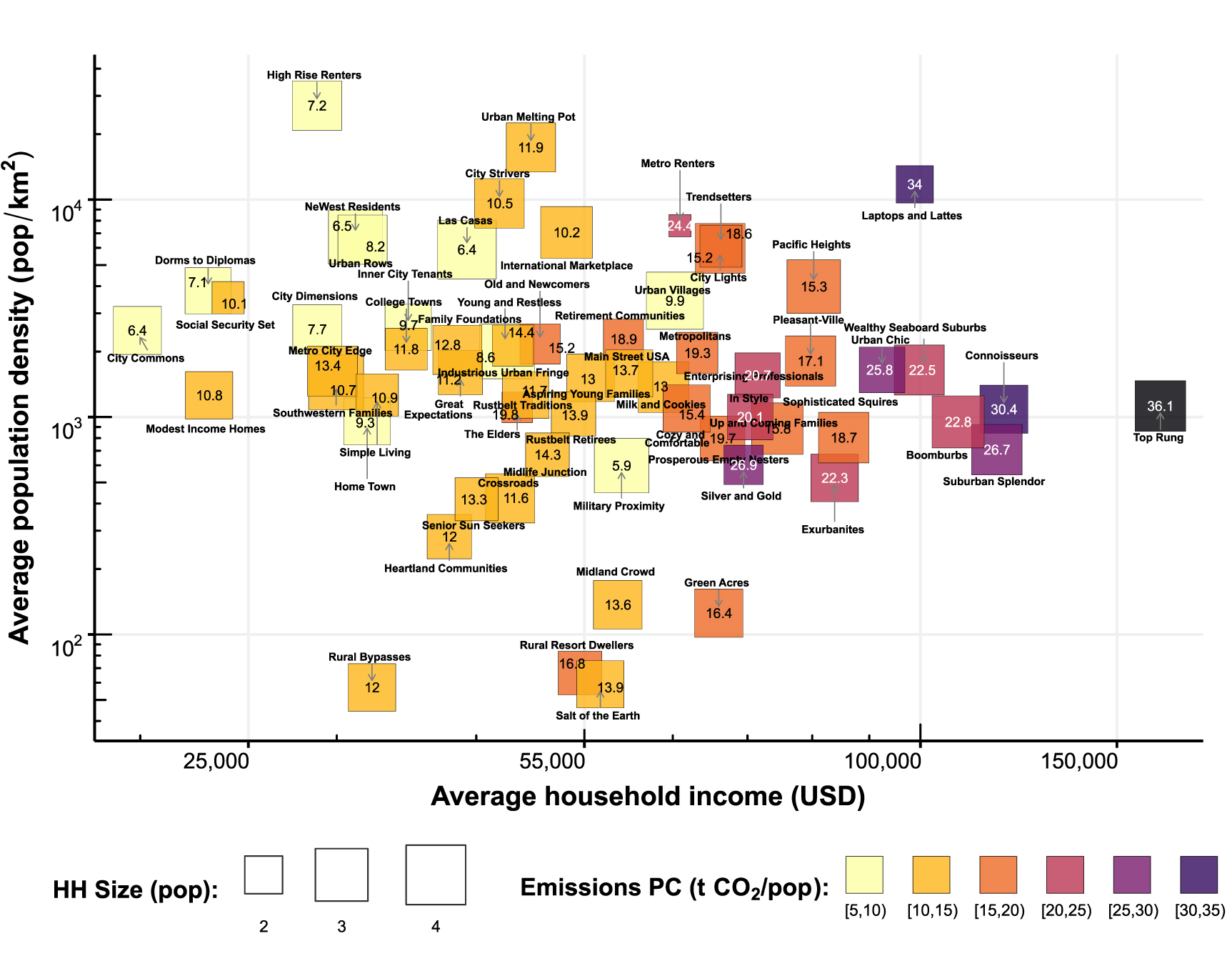 Additionally, they found that exact per capita emissions contributions differed according to the consumers' unique high-income, suburban classification. 
"Although higher income lifestyles tend to have higher carbon footprints, there is a significant difference in household carbon footprint among the lifestyle groups with similar income levels," said Feng. "When we zoom in to individual household groups, other factors, such as population density and household size, play important roles in explaining the differences in household carbon footprint."
For example, although urban consumers who fall in the "Laptops and Lattes," "Metro Renters," "Trendsetters," and "Enterprising Professionals" segments also have relatively high household incomes, their choices often have less environmental impact because they live in densely populated areas in smaller dwellings.
Zooming in further, the researchers found Maryland's most frequent lifestyles to fall into the  "Urban Rows," "Pleasant-Ville," and "Enterprising Professionals" segments; the latter two reflecting a typical, carbon-intensive suburban lifestyle, and the former reflecting a less affluent lifestyle in a high-density environment with smaller living spaces and therefore less environmental impact than the other majorities.
Looking at the College Park community, where the "Trendsetters" and "Dorms to Diplomas" segments are popular, Baiocchi said, "We find that lifestyles' impacts depend considerably on the means of transportation used by this group for their mobility, and that is why providing alternative modes of green transportation could greatly reduce the footprint."
For more information about each of the ESRI segments described in this study, see here. To read the full research paper, click here. 
Main photo by ViewApart courtesy of iStock.