The George and Lisa Zakhem Kahlil Gibran Chair for Values and Peace recently launched a groundbreaking new website that for the first time features current and past Arab women leaders in a searchable directory and database. This innovative tool allows users from all over the world to draw inspiration from Arab women pioneers, and to potentially connect with them on research and projects.
The Pioneers and Leaders Knowledge Center about Arab Women features profiles of women leaders and organizations that promote the interests of women from 15 countries across the Arab world. So far, 210 women and organizations are featured, and users may submit nominations for more women to be added.
"The women we've chosen to feature, past and present, represent various fields and have achieved a diverse array of accomplishments. But they are all women who have overcome barriers, served as role models, and exemplify the values of progress, peace and human rights for all," said May Rihani, director of the Gibran Chair.
The Knowledge Center acknowledges the advancement of Arab women's progress; aims to break stereotypes; supports the empowerment of women and their allies. In addition to profiles of women pioneers, it features facts and statistics about women in the Arab world, and outlines Gibran Chair research aimed at understanding and improving the lives of women in the Arab world.
"The site was designed for knowledge seekers—women, men, policy makers, NGOs, research institues, business people, international development agencies, students, the media, and many others," Rihani said. "There truly is no limit to the amount of women and organizations we can feature, and how their stories and their work will inspire others to make lasting changes in their own communities."
In the coming months, a second phase of the website—known as the Hub—will be launched. Selected users will be able to login in to the Hub and use it as a tool for networking and for international dialogue via chat functions and project-sharing tools.
Both the public-facing website and the Hub portal are pioneering efforts and are part of a bold international project run by the Gibran Chair, Women as Partners in Progress (WPP).
Women as Partners in Progress
Through the WPP initiative and the Hub, Rihani and the Gibran Chair staff and project partners have built an infrastructure that empowers women in the Middle East and in North Africa to identify and prioritize the challenges that they consider most daunting, and to work together to plan strategic actions to overcome them.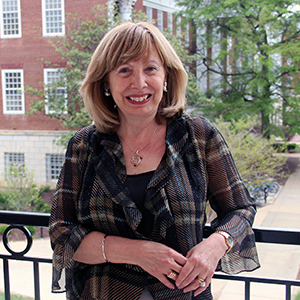 The U.S. Department of State awarded the University of Maryland a two-year, $2.5 million grant to support WPP, a forward-looking platform that promotes women's leadership and gender-inclusive policies in the Middle East and North Africa (MENA). Rihani serves as the principal investigator of the project.
The Gibran Chair, which is housed in BSOS, leads the project in conjunction with three partner organizations—Jossour, a women's rights advocacy NGO in Morocco; World of Letters, a social enterprise promoting youth dignity and equity in the Arab Region, founded in Jordan; and Abolish 153, a women's protection and empowerment organization in Kuwait.
The first phase of WPP, which launched in 2017, focused on sharing quantitative and qualitative knowledge with women leaders about existing research on pathways and obstacles to increasing women's rights and leadership in the Arab world.
This synthesized knowledge served as a basis for the second phase, the organization of knowledge seminars for established and emerging women leaders. The seminars provided participants with the opportunity to discuss the findings of the research.
Participants then focused on key issues they wish to address in their countries, analyzed the constraints they might face, and designed strategic plans of actions.
This process was designed to better equip women leaders with tools to advance priority women's issues in their countries, as well as to organize effective campaigns and build a network across the MENA region supporting gender-inclusive policies.
Selection of the women who participate in the seminars, about 30 for each event, was competitive and rigorous. The three organizational partners and Rihani selected women who came from multifaceted sectors with different points of view; thus, the action steps and solutions they developed were multifaceted and far-reaching.
Knowledge seminars were led by Rihani and the WPP team in Morocco, Jordan and Kuwait in 2018. Participants in these regions chose to tackle pressing issues including violence against women, women in the labor force, laws that need modifications, and the portrayal of women in textbooks.
After the summits, working groups submitted draft plans of action to Rihani, who helped participants focus their work into concrete action items and next steps. Rihani and the WPP team stay in touch with participants online and through Skype calls. The Hub will soon accelerate their work and connections.
"Our virtual Hub will help advance key women's issues and gender-inclusive policies, and will ensure that these activities will grow and achieve greater impact and sustainability in the years to come, well after the project term is over," Rihani said. "We are working for widespread and lasting change."
The third and current phase of WPP is focusing on offering Leadership Workshops and on utilizing the Hub. These two activities will contribute to the empowerment of the women leaders by adding to their strategic leadership skills to challenges they face. The leadership workshops also enhance the effective and strategic decision-making skills of the participants and will strengthen their alliances with men and women, civil society, and the public sector, in order to accelerate collaboration and impact.
The fourth and final phase will increase regional and national awareness regarding selected women's issues in each of the three countries through social mobilization campaigns composed of national and local activities that will engage organizations and government institutions. In addition, the final phase will culminate in a conference for more than 130 participants in order to analyze results and share lessons learned.
"As I look at the Knowledge Center and as I reflect on the knowledge and leadership seminars that we have had so far, I am amazed at the sheer number of women in the Arab world who are boldly working to make an impact on their communities and on the world," Rihani said. "I hope that everyone who interacts with this site will be inspired to connect with others to address challenges at the local level, and at the international level. Women in Arab countries are leading transformational and positive change," Rihani said.