In a new book, Calvert Jones—an assistant professor in the Department of Government and Politics—applies perspectives and lessons from long-ago rulers and societies to decision-making and matters of state in modern times. Bedouins into Bourgeois: Remaking Citizens for Globalization (Cambridge University Press, 2017) examines timely questions for a fast-paced, interconnected world, such as: how are state leaders adapting their citizen-building strategies for globalization? What outcomes are they achieving, and why?
"Bedouins into Bourgeois is essentially about the making of citizens, which is a classic challenge that all states face. While most scholars have addressed it historically—focusing on how states struggled to establish national identities in diverse populations—I examine the problem from a contemporary perspective. I ask: how are state leaders today seeking to shape their citizens? I call the contemporary challenge of citizen-building the making of citizens, 2.0 because it involves a major shift in priorities," Professor Jones said.
In the past, state leaders focused on establishing a basic national identity and preparing citizens for war. But now, state leaders are operating in a more mature international system, where national identities are largely given, war is less common, and the global economy is more competitive than ever, Professor Jones said.
"Making citizens today is much more about adapting them for conditions of globalization. While that goal is a multi-faceted one involving social, ethical, and economic dimensions, among others, state leaders are especially concerned with the economic dimension—the need to prepare citizens to 'fight,' not on the battlefield, but in market economies," she explained.
The book combines in-depth qualitative and ethnographic research in the United Arab Emirates, often in palace and related contexts, with experiments and survey evidence to explore the nature of its new citizen-building campaign.
"What I find, in a nutshell, is that state leaders are succeeding in some areas but not in others. While their social engineering efforts are boosting patriotic and civic attitudes, just as planned, they do not seem to be having the same positive effect on economic attitudes. Indeed, some strategies may be dampening the development-friendly, entrepreneurial mindsets they are keen to encourage in their youth," Professor Jones said.
The book delves deeper into the reasons for these outcomes, emphasizing the paradoxical nature of motivational messages that draw on national pride, praise, and self-esteem boosting. It also explores alternative strategies of social engineering for fostering citizenship in modern times, which rely less on praise and self-esteem boosting and instead emphasize persistence and collective problem-solving.
About Professor Jones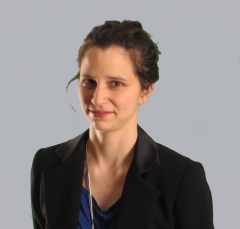 Before joining UMD in 2015, Professor Jones served as an assistant professor at CUNY-City College. She earned her Ph.D. from Yale University in 2013, focusing on comparative politics, the Middle East, and mixed methods.  Her current research examines new approaches to citizen-building in the Middle East, with an emphasis on goals, mechanisms, and outcomes in state-led social engineering efforts. Her peer-reviewed articles have appeared in Perspectives on Politics, Comparative Political Studies, International Studies Quarterly, International Security, and Intelligence and National Security. 
Professor Jones also holds an M.Phil. in international relations from Cambridge University; a master's degree in information management and systems from the University of California, Berkeley; and a bachelor's degree from Columbia University in philosophy and computer science.