Sadat Forum features personal narratives from prominent American citizens, results of poll on immigration views
"Immigrant Stories," hosted April 11 by the Anwar Sadat Chair for Peace and Development, the College of Behavioral and Social Sciences, the Office of International Affairs and the Carnegie Corporation of New York, featured personal accounts from a panel of accomplished immigrants. Created as part of the university's Year of Immigration initiative, the event was held at the David C. Driskell Center.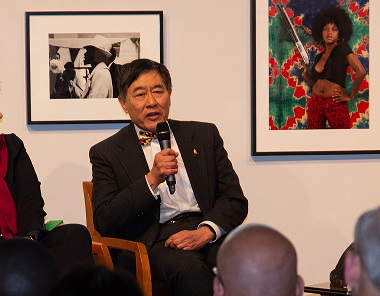 UMD President Wallace Loh shared the story of how he moved with his parents as a young boy from Shanghai, China to Lima, Peru where his father was to serve as an ambassador. Following the Chinese Revolution, Loh's father lost his position and was forced to seek political asylum in Peru. Loh's parents opened a small grocery store to support the family and dedicated their life savings to help Loh attend college in the United States.
"Who would have thought that a 15-year-old coming to this country with $200 in his pocket, the life savings of his parents, speaking hardly any English, would be the President of a major public university in this country? It is not about me. It is about the opportunities that this country provides," Loh said.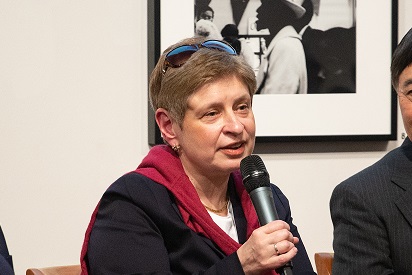 Nina Khrushcheva was born in Moscow and is the great-granddaughter of Nikita Khrushchev, the Premier of the Soviet Union during the Cuban Missile Crisis. She described her journey to the United States in 1991 just before the Soviet Union collapsed. Today, she is a professor at The New School in New York.
"I actually like being 'the other' just to remind my fellow Americans that 'other' doesn't mean bad. Russian doesn't mean bad. Chinese doesn't mean bad. The fact that there is a whole history of the Cold War and I'm a Khrushchev doesn't mean that Khrushchev's speaking through me with his Anti-American pronouncements. Often, you encounter this kind of simplistic understanding," Khrushcheva said.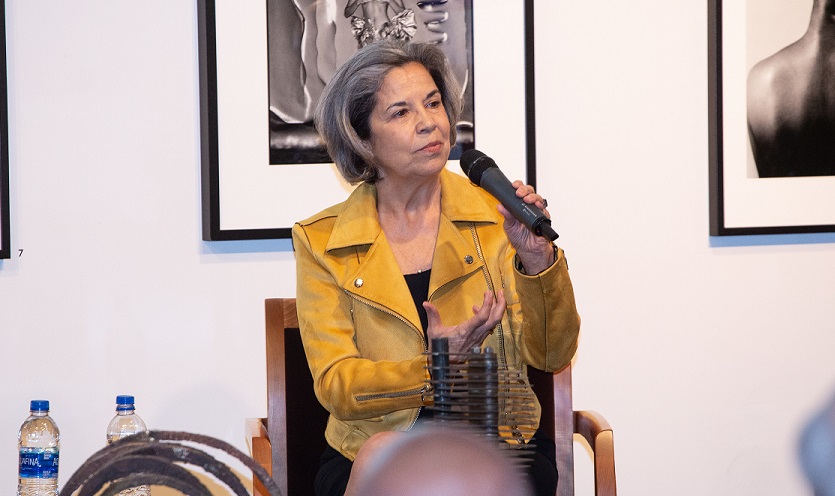 Maria Otero recalled knowing only two words in English when she was 12 years old and her family immigrated to the United States. Otero eventually went on to attend the University of Maryland and became the first Latina Undersecretary of State, serving as the U.S. Undersecretary of State for Civilian Security, Democracy and Human Rights.
"The University of Maryland was for me a place where I think I started to see the world and to understand it," Otero said. "The concept of being an immigrant has remained central to who I am and at some point I arrived at an acceptance that I can provide a great deal to this country and not just feel as if I'm a second class citizen."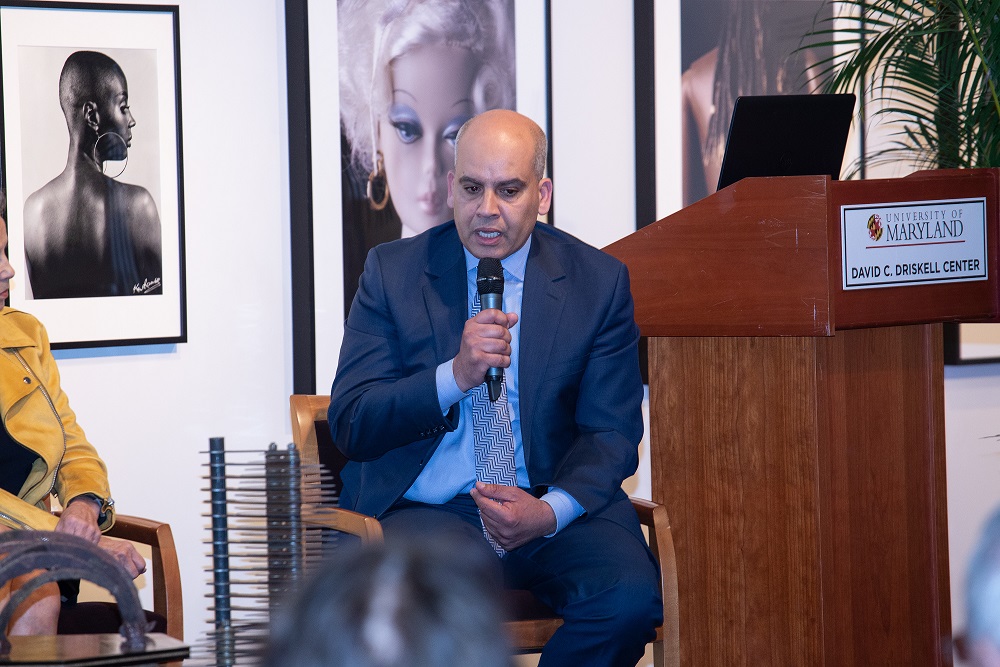 Abderrahim Foukara was born in Marrakesh, Morocco but moved to the United Kingdom where he received a Ph.D. in apartheid studies. He worked for the BBC before coming to the U.S. and now serves as Regional Director in the Americas for Al Jazeera.
"The journey of an immigrant is always an arduous one. The journey of an immigrant who succeeds in a new country is even more arduous," Foukara said.
Shibley Telhami, Anwar Sadat Professor for Peace and Development and Director of the UMD Critical Issues Poll, moderated the event.
"Although immigrants and their descendants make up the majority of Americans, the discourse about immigration in recent years has depicted immigrants as outsiders," said Telhami, who was born in Israel but has lived his entire adult life in the U.S. "This panel of outstanding Americans, who have contributed substantially to American society, tells the stories—so common in American history—of immigrant paths that have made America great."
Watch the full video of the event here.
Immigration Attitudes
During the Immigrant Stories event, Telhami also presented findings from a new University of Maryland Critical Issues Poll, which probed American attitudes on a variety of issues related to immigration, including the controversial separation of migrant families.
Findings from the poll, conducted with a nationally representative sample of 3,015 respondents March 15–April 2, include:
49% of Republicans surveyed said separation of migrant families at the US/Mexico border is acceptable, compared to 5% of Democrats and 18% of Independents.

54% of people polled said undocumented immigrants are not more likely to commit

crimes than American citizens, compared with 30% who said they are more likely. However, 56% of Republicans polled agreed that immigrants were more likely to commit crimes, while 82% of Democrats said the opposite.

A majority of Americans (58%) say immigration raids conducted by the Trump administration are targeting all undocumented immigrants, regardless of whether they have a criminal record. While majorities of Democrats (81%) and independents (52%) say that the raids are targeting all undocumented immigrants, Republicans are evenly divided among those who say they're targeting all undocumented immigrants (35%) and only those who have a criminal record (37%). 

Americans are evenly divided between those who say it should be easier for people to legally immigrate to the United States (39%) and those who say it should be harder (38%). While 53% of Democrats say it should be easier, 56% of Republicans say it should be harder.