Results Show New Information is Impacting Views in Both Political Parties
Findings from a new survey by the University of Maryland Critical Issues Poll reveal that public opinion is changing on the question of whether or not to impeach President Donald Trump, including among members of his own party.
According to the results of the poll conducted October 4-10, a large majority of respondents (68%) say that a sitting U.S. president inviting foreign influence into an election is an impeachable offense. At the same time, a smaller majority(52%) say that President Trump has in fact invited foreign influence into a U.S. election.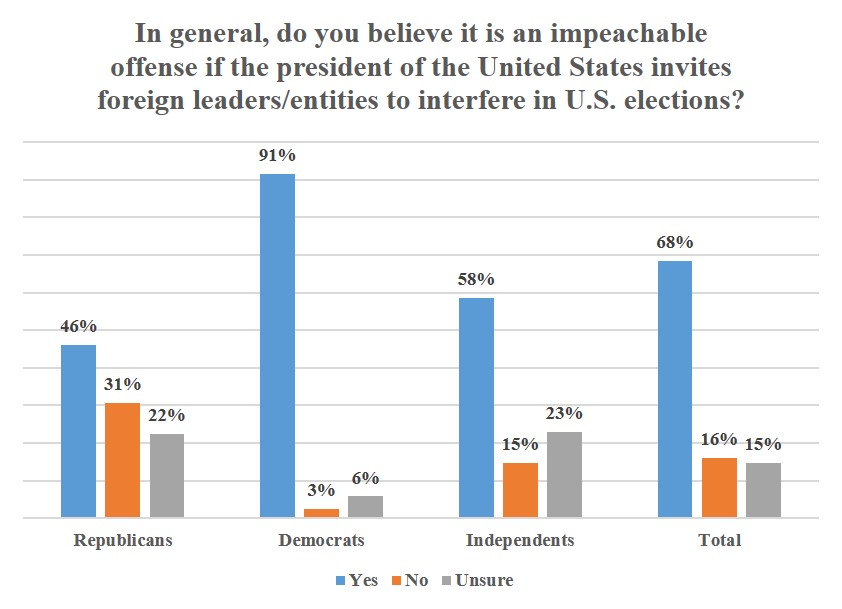 Sixteen percent of Americans, including 8% of Republicans, say that the recent memo released by the White House summarizing President Trump's phone call with Ukrainian President Volodymyr Zelensky has shifted their opinions from being undecided or opposed to impeachment to supporting it.
Almost four-in-ten (36%) respondents reported that the memo negatively impacted their opinion of President Trump. Looking across partisanship affiliation, 61% of Democrats, 30% of independents, and 11% of Republicans reported the same.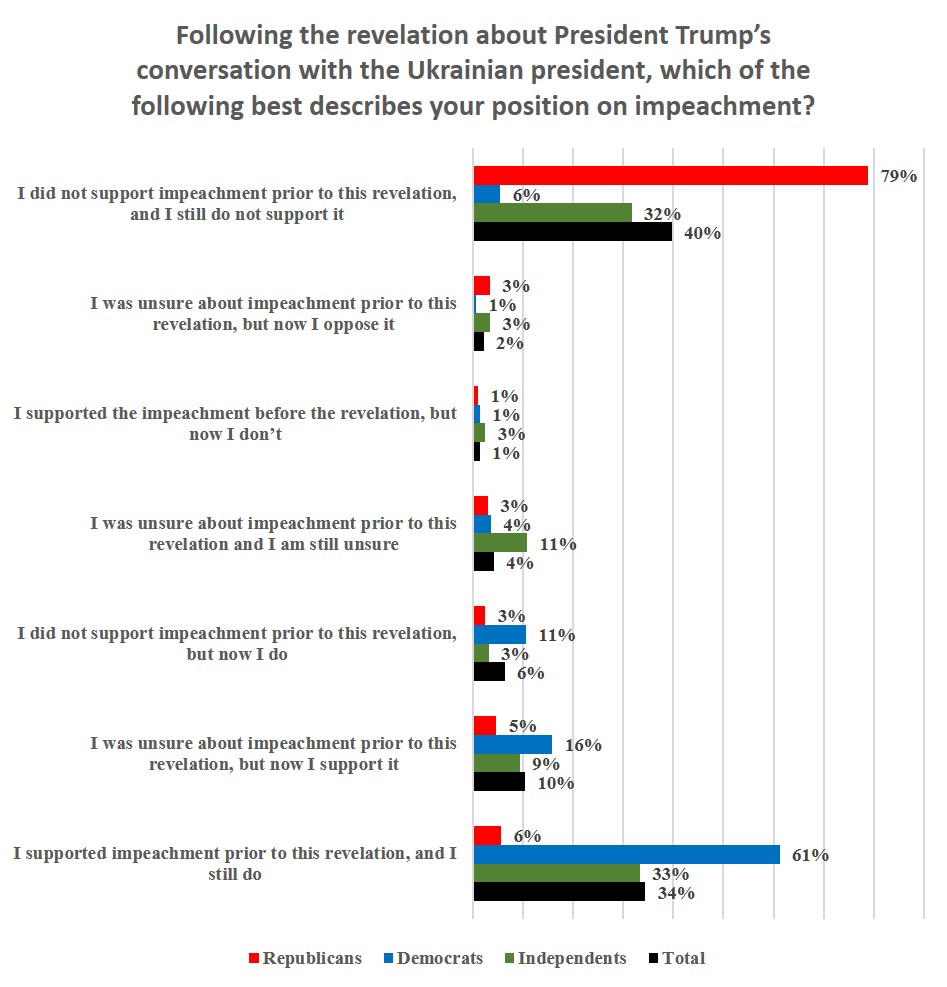 Importantly, respondents who were more familiar with the contents of the memo, either by reading it or extensively following coverage of it, were more likely to believe that President Trump engaged in a quid pro quo. This also held true of Republicans.
"These findings not only confirm the shifts on impeachment that other polls have been showing, but also suggest that as more information is brought to light, there is potential for further shift in public opinion ahead," write Shibley Telhami and Stella Rouse in a recent Lawfare article on the poll's findings.
The findings are part of a larger poll that also explored issues related to foreign policy, including American's opinions of the Trump administration's Iran policy following the recent attack on the Saudi Aramco oil facility. Results related to those questions will be released Tuesday morning at the Brookings Institution.
Methodology: The survey was carried out October 4-10, 2019 online from a nationally representative sample of Nielsen Scarborough's probability-based panel, originally recruited by mail and telephone using a random sample of adults provided by Survey Sampling International. The poll was conducted among a national poll of 1,260 respondents, with a margin of error of +/- 2.76%. Overall, the sample was adjusted to reflect population estimates (Scarborough USA+/Gallup) for Americans. The survey variables balanced through weighting were: age, gender, race/ethnicity, household income, level of education, census regional division, and political party affiliation. 
About the UMD Critical Issues Poll
The University of Maryland Critical Issues Poll probes domestic and international issues that are central to policy discourse. Professor Shibley Telhami serves as the Director of the Critical Issues Poll and Associate Professor Stella Rouse serves as its associate director.