A team of collaborators including Principal Investigator Jessica F. Magidson, an assistant professor in the Department of Psychology, was recently awarded a grant from the HEAL Initiative of the National Institutes of Health (NIH), in support of a project that will improve retention in opioid use disorder (OUD) treatment programs.
The opioid crisis is marked and exacerbated by poor access to care—care that includes not only medication, but also behavioral treatments that should be delivered alongside medication.
Among those who do receive medication for OUD, only about half of individuals are still engaged in care after six months. There is an urgent need to identify how to improve retention in care and deliver evidence-based behavioral treatments alongside medications for OUD. 
This project aims to develop and evaluate an innovative model for improving retention in OUD treatment, with a particular focus on addressing the needs of underserved individuals in Baltimore City who are most vulnerable to poor outcomes.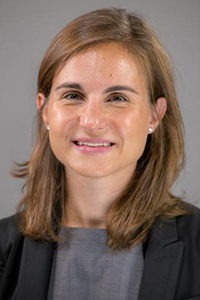 "We will evaluate how peer recovery coaches—trained individuals with their own lived experience with OUD—can help to improve retention rates for patients in care programs. We are especially focused on helping underserved, minority individuals with OUD," Magidson said.   
This grant is in close collaboration with Dr. Aaron Greenblatt, a family medicine physician and opioid treatment provider at University of Maryland Baltimore (UMB) School of Medicine, who also serves as Medical Director of the UMD Drug Treatment Center, where this study will be taking place. Other UMD faculty members on the project include Drs. Melanie Bennett and Annabelle (Mimi) Belcher of the University of Maryland School of Medicine's Department of Psychiatry, and Dr. Eric Wish, director of UMCP's Center for Substance Abuse Research (CESAR).
The grant funds approximately $800,000 over two years for this first phase of the project. If the first phase is successful, the team will transition to a second phase, bringing the total to approximately $3.5 million over five years.
Magidson joined the faculty at University of Maryland in 2018. A lot of her work prior to starting at Maryland has focused on expanding access to substance use treatment in resource-limited settings in sub-Saharan Africa. There, her team uses peer-delivered models to increase substance use treatment, because there is a huge shortage of behavioral health providers in those settings, leaving a treatment gap—with often the poorest and most vulnerable people, without access to care.
"What we've learned is that patients actually prefer to work with a peer—by bringing their own lived experiences, peer providers can create a space that is destigmatizing and motivating for patients. We have also learned that peers can do a lot with appropriate support and supervision. For example, they can deliver brief interventions that we typically rely on psychologists or specialists to deliver in high-income settings," Magidson said.
This substance use treatment gap is not just present in low-income settings—there is currently a massive substance use treatment gap in the United States, which stems primarily from a shortage of health care resources, but is also widened by stigma toward substance use disorder (SUD), and the poverty that too often accompanies SUD.
As peer recovery coaches, or peer recovery specialists, are rapidly expanding in the United States to meet the substance use treatment gap locally, this project will allow for an exciting opportunity to evaluate a potential solution for improving OUD treatment outcomes using peer delivery of structured, evidence-based interventions to improve retention in care.
"If our findings show that this approach is feasible and effective, it has important policy implications for peers' scope of practice, as certification, training, and funding legislation is being prioritized nationwide," Magidson said. "We are excited for this opportunity to evaluate an innovative, scalable model that may help fight the opioid crisis by improving outcomes for an underserved population. We must address the behavioral health comorbidities and other structural barriers that too often accompany OUD."
The award is part of the NIH HEAL Initiative, which was established in April 2018 to improve prevention and treatment strategies for opioid misuse and addiction and enhance pain management. In late September, the NIH announced $945 million in new research funding to tackle the national opioid crisis. 
The NIH HEAL Initiative aims to improve treatments for chronic pain, curb the rates of opioid use disorder and overdose and achieve long-term recovery from opioid addiction, including developing behavioral interventions to improve adherence to opioid medication, which is the program in which this award was funded.  
The award presented to Magidson and her colleagues is one of 375 grant awards across 41 states made by the NIH in fiscal year 2019 to apply scientific solutions to reverse the national opioid crisis.
"It's clear that a multi-pronged scientific approach is needed to reduce the risks of opioids, accelerate development of effective non-opioid therapies for pain and provide more flexible and effective options for treating addiction to opioids," said NIH Director Francis S. Collins, M.D., Ph.D. "This unprecedented investment in the NIH HEAL Initiative demonstrates the commitment to reversing this devastating crisis."
The funding for this project will continue to foster growth in Magidson's  lab at UMD, the Global Mental Health and Addiction Program. This project will also allow for increased opportunities in BSOS for undergraduate students, graduate students, and other staff to bridge more with UMB and serve marginalized patients affected by the opioid use crisis in Baltimore City.