Anthropology professor collaborates with an international team to discover what happened to WWII soldiers downed outside Paris
Forty-two years after the nation's first National Prisoner of War (POW)/Missing in Action (MIA) Recognition Day—celebrated every third Friday in September—there are still 81,600 American soldiers who haven't been accounted for.
Of those 81,600, more than 72,000 are soldiers from WWII.
"The Department of Defense's Defense POW/MIA Accounting Agency [DPAA] is always pushing technology to find and identify remains more efficiently and pushing the boundaries of science to improve how they can recover DNA," said Dr. Adam Fracchia, an assistant research professor in the Department of Anthropology. "But there is just a large amount of people that are still unaccounted for. The scale is massive, and that is why DPAA has looked to universities like UMD as partners in this ongoing effort."
COVID-19 was nearly another reason why it could be years before many American families learn what happened to their predecessors. The field school model that Fracchia and Middle Tennessee State University's (MTSU) Dr. Tiffany Saul put together—based on the successful field school model established by Fracchia and former UMD professor and forensic anthropologist Marilyn London in Austria—was deemed impossible to execute for the summer 2021 France mission that Fracchia and Saul had planned.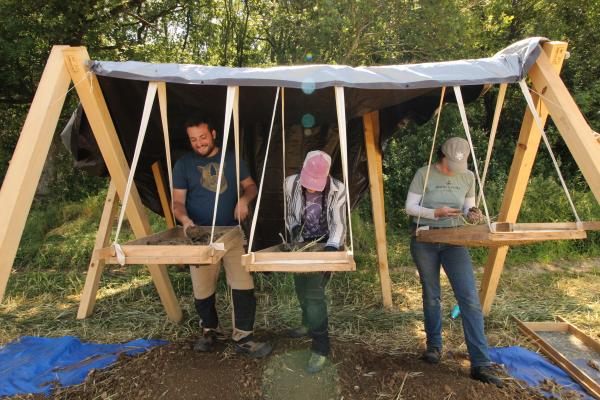 "In March or early April, MTSU said it would not be able to allow students to go because of the pandemic, so we were going to have to cancel the mission," explained Fracchia. "Dr. Saul and I had about a week or two to find enough people to staff this mission. Thankfully, we were able to tap into several different networks in France and Europe of people who were interested in WWII archaeology, forensic anthropology, and aviation, and we were able to get about 15 archaeologists and volunteers from multiple countries within Europe to come and help. French authorities and archaeologists also were extremely helpful with making the mission a success."
One of those volunteers was Sarah Grady, an archaeologist and graduate of UMD's Masters in Applied Anthropology program who now lives in Paris.
"We weren't even sure if we were going to get into the country, as France was limiting entry into it," recalled Fracchia. "We had to carry a special letter of permission from the U.S. Embassy saying our work was essential."
Fracchia and Dr. Saul did arrive in Paris on May 23 and successfully returned to the United States on July 24. But the time in country was not without its own unique pros and cons.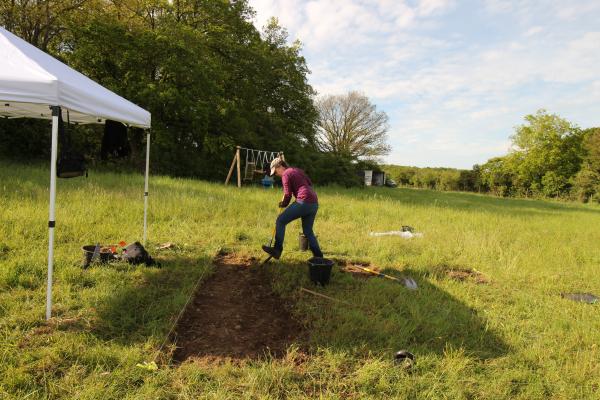 "There were a whole host of challenges," said Fracchia. "In the beginning, when we arrived, we had to wear a mask, we weren't supposed to eat in restaurants, there was a curfew at nine o'clock, and we even had to try to space out people sharing cabins and group people coming from the same location. This created additional layers of work and planning that was piled on top of the logistical work that we normally have to do. We also did not know what to expect or how things might involve when we were on the ground."
Nevertheless, it was all worth it in the end. Fracchia and the team found and submitted evidence to DPAA—the details of which cannot yet be disclosed due to the sensitive nature of the ongoing recovery—and they learned a great deal about what future missions could look like.
"We relied heavily on our volunteers and their skill sets, and it was a collaborative and mutually beneficial model," said Fracchia. "Many of these volunteers we had never met, so we took a bit of a leap of faith, but I think we learned a lot about what is possible and how much these projects mean to people in France as well as the U.S."
Main photo: Col. Allen Pepper from the U.S. Embassy with Adam Fracchia and co-director Tiffany Saul, a forensic anthropologist from Middle Tennessee State University. Photo courtesy of Adam Fracchia.