MLAW Programs Director Robert Koulish is leading a group of students on a timely Winter Course to the U.S. Mexico Border in January to study and experience immigration law, policy, and politics in action. Through this one-credit course, "MLAW298V: Immigration Law and Disorder at the Border," students are serving refugees and local residents at Proyecto Azteca in the Lower Rio Grande Valley (LRGV), and are interacting with human rights activists, immigration attorneys and practitioners, as well as scholars at the border.
The teaching assistant for the course is Cinthya Salazar, a Ph.D. candidate in the School of Education. Salazar and Koulish are helping students to develop critical reflection and observation skills  in order to help prepare them for taking action towards a more just society. 
"Our cohort will focus on key concepts such as political asylum, crimmigration, border criminologies, and the carceral regime," Koulish said. "They will gain a first-hand experience of what it is like to live on the border in colonias as residents and border crossing as told to them by refugees and immigrants. By engaging in critical reflection sessions, students should leave this colloquium with a deepened understanding of this critical social justice issue."
Students are taking a guided tour of the border, including the border fence, national parks, and sanctuaries. They are meeting border residents personally affected by the construction of the border fence, and also are visiting federal courts, immigration courts, and detention facilities where possible.
During the course, students are required to submit a total of four individual reflections based on specific prompts and guidelines. In addition, all students will participate in daily group reflections facilitated by Koulish and Salazar.
Trip highlights: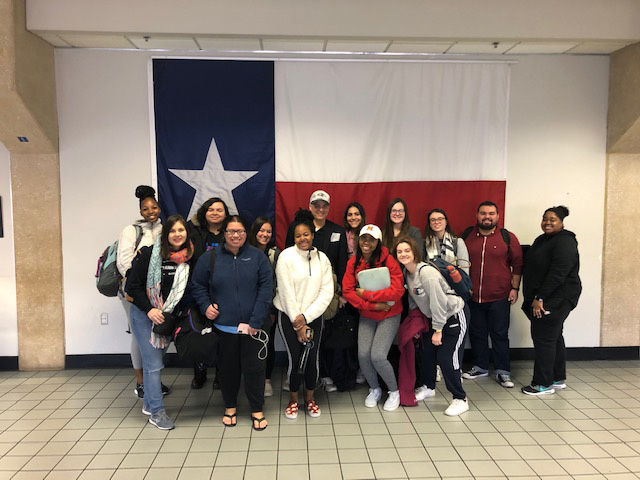 Jan. 4: After arriving in Texas, on bus driving from San Antonio to the border, the students and instructors were stopped at a checkpoint. Professor Koulish turned the questions from Border Patrol into chance to ask questions of his own.
Check this space in early January for updates and reflections from MLAW298V students. Follow the students' updates on social media: #MLAW298V.