In the spring of 2015, Assistant Professor Erica Glasper from the Department of Psychology was invited to deliver a speech at the annual conference for the Society of Behavioral Neuroendocrinology to be held in the Pacific Grove area of California. It was a major stepping-stone in her early career and an important opportunity to establish herself as an independent scientist in the field.
But she almost didn't accept.
"My daughter was six months old at the time and I was nursing her and I thought, 'There is no way I can travel across the country with her by myself or leave her at home for that length of time,'" Glasper recalls.
After going back and forth about whether to attend the conference or not, Glasper's husband ultimately decided to make the trip to the West Coast with her so he could care for their daughter Avery during the conference. 
"We were determined to make that one work, but it was a cost," Glasper said. "In hindsight, it was worth it and I would probably do it again, but if there had been more support for me, I wouldn't have had that stress and maybe even that hesitation to accept."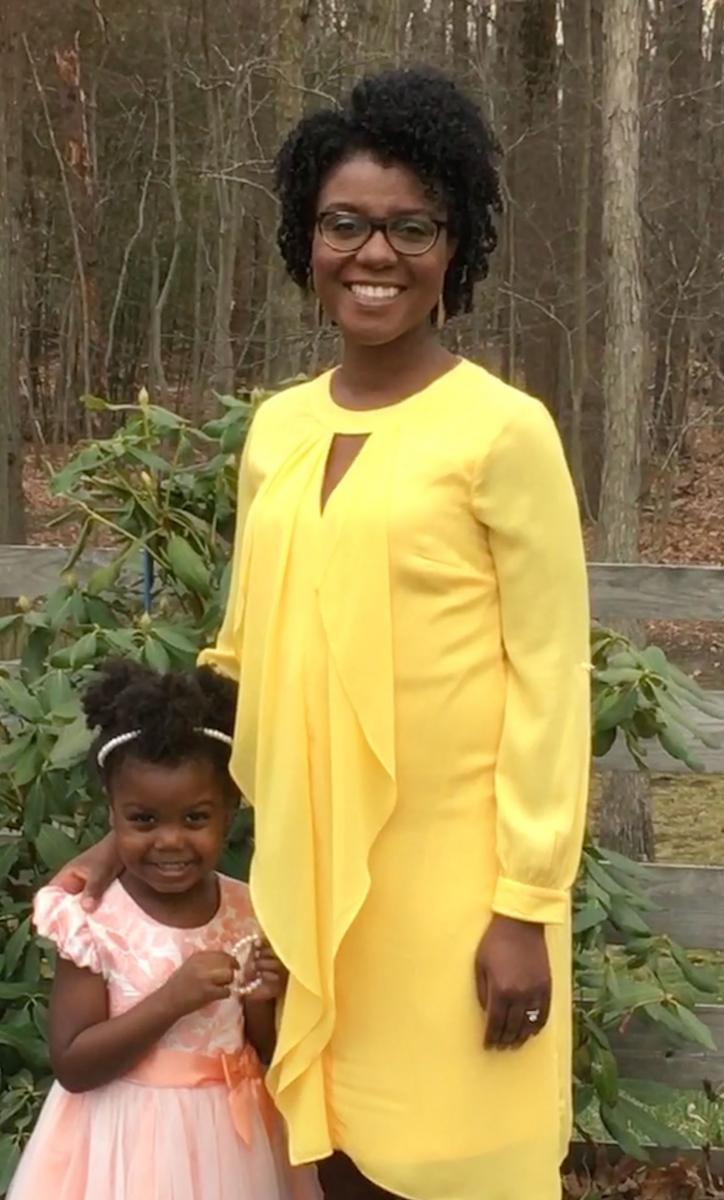 Glasper's experience is far from unique. That's why a group of forty working mothers in science from throughout the country recently wrote an article published in the Proceedings of the National Academies of Sciences (PNAS) about what they call "the childcare-conference conundrum." The scientists—led by Rebecca Calisi, an Assistant Professor in the Department of Neurobiology, Physiology and Behavior at the University of California, Davis—argue that primary caretakers of dependent children face hurdles to attending and participating in conferences and annual meetings due to challenges associated with pregnancy, breastfeeding and childcare. They say these obstacles negatively affect more women than men when it comes to career mobility, with women of color being the most disadvantaged.
"You push hard to perform your research all year long so that you can submit an abstract to give a talk or get invited to speak at a symposium or to present a poster on your latest work," Glasper explained. "Those are some of the highs of the year and when you're not there, you're not visible. It's as if you're doing nothing if you're not there."
Glasper says not being able to attend conferences and meetings also takes away valuable networking opportunities and the chance to recruit talented graduate students.
In order to remove some of the barriers that prevent women in science and academia from participating in more conferences, the group outlined a number of recommendations for both organizations hosting conferences and institutions of higher learning. They include:
providing financial resources for working mothers to either hire childcare while attending an event or to bring along a family member or other support person;
on-site childcare options during conferences and meetings;
improved facilities for breastfeeding and pumping breast milk at conferences and meetings;
family-friendly locations for conferences where participants are encouraged to bring their children and spouses; and
establishing conference-specific parent/caregiver social networks to make it easier for parents to find and share information before, during and after a conference.
"Many of us are talking to our home institutions as well as the organizations we are affiliated with to see if they are willing to enact some of those recommendations," Glasper said. "I think that the more people who hear about the paper and hear about our push and are aware of the obstacles, the more people in positions to make changes will look at the recommendations and go 'Oh, we could do that.'"