Findings from a new University of Maryland Critical Issues Poll show that the partisan divide between Republicans and Democrats on the Palestinian-Israeli Conflict continues to grow. Professor Shibley Telhami, Director of the UMD Critical Issues Poll and the Anwar Sadat Professor for Peace and Development, presented some of the poll's findings at the Brookings Institutionon Friday, December 1.
Since last year, Democrats who want the U.S. to take neither side in the conflict has grown from 69% to 77%, and those who want to take Israel's side has dropped from 17% to 13%. Among Republicans, 58% (compared with 56% a year ago) want the U.S. to take Israel's side.
The poll also looked at President Trump's actions toward the conflict: Specifically, his pledge during his 2016 presidential campaign to move the U.S. Embassy in Israel from Tel Aviv to Jerusalem; the U.S. withdrawal from UNESCO; and the involvement of both his son-in-law and former lawyer on Middle East diplomacy. The survey found that a strong majority of Americans (63%) oppose moving the U.S. Embassy to Jerusalem, a majority (55%) do not support U.S. withdrawal from UNESCO, and an overwhelming majority of Americans (81%, including 71% of Republicans) favor President Trump relying on experts, rather than his son-in-law and former lawyer, in complex diplomatic efforts such as the Israeli-Palestinian Conflict.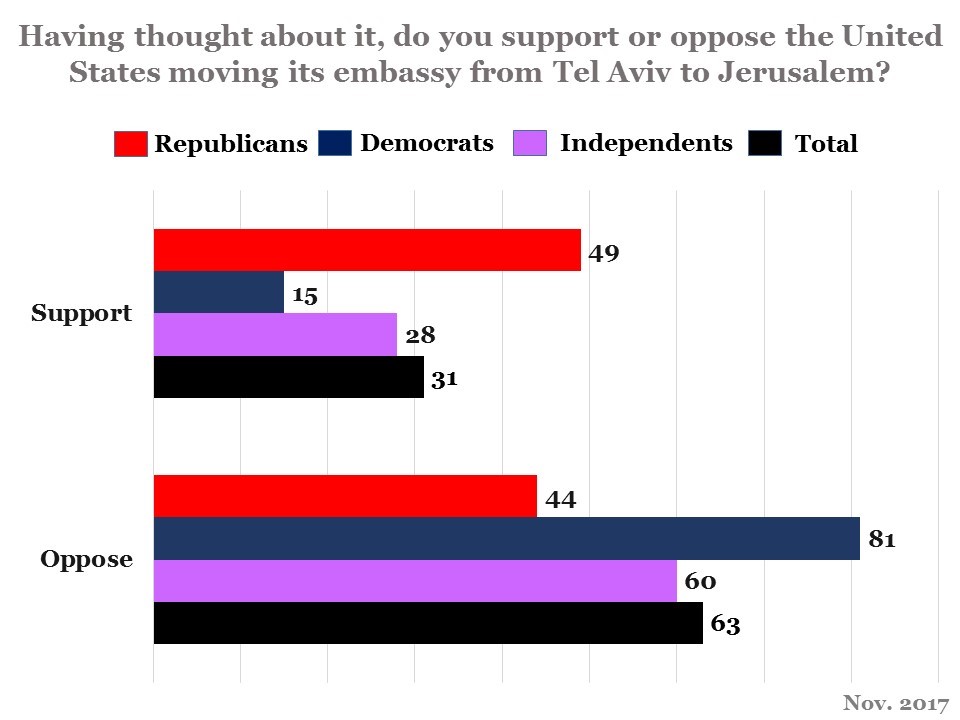 "The American partisan divide on Middle East policy has expanded -- but not on all issues. The public's preference for experts as envoys is strong among Democrats, Republicans, and Independents, and the divide on moving the embassy to Jerusalem is not as wide as on some other Middle East issues," said Professor Shibley Telhami, Director of the UMD Critical Issues Poll.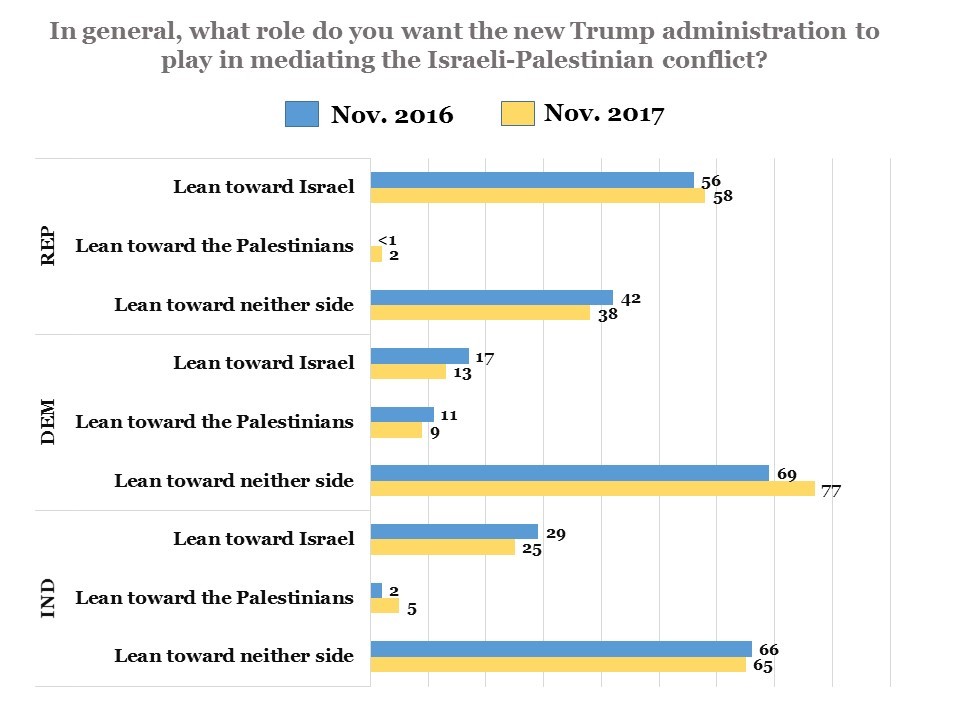 The poll also probed American attitudes toward the Iran Nuclear Deal. Of respondents, 55% said that the deal reduces the chance that Iran will develop nuclear weapons and 70% said that it serves the U.S. national security interests, assuming both the U.S. and Iran fully comply with the deal. A deep partisan divide exists over Trump's decision to not certify Iran's compliance with the deal: 68% of Republicans approve of the decision and 65% of Democrats disapprove of it.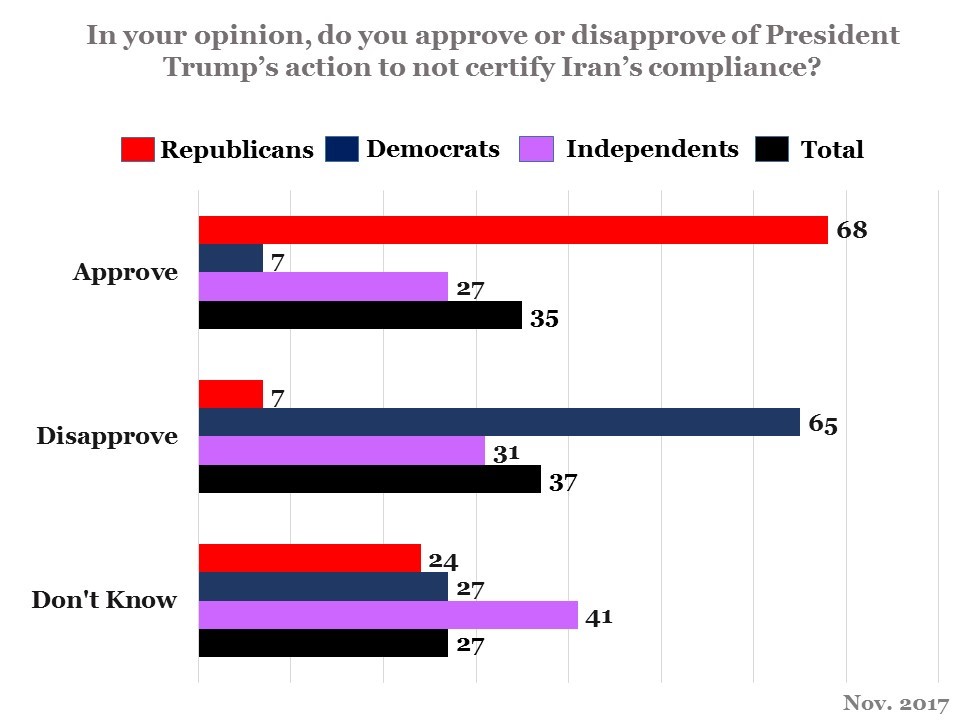 When asked if they viewed Russia as an ally, foe, or neither, nearly half of Americans (47%) said that Russia is neither an ally nor a foe. Forty-two percent said Russia is a foe, including 55% of Democrats. Meanwhile, only 12% of Americans (23% of Republicans) said that Russia did not interfere in the 2016 elections. Despite the tension with Russia, strong majorities of Americans (ranging from 77-87%) said that cooperation with Russia is at least somewhat desirable on Middle East issues such as the Palestinian-Israeli conflict, achieving stability in Syria and Libya, dealing with Iran, and fighting ISIS and Al Qaeda.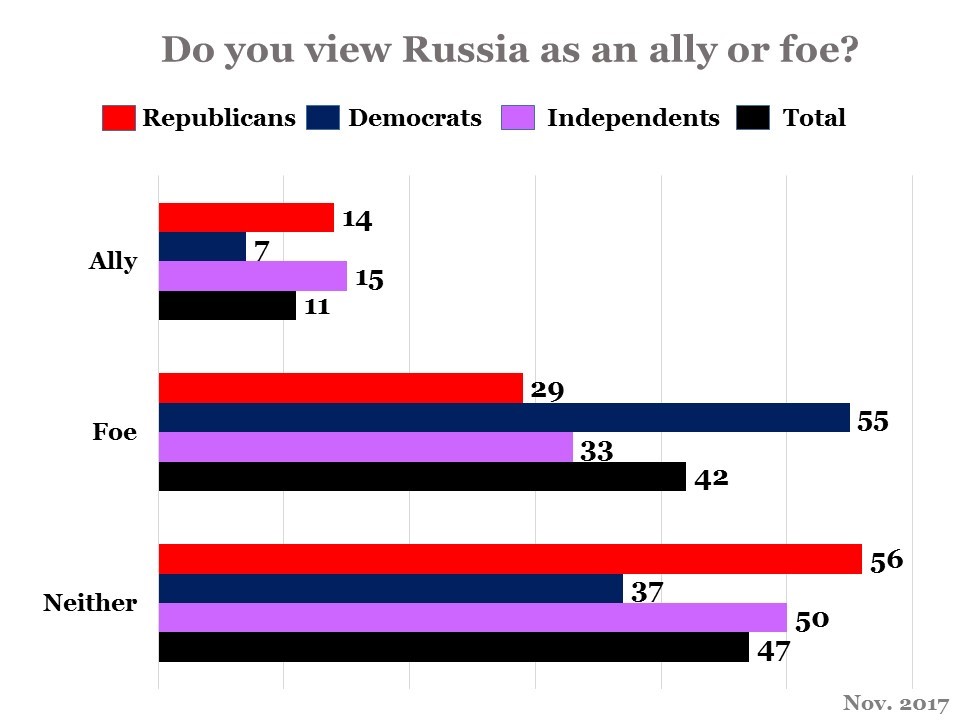 These results are from a larger University of Maryland Critical Issues Poll with Professor Shibley Telhami, Director, and Professor Stella Rouse, Associate Director, as principal investigators.  Other parts of the poll investigate the North Korea nuclear issue, "fake news," and attitudes toward "the American dream." They will be released in the next few weeks.
A questionnaire containing the results of these questions can be found here.
Methodology: The survey was carried out November 1-6, 2017 online from a nationally representative sample of Nielsen Scarborough's probability-based panel, originally recruited by mail and telephone using a random sample of adults provided by Survey Sampling International. The national sample was 2,000, including a down-weighted oversample of 1,042 among 18-34 year olds. Responses were weighted by age, gender, income, education, race, and geographic region using benchmarks from the US Census. The survey was also weighted by partisan identification. The margin of error is 2.19%. Click here for more information on the survey methodology.