The University of Maryland Critical Issues Poll, in partnership with Tokyo-based The Genron NPO, released two polls comparing Japanese and American public opinion on North Korea and Asian security broadly. The results were released at an event at the Brookings Institutionon Monday, January 8.
The poll results showed few people surveyed in the U.S. and Japan believe that stricter sanctions or military action by the U.S. and its allies would be the most effective way to stop North Korea's nuclear program. Only 11% of Japanese and 7% of Americans polled said stricter sanctions would be most effective, while 8% of Japanese and 11% of Americans polled said military action by the U.S. and its allies would be most effective. On the other hand, a large number of Americans (35%) preferred multilateral negotiations while 21% of Japanese preferred direct talks between the U.S. and North Korea.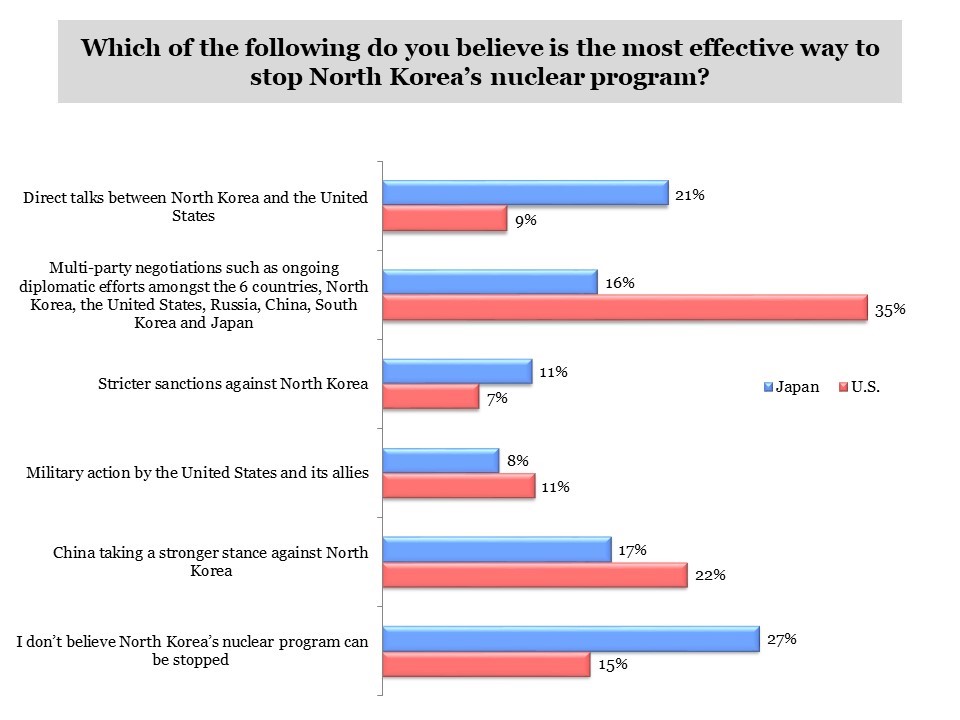 Researchers found it particularly notable that both the American and Japanese publics were not optimistic about resolution of North Korea's nuclear issue, with only a quarter of Americans and 10% of Japanese saying it's likely to be resolved within the next five years. Two-thirds of Japanese and one-third of Americans said the problem won't be resolved.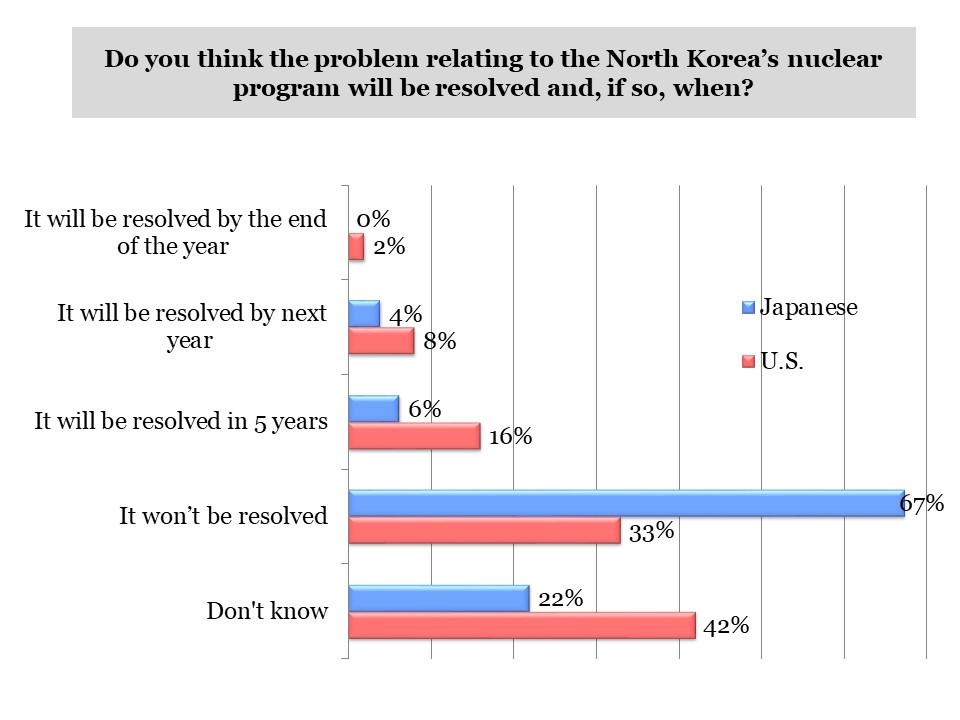 Poll results suggest Americans are far more supportive of Japan and South Korea developing their own nuclear weapons if North Korea doesn't give up its own. While 33% of Americans support Japan acquiring nuclear weapons in this situation, only 12% of Japanese do. It should be noted, however, that 12% of support among the Japanese is an increase from past polls. A majority of Americans surveyed (52%) support the placement of American nuclear warheads in South Korea and/or Japan if North Korea doesn't give up its nuclear weapons, whereas a majority of Japanese polled opposed this (51%).
A majority of both the Japanese and American respondents view the Trump administration's handling of the North Korea issue unfavorably: 63% of Japanese and 59% of Americans polled said Trump is handling the issue very unfavorably or somewhat unfavorably. In addition, when asked in an open-ended question to name two national or world leaders they think pose the greatest threat to world peace and security, U.S. President Donald Trump ranked highest with Japanese respondents (50%), even above North Korea's Kim Jong-un (44%). When asked which two countries were the most threatening, the Japanese ranked North Korea first (55%) followed by the United States (43%) and China (34%). Americans ranked Kim Jong-un as the leader posing the greatest threat to world peace (62%) followed by Russia's Vladimir Putin (33%) and Donald Trump (31%). North Korea is seen by American respondents as the most threatening country to world peace (77%) followed by Russia (36%), Iran (24%), the U.S. (13%) and China (11%).
"There is a sense of realism in both Japan and the United States that the North Korean nuclear issue cannot be resolved by military force, if it can be resolved at all," said Shibley Telhami, Director of the UMD Critical Issues Poll. "At the same time, neither Americans nor Japanese want to formally recognize North Korea as a nuclear power. It leaves limited options for the Japanese as the opposition to nuclearizing remains strong, while many also worry about the role of the U.S. in the world."
Still, a plurality of both Americans (41%) and Japanese (46%) respondents said the North Korea crisis has strengthened Japanese-American relations. Forty-nine percent of Americans and 42% of Japanese said that they support the U.S. maintaining its current level of military power in Asia while 29% of Americans and 12% of Japanese say that it should be increased. A minority of Japanese (21%) and Americans (33%) support initiating military action by the U.S. against North Korea in an attempt to stop its nuclear program. It is notable that on most issues, Americans are divided along partisan lines, with more Republican support for military action than among other Americans.
The results of the UMD Critical Issues Poll are part of a larger poll conducted by Professor Shibley Telhami, Director, and Professor Stella Rouse, Associate Director, who served as the poll's principal investigators. Other issues probed by the poll include the Israeli-Palestinian conflict, "fake news" and attitudes toward "the American dream." A report with these results will be released in the coming weeks.
The poll also featured other questions on North Korea. A questionnaire containing the American results can be found here, while the Japanese results can be found here.
Methodology (U.S.): The survey was carried out November 1-6, 2017 online from a nationally representative sample of Nielsen Scarborough's probability-based panel, originally recruited by mail and telephone using a random sample of adults provided by Survey Sampling International. The national sample was 2,000, including a down-weighted oversample of 1,042 among 18-34 year olds. Responses were weighted by age, gender, income, education, race, and geographic region using benchmarks from the US Census. The survey was also weighted by partisan identification. The margin of error is 2.19%. Click here for more information on the survey methodology.
Methodology (Japan): The survey was carried out October 21 – November 5, 2017 in Japan. The sample is 1,000 among the target population of 18 years of age or older. The survey was fielded in 50 regions of Japan, with 20 samples from each region collected based on a quota sampling method at the individual level. Placement method was used as the fielding method. The margin of error is 3.1% at 95 percent level of confidence.