Understanding how people spend their time is a central quest for many researchers. It can lead to changes in health practices, cultural patterns and environmental impact.
Researchers at the University of Maryland's Population Research Center(MPRC) have spent the past 11 years helping to make the massive amounts of available time-use data more accessible, user-friendly and cost-free for researchers around the world through the Integrated Public Use Microdata Series (IPUMS)-Time-use online tool. Now, thanks to a $2.6 million grant from the Eunice Kennedy Shriver National Institute of Child Health and Human Development, MPRC will be able to significantly increase the amount of data available and double the number of countries represented in the data sets.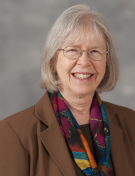 "Enlarging the scope of the data set is going to allow for much more cross-cultural comparison and help researchers understand transformations around the globe," said MPRC research professor Sandra Hofferth, who is leading the project. Professor Liana Sayer from the UMD Department of Sociology also plays a leadership role.
The five-year NIH grant will fund phase three of the IPUMS Time-Use project, a collaboration between UMD's MPRC and the Minnesota Population Research Center at the University of Minnesota. IPUMS gathers, harmonizes, documents, and archives data collected through time-use surveys—24-hour diaries in which people provide nearly minute-by-minute accounts of how they spend a day. Researchers can access these time diary data through a powerful web-based access system that constructs customized data sets ready for analysis.
"We only have 24 hours a day and how you divvy that time up indicates your priorities, much more so than what you say," Hofferth said. "Pulling all these data together gives a view of overall behavior patterns across large populations throughout a long period of time. You can see how behavior changes."
During this next phase, researchers will expand geographic coverage to maximize comparative research opportunities by incorporating new countries from Latin America (Brazil and Mexico), Eastern Europe (Hungary), Western Europe (Italy and Germany), South Asia (Pakistan), East Asia (Republic of Korea), and South Africa. They will also add five new years of data from the United States spanning the period from 2016 to 2020 and incorporate newly-digitized U.S. time diary data from the 1920s and 1930s.
Since the project began in 2006, the IPUMS Time-Use tool has been accessed by more than 2,500 users to compile more than 10,000 customized data sets, resulting in more than 250 published studies based on the data. Studies have concentrated on a wide variety of topics, such as the number of women who work outside the home, how many minutes teenagers spend doing chores each day and which demographic groups are more physically active.