In just 18 months, a team of lawyers and activists across many sectors in Jordan successfully overturned Labor Law article 69. The law had outlined restrictions on women working in several fields, including construction, and had also placed limitations on the hours women can work. After a year and a half of a coordinated effort—social media campaigns, flash mobs, videos, radio and television interviews, newspaper articles, and legal actions—the law was overturned in the summer of 2019.
The effort was led by members of Women as Partners in Progress (WPP), a forward-looking platform that promotes women's leadership and gender-inclusive policies in the Middle East and North Africa (MENA). The U.S. Department of State awarded the University of Maryland a two-year, $2.5 million grant to found and support this initiative, which is led by May Rihani, director of the Kahlil Gibran Chair for Values and Peace.
The Gibran Chair leads the project in conjunction with three partner organizations—Jossour, a women's rights advocacy NGO in Morocco; World of Letters, a social enterprise promoting youth dignity and equity in the Arab Region, founded in Jordan; and Abolish 153, a women's protection and empowerment organization in Kuwait.
"Everyone was surprised that we were able to change a law this quickly; even I am surprised," Rihani said. "We were able to bring people from all of different sectors together, to form a collective voice. It is that collective voice that is the power behind this transformation."
The first phase of WPP focused on sharing quantitative and qualitative knowledge with women leaders about existing research on obstacles and pathways to increasing women's rights and leadership in the Arab world. The seminars provided participants with the opportunity to discuss the findings of the research.
This synthesized knowledge served as a basis for the second phase, the production of action plans in each of the three countries and the organization of leadership workshops for established and emerging women leaders.
Participants focused on key issues they wished to address in their countries, analyzed the constraints they might face, and designed strategic plans of actions. The actions started to bear fruit, as with the overturning of Law article 69 in Jordan.
This process has better equipped women leaders with tools to advance priority issues in their countries, as well as to organize effective campaigns and build a network across the MENA region supporting gender-inclusive policies.
Participants are also working to increase local and national awareness regarding selected women's issues in each of the three countries through social mobilization campaigns composed of national and local activities that will engage civil society organizations as well as government institutions.
Gaining Momentum: International Conference in Jordan
WPP leadership and scores of participants from Jordan, Morocco, Kuwait, Lebanon, Saudi Arabia, Tunisia, Egypt, the United Arab Emirates, the West Bank/Gaza, Algeria, Bahrain, and Libya, and the United States gathered at the Hilton Dead Sea in Jordan in August for the "Innovative Strategies for Women's Empowerment: A Women as Partners in Progress Conference." (Attendees appear in the lead photo of this story; photo courtesy of Mona Rezvani.)
The conference brought together activists and thought leaders from all sectors—government officials, judges, lawyers, members of the media, academics, private sector leaders, artists, civil society organization leaders, and many more.
Participants and panelists focused on a broad range of topics, from basic equal rights for both genders in the workplace, to women's contributions in national economies, to challenging harmful social stereotypes about women. 
"To paraphrase Dr. Omayma Achour, the president of Jossour who spoke at our conference, the network created by WPP has become a think tank to advance women's causes," Rihani said. "Though I must emphasize that it is not just women working for these changes. Men are involved, too; we have many men participating and working as partners with us. We are working on social justice issues that benefit women and men."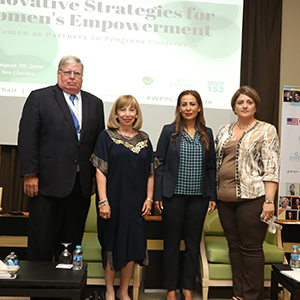 Dean Gregory F. Ball was a keynote speaker at the conference on the first day, and also offered closing remarks on the third and final day. Ball remarked on how impressed he and the entire University of Maryland community are by the efforts and determination of the WPP's leadership and participants.
"We are trying to support the implementation of social change. This does not come quickly, but persistence seems to pay off in many cases," Ball said.
The arts were also a focus of the Conference, with a number of live musical performances and plays. These artistic pieces were meant to tap into the heart and creativity of the participants, to further inspire them to action.
In the coming months, WPP will continue to lead activities, panels, lectures, discussions, events, and conferences in the three WPP Arab countries, working to advance the progress of women and contributing to enhanced social justice.
"There is no limit to what can be done through this work," Rihani said. "We facilitated a process, and that process has empowered women and men to make positive change."
The women and men of Jordan, Morocco, and Kuwait are pushing the boundaries and breaking glass doors and ceilings in order to ensure that equality between women and men will happen soon.
Increasing the Visibility of Arab Women Leaders
The Gibran Chair and the WPP have also launched a groundbreaking website that for the first time features current and past Arab women leaders in a searchable directory and database. This innovative tool allows users from all over the world to draw inspiration from Arab women pioneers. Many leaders have also become connected for the first time through the website, accelerating the power of their networking.
The Pioneers and Leaders Knowledge Center about Arab Women features profiles of women leaders and organizations that promote the interests of women from 15 countries across the Arab world. So far, 216 women and organizations are featured, and users may submit nominations for more women to be added.
"The women we've chosen to feature, past and present, all have overcome barriers, served as role models, and exemplify the values of progress and human rights for all," Rihani said. "There truly is no limit to the number of women and organizations we can feature, and how their stories and their work will inspire others to make lasting changes in their own communities."
Users have access to sections of the site known as the HUB, and can use it as a tool for networking and for international dialogue.
"As I look at the Knowledge Center, the HUB, and as I reflect on the knowledge and leadership seminars that we have had so far, I am amazed at the sheer number of women in the Arab world who are boldly working to make an impact on their communities and on the world," Rihani said. "I hope that everyone who interacts with this site will be inspired to connect with others to address challenges at the local level, and at the international level. Women in Arab countries are leading transformational and positive change."