WATCH VIDEO: Bahá'í Chair 'The Problem of Racism in Post-Racial America'
The Bahá'í Chair for World Peace continued its critical work fostering local, national and international dialogue on the critical topics of our times with its 2014 Annual Lecture, "The Problem of Racism in 'Post-Racial' America" featuring Dr. Eduardo Bonilla-Silva of Duke University. Held in the Adele H. Stamp Student Union, the event was attended by hundreds of guests and also sparked lively discussion on Twitter.
"You must get connected to the struggle for justice," Dr. Bonilla-Silva said, encouraging action among a diverse crowd composed of University and College leadership, faculty and students; members of the national and international Bahá'í community; alumni and generous donors; and many more. He also challenged the audience to "change from being 'not racist' to 'anti-racist'".
Watch the lecture.
Watch the Q&A discussion.
The Bahá'í Chair and its incumbent, Dr. Hoda Mahmoudi, is committed to exploring and addressing the diverse challenges facing humankind today, including environmental degradation, sexism and resource disparity. Dr. Bonilla-Silva's lecture builds on Dr. Mahmoudi's focus on racism. "Many questions about racism occupy the work of The Bahá'í Chair for World Peace," says Mahmoudi. "For example, how can education and knowledge, especially at institutions of higher learning, contribute to a profound change in the structure of society such that all of its members are safeguarded and treated as equal? Likewise, how can institutions alter practices and patterns that promote racism?" To that end, she will soon be offering a groundbreaking academic course, "The Problem of Prejudice: Overcoming Impediments to Global Peace and Justice," which examines the root causes of prejudice, discrimination and bias as major impediments to global peace and justice. The goal of the course is to bring about freedom from prejudice, explore and understand the nobility of all, and to show respect, honor and care to all persons. Dr. Mahmoudi believes that these are the necessary conditions for human solidarity and social integration.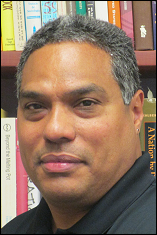 In the abstract for this lecture, Dr. Bonilla-Silva said: "Most whites believe racism has virtually disappeared in the country except for bigots such as Cliven Bundy and Donald Sterling. In this presentation, I will argue that racism morphed in the 1970s into a more 'civilized' system and produced a new type prejudice. To make my case, I will do four things. First, define racism and suggest that it is, above anything else, systemic racial privilege. Second, provide the general characteristics of the 'new racism' or the system of racial domination that replaced Jim Crow in the 1970s. Third, describe the dominant prejudice of contemporary America which I have labeled in my work as 'color-blind racism.' Fourth, illustrate how the new racism system and the new prejudice work in organizations the parade as 'beyond race': colleges and universities. I will conclude my talk by suggesting several things we might consider doing to slay the elusive racial dragon once and for all."
Dr. Bonilla-Silva is Professor and Chair of the Sociology Department at Duke University with affiliations in the following units: African and African American Studies, Latin American Studies, Latino Studies and the Institute for Critical U.S. Studies. He is currently working on two books Anything but Racism: How Social Analysts Limit the Significance of Race (with Gianpaolo Baiocchi and Hayward Horton) and White Logic, White Methods: Racism and Methodology (with Tukufu Zuberi).
Dr. Bonilla-Silva is also working on a project, "We are All Americans! The Latin Americanization of Race Relations in the USA," in which he explores the changing dynamics of racial stratification in the United States.