Hundreds Gather for AASD Ferguson Town Hall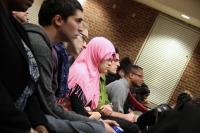 On Dec. 3, the Department of African American Studies (AASD) brought together members of the campus and College Park communities to discuss the tragic shooting of unarmed teenager Michael Brown in Ferguson, Mo., and the nationwide impact of the grand jury decision not to indict the police officer who shot him. Amid protests on campus and across the country, many concerns have arisen about excessive police force, justice, structural racism and the justice system.
At the event, distinguished interdisciplinary panelists spoke on the topic, "What have we learned since the shooting of Michael Brown?" The floor was then open to questions and comments from the audience; more than 300 students, faculty, staff, alumni administrators and College Park residents gathered in the Atrium of the Adele H. Stamp Student Union to make their voices heard. The conversation also continued on Twitter, as many participants posted messages via #AASDSTANDUP.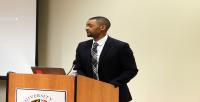 Discussion was moderated by Professor Odis Johnson, Jr., (@NEqualitymatrix) interim chair of AASD. Soon after Mr. Brown was killed, Professor Johnson released a statementon the shooting and on the larger topic of institutional violence that has been widely shared and referenced by a campus community searching for justice.
Ed Summers (@edsu), lead developer of the Maryland Institute for Technology in the Humanities, presented an overview of what we can learn from the more than 13 million Tweets related to Ferguson that have been sent in recent months, as well as thoughts on how social media is changing the way our society responds to major social events.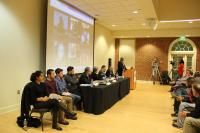 MLAW Programs(@mlawprograms) Director Dr. Robert Koulish discussed significant differences between laws on the books and laws and enforcement methods as they actually are applied in society. Dr. Johnson also touched on the disparity of the legal system vs. law in action, saying "A courtrooms isn't where justice happens, it is where social structure happens." 
AASD Lecturer Johnathan England (@EnglandJonathan)encouraged attendees to make their voices heard, leading many to put their hands up if they knew about or agreed with some of his powerful statements and statistics, such as "Hands up if you knew that African-American males are more likely to be stopped by police."
Dr. Hoda Mahmoudi, incumbent of the Baha'i Chair for World Peace (@BahaiChair), discussed the root causes of racial prejudice and said the path toward progress is open to all. "Remaining silent is painful," Dr. Mahmoudi said, encouraging the audience to continue the discussion after the event.
Dr. Rayshawn Ray (@SociologistRay), director of the Critical Race Initiative and an assistant professor in the Department of Sociology, said that the majority of Americans have only three discussions about race with someone of another race in their lifetime. "We need to have these conversations with people not in this room," he said.
University of Maryland Police Department (@UMPD) Chief David Mitchell said that "the ball is in the law enforcement community's court" to move forward with greater assurance of safety and justice for people of all races. He answered questions from the audience about transparency, procedures, types of weapons and police recruitment and training policies.
Members of the UMD Social Justice Coalition reiterated their set of demands related to campus safety and social justice, saying that many students do not yet feel they have been heard.
As dialogue continues, AASD and the College of Behavioral and Social Sciences are committed to providing the campus community with opportunities to come together to discuss critical topics and to work together toward social change.