BSOS Students & Alumni Earn Prestigious Awards
Hirbod Sajjadi (Government & Politics, Philosophy '15) has been awarded a Fulbright English Teaching Assistantship to the Czech Republic for the 2017-18 academic year. While teaching in the Czech Republic, Mr. Sajjadi will engage with the local community by participating in Sokal, a form of gymnastics that has played an important role in the creation of Czech identity. He will also volunteer with an organization that supports people with disabilities. After returning to the U.S. at the conclusion of the program, he intends to work for a non-profit organization devoted to advancing human rights and aiding disadvantaged populations. Eventually he plans to attend law school to study international human rights law.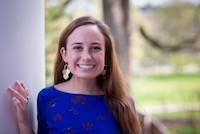 Victoria "Tori" Tully, an Anthropology and Individual Studies double-major, who has developed her own major in Global Health and Development, has won a highly coveted summer internship award from the Centers for Disease Control in Atlanta, Georgia. The CDC Collegiate Leaders in Environmental Health program is a paid 9-week summer environmental internship for current undergraduate students (rising junior or senior) who are passionate about the environment, interested in human health, and curious about how they are linked. Tori was one of only 8 students accepted from an applicant pool of 289. Tori has previously held internships with Catholic Relief Services and with the Army Public Health Command. At Maryland Tori has been a leader in various student organizations, including the Anthropology Student Association, the Delta Epsilon Mu Public pre-health fraternity, and a student chapter of Catholic Relief Services.
A number of BSOS students have accepted U.S. Department of State Critical Language Scholarships (CLS) to study abroad during summer 2017. The CLS Program is part of the U.S. government effort to expand dramatically the number of Americans studying and mastering critical foreign languages. The program awards approximately 550 scholarships every year. Margaret Ebacher-Rini is a sophomore in the College of Arts and Humanities majoring in Chinese as well as Government & Politics. She is a member of the Honors Humanities program in the Honors College. She will study Chinese in Suzhou, China. Anne Mohler is a freshman majoring in Government & Politics. She is a member of the Advanced Cybersecurity Experience for Students (ACES) program in the Honors College. She will study Persian in Dushanbe, Tajikistan. Zoe Smith is a sophomore majoring in Government & Politics and Japanese. She is a member of the College Park Scholars International Studies program. She will study Japanese in Hikone, Japan.
A number of BSOS students currently pursuing graduate degrees at the University of Maryland were awarded prestigious fellowships from the The National Science Foundation (NSF). The NSF has named 5 BSOS students as fellows for the foundation's Graduate Research Fellowship Program. These fellowships are for students in STEM fields who pursue research-based masters and doctoral degrees. Fellows receive an annual stipend to offset educational costs such as books and tuition. Of the more than 13,000 applicants, only 2,000 fellowships are awarded. Rosalind Nguyen (Augustana College, Psychology) is pursuing a degree in Cognitive Neuroscience at UMD. Morgan Anna Botdorf (West Chester University of Pennsylvania, Psychology) is pursuing a degree in Developmental Psychology at UMD. Zoe Loretta Ovans (Johns Hopkins University, Psychology) is pursuing a degree in Psycholinguistics at UMD. Emily Amanda Colon (Arizona State University, Social Sciences) is pursuing a degree in Cultural Anthropology at UMD. Sarah Noe (Mercyhurst University, Social Sciences) is pursuing a degree in Archaeology at UMD.
Christina Bijou (SOCY) and Laura Saldana (PSYC) are both among the University of Maryland's Undergraduate Researchers of the Year for 2017 – honoring students for their pursuit of learning and scholarship beyond the classroom. This recognition includes an financial award in addition to a commemorative plaque.