BSOS/START Students Named Finalists in National Initiative
Last fall, Tayler Schmidt, Victoria Challenger, Brittni Fine, Marcella Goldring and Elizabeth Streit were enrolled in Dr. Katherine Worboys Izsak's BSST338V: Innovations in Countering Violent Extremism—the capstone course for the Global Terrorism minor. There, they were asked to design a community engagement program that would combat violent extremism. After presenting to a panel of judges from a variety of government agencies, Dr. Worboy Izsak encouraged the "It Takes Just One" team to compete in the Peer to Peer (P2P): Challenging Extremism program led and managed by the Department of Homeland Security and EdVenture Partners, respectively.
Since taking their professor's advice, It Takes Just One has been named one of the program's top three finalists, beating out approximately 50 other universities for an opportunity to present their idea to judges from Homeland Security, EdVenture Partners, and Facebook—which has shown support for the initiative—on Tuesday, July 18. If they win (they are competing against the University of Houston and the University of Massachusetts Lowell), It Takes Just One will receive scholarship money and the chance to have their campaign picked up by the initiative's organizers.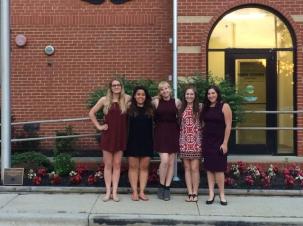 It Takes Just One chose to target the bystander population after interviewing individuals who knew someone who had adopted radicalized behaviors or beliefs. In finding that their interviewees had no idea how to intervene, the team made it their mission to "create a global community of active bystanders, and to stimulate dialogue about this community by teaching people the signs of radicalization, teaching intervention methods, and empowering the public to take action." Their teaching method is an innovative video game called "Operation Genovese."
"Basically, we wanted people to physically explore a room, look for evidence of radicalization after being read a scenario, then make a decision as a group on what to do with the information based on their bystander role- friend, family member, coworker, teacher- like 'Escape the Room,'" Schmidt, a senior Criminology and Criminal Justice major and Global Terrorism minor, said. "Their decisions would change the outcome of the rest of the game, such as not allowing them to find certain clues if they make a bad decision…([like] calling the police because they found their friend researching ISIS on their laptop) and thus impacting the information they receive for the remainder of the game and affecting its outcome, like a Choose Your Own Adventure."
"At the end, we believed that a smartphone game would be the most accessible, cheap, and interesting for those looking to educate themselves," Schmidt said.
It Takes Just One ran with this idea upon receiving a $2,000 grant from the Department of Homeland Security. They decided to dub their work "Operation Genovese" in reference to the 1964 murder of 28-year-old Kitty Genovese, who was stabbed to death outside her apartment while an alleged 38 witnesses watched the scene unfold, but failed to act.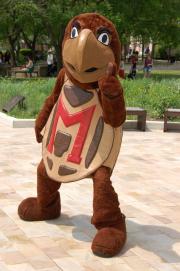 "I've been on the side of watching a friend flirt with extremism, [and] I've also had the misfortune of having friends who were wounded in a terrorist attack, so this project is near to my heart for a number of personal reasons," Schmidt, who wrote a majority of the Operation Genovese game, admitted. "I was one of the people who was unsure of what to do or who to talk to about the polarizing and radical views my friends had been adopting. If I had seen a program like Just One when I was in high school, I think I would've handled the situations I'd been confronted with better."
It Takes Just One has invested a multitude of hours into making this campaign a reality. Fine, who said that she dedicated an incredible 20 hours per day leading up to their initial June 7 submission, ran ad campaigns, a photo challenge, presented at a National Consortium for the Study of Terrorism and Responses to Terrorism (START) panel with Goldring and made pitches to media outlets. The group was recently featured on NBC Washington.
"Turning on my phone to see that we had made it to finals and would get to present in D.C. was the best feeling in the world. I don't know how many more times in my life I will cry such happy, proud tears," Fine, who graduated in May with a degree in Psychology and minor in Global Terrorism, said. "Bystanders are the world's best weapon against terrorism, and in a world that seems to be battling new terrorist schemes every day, we have the opportunity to make a real impact."
"We are incredibly passionate about this campaign and the people we represent," Schmidt and Fine jointly concluded. "We hope that someone will be interested in providing us support as a means to continue [this campaign], and that we can convince the government that they should be directing funds towards building their own full community engagement programs to help bystanders around the country."