Inspiring Maryland Pride: A Life-Changing Appointment
For more than a decade, 22-year-old Robyn Bell had waded through what she describes as "communication hell" -- asking people to face her while talking so she could read their lips, sitting as close to the front of the classroom as possible and relying heavily on context clues, and, eventually, struggling to express herself to others when her own words came out as mumbles.
"I couldn't hear birds. I couldn't hear cars that well," Bell said. "Talking to people was a nightmare. I would have to read lips, look at body language, I would try to guess."
WATCH the video below for more of Robyn's story: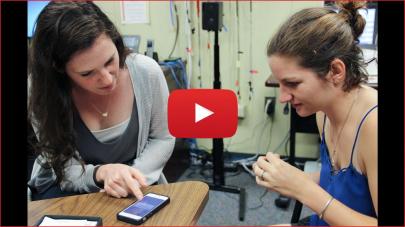 This effortful method of communication was one that Bell became accustomed to growing up, not realizing that she suffered from a hearing loss until she failed a school hearing examination in 8th grade. By 17, during her senior year of high school, Bell had begun to notice ringing in her ears. Following another failed hearing test, Bell was told she had the hearing of a 70-year-old man.
At the time, Bell says she was "too cool" to wear hearing aids and decided she could get by without them. However, while attending St. John's College in Annapolis, Bell grew weary of the tremendous effort it took daily to compensate for her hearing loss.
"It's like trying to find a light switch in the dark. It's really difficult and you have a pretty good shot that you'll find it eventually but you'll be searching for a little while and sometimes miss it and stub your toe," she said. .
Unfortunately, as a financially independent adult without health insurance, Bell simply couldn't afford hearing aids, which can cost up to $3,000 per instrument.
During her senior year, Bell's hearing problems created a critical challenge. She needed to pass an oral examination in order to receive her degree.
"I needed to be able to hear them," Bell explained.
After seeking help from six different audiologists, a discouraged Bell made the appointment that would change her life: with the University of Maryland's Hearing and Speech Clinic.
"As soon as she started talking and telling us her story, you just empathize with her so much and just want to help her," Maya Freund, a second year AuD student assigned to work with Bell, said.
"She said she wanted to go to a university because other audiologists hadn't helped her and she was hoping a place with students, other students her age, might empathize and realize that she really had needs," said Dr. Sharon Palmer, the audiologist at the UMD clinic who treated Bell. 
After several hours of testing, Dr. Palmer and Freund had Robyn try out a pair of loaner hearing aids. As they adjusted the instruments, Robyn immediately broke out in an ear-to-ear grin.
"I hadn't heard in so long that it felt like my brain didn't know what to do with sound and as soon as they started talking to me I just like lit up and was like 'oh my God there's noise everywhere and I can hear it and words sound different, tones sound different'," Bell described. "I'm not straining to hear. I can actually hear clearly."
Dr. Palmer allowed Robyn to keep the loaner hearing aids long enough to take her oral thesis exam but she was determined to identify a permanent solution for her young patient.
"I had gone to a meeting with the (hearing aid) manufacturers and I cornered the people and they said oh that sounds really interesting, email me, tell me her story so I emailed and I waited and I waited and I didn't hear and I kept on calling and finally they said 'yeah we can do that'," Dr. Palmer explained.
Lacking high expectations, Dr. Palmer was shocked to find out that Bell would receive ReSound Linx Square Level Nine hearing aids—top-of-the-line, smart phone compatible devices that cost $6,000 per pair—at no charge.
"I was really excited about that because I knew she had an iPhone and I knew we could get more than I even thought we could get for her," Dr. Palmer said.
Bell received her degree from St. John's College in May and is now pursuing a career as a journalist—something she wasn't sure could happen given her past communication hurdles. She credits Dr. Palmer, Freund and the clinic for making it all possible.
"It's been awesome. They've watched me go from deaf to hearing and it's great. I love coming back here and I'm very excited every time," Bell said.
For Dr. Palmer and Freund, Robyn is one patient they will never forget.
"People go into this profession because they want to help people," Freund said. "It's not really selfless because it makes me feel really good so it's selfish in a way too because she probably gave me way more than I gave her."
For more information about the Hearing and Speech Clinic at the University of Maryland, please visit: https://hesp.umd.edu/Clinic.