Inspiring Maryland Pride: Brewing in Baltimore
In a small house near campus, Diamondback Brewing Company co-founders Tom Foster (Economics, 13) and Francis Smith (Mechanical Engineering, 2014) spent their free time during senior year brewing tiny batches of beer, crafting signature recipes, and learning through experimentation. Since that time, Foster and his partners have transformed their passion for craft beer from a garage-based operation into a multi-million dollar facility and tasting room in Baltimore's Locust Point neighborhood – the headquarters for their brewery, and the manufacturing hub for a distribution network that spans every county in Maryland.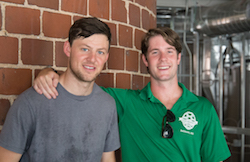 Foster and Smith were high-school friends that had come to the University of Maryland only a year apart and discovered their passion for craft beers after Smith received a home-brewing kit as a 21st birthday gift. "Our first beer – an IPA made with a kit – was terrible," said Foster. "But we enjoyed the process, and were inspired to continue trying new things. After all, it could only have gotten better from there." The two continued to use their basic equipment and stovetop to brew small batches of beer for friends and family, gathering feedback, experimenting with techniques, and building a portfolio of recipes.
Meanwhile, Foster was completing his degree in Economics – a field he credits with providing a multi-dimensional foundation for his growth as an entrepreneur and an executive. "I chose Economics because I felt it would prepare me for any job. It gave me a broad basis for my first career in real estate, and has served me well as a leader within my own company," said Foster. "At its core, economics is a study of cause and effect. That couldn't be more applicable in my current role, where I have so many responsibilities. The fundamental skills I developed in the classroom help me critically analyze each decision I make." He credits the diverse range of courses and topics for preparing him to understand the complex consequences of financial and supply decisions, helping his team stay on course regarding everything from staffing to inventory.
As Foster approached graduation, he and his partners began to research the local craft beer industry – tracking the development of relevant legislation and licensure requirements. Recognizing a clear opportunity in a burgeoning field, Foster and Smith decided to join forces with another high school friend, Colin Marshall, and launch their careers as entrepreneurs and professional brewers.
WATCH the video to learn more about the Diamondback Brewing Company's story: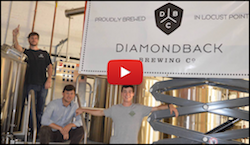 "In the beginning, we never imagined it would grow into a career. It was just a pipedream...but the difference between having a pipedream and achieving a pipedream is persistence," said Foster. "Tons of people will tell you that you're crazy. That your beer is awful. That the odds are against you. It's all about blocking out that negativity and focusing on your goals."
Foster and his partners elected to "contract brew" their beer for the first two years of operation – effectively leasing capacity from a large brewing facility with the ability to work from their recipes to create, package and distribute Diamondback beers. While the brewing was done elsewhere, Foster and his team were responsible for making sales, promoting the brand, and building the company toward their ultimate goal of opening a new facility. Despite the growing popularity of their products, Foster and his partners struggled to find support for their ambitious project.
"We didn't have the financial backing that many large brewing outfits do. We were young guys with no collateral. I was looking for pocket change to back our loans and make payments on time," said Foster. "There have been plenty of obstacles to our success, but you have to start every day completely resolved to achieve your goal." Between Smith's experience with construction project management, Foster's experience in corporate real estate, and their collective brewing prowess, they managed to gather the resources and backing needed to launch the construction of their headquarters.
In November 2016, Foster and his partners officially opened the Diamondback Brewing Company tasting room and brewing facility in Locust Point, Baltimore. The accomplishment represents a major milestone for the Terp entrepreneurs and their company, as well as fulfilled their goal of building a community around their operation. "The brewery, and beer in general, is a great way to bring people together, said Foster. "In college it brought our friends together, and it's the same today for the larger community surrounding our brewery."
Asked about the future, the Diamondback Brewing team emphasized their commitment to the local region. "New breweries popping up all the time," said Smith. "It's important to make a name in your region. Develop a following, become a landmark, and build a connection with our customers. Distribution is great to think about…the fantasy of being a nation-wide company. But you have to stay grounded, both in terms of ambition and in the community."