Improving the Human Condition: The Neuroscience & Cognitive Science Program
The Neuroscience & Cognitive Science (NACS) Graduate Program within the College of Behavioral and Social Sciences offers graduate training that aims to develop research capacities in the field of brain and behavior. The program hosts internationally renowned faculty who help prepare students for Ph. D's in their specific areas of research. At the University of Maryland-College Park, neuroscience and cognitive science research is occurring in six colleges and 17 different departments. In addition, NACS students conduct research at the National Institutes of Health (NIH), Children's National Medical Center, and Walter Reed National Military Medical Center. This provides a unique opportunity for students and faculty to collaborate across disciplines to solve complex problems.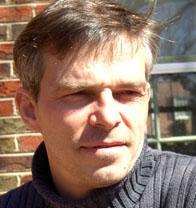 NACS has gained widespread support and intrigue on the University of Maryland campus and more specifically in the College of Behavioral and Social Sciences. Dr. Jens Herberholz, the current NACS director explains what all of the buzz is about. "There is a lot of excitement right now on campus about promoting brain and behavior sciences… [We] all want to know how the brain works and how it controls behavioral output." The program offers training and research experience to help students and faculty answer these fundamental questions in major research domains such as cellular and molecular neuroscience, cognitive neuroscience, cognitive science, computational neuroscience, and systems neuroscience.
Dr. Herberholz explains that interdisciplinary research is what will make the program stand out among other comparable graduate programs. "We have such a diverse research approach ranging from human neuroimaging to motor control to cellular and molecular mechanisms …we really cover a broad range of brain and behavioral sciences." Current interdisciplinary research encourages students and faculty to create multi-PI (principal investigator) projects and work with grant development specialists to build various grant proposals for acquiring federal funding.
The new Maryland Neuroimaging Center (MNC), designed specifically for collaboration among researchers, is another way the program enables interdisciplinary and inter-institutional research. The NACS initiative allows for students and faculty to work together in a cohesive technology-driven environment to shed light on the challenges facing society and researchers alike. The MNC houses a state-of-the-art Magnetic Resonance Imaging (MRI) machine that uses magnetic fields to map brain structures and activity. The facility also plans to operate a Magnetoencephalography (MEG) machine and an Electroencephalography (EEG) machine in the near future for examination of real-time brain activity. The initiative pushes for comprehensive and profound research that extends beyond the current boundaries of discovery and innovation.
The future for the NACS Graduate Program is bright. Dr. Herberholz, who assumed the director position in early July, has some ideas that will increase productivity and collaboration among students and faculty. "We want to implement first-year rotations for students which means they can go through different labs…that will hopefully help them find the best match." Dr. Herberholz believes every student is entitled to explore different labs and find their niche in the program.
To further facilitate the collaborative nature of the program, Dr. Herberholz suggests an intra-network communication tool that will facilitate constant communication between students and faculty in different labs and welcomes creative potential solutions from researchers across the UMD campus.
Dr. Herberholz also envisions the expanded implementation of teaching assistantships. He says that one of his primary responsibilities is to fully prepare the students for post-graduate success. He would like to see students leave the program with a strong, well-rounded skill set, research and teaching experience and competitive resumes.
"There are millions of people who suffer from brain disease [and] neurological disorders. Unless you get to the mechanisms underlying nervous system function using various model systems and experimental approaches, you can't really address those problems." Faculty and students in the NACS Program strive to gain a deeper understanding of the brain and how it affects subsequent behaviors. With the growth of the NACS Program, Dr. Herberholz foresees expanding collaborative research and elevated visibility among other competitive universities. Real-life solutions are continuing to develop in the hands and minds of the NACS students who strive for improved universal knowledge of the brain and its functions.
The College of Behavioral and Social Sciences (BSOS) stands proudly behind the groundbreaking research and training that is taking place in the NACS Graduate Program. BSOS students are encouraged to consider how they can utilize research to enhance their studies within the college.
Below are some examples of the groundbreaking neuro- and cognitive science research that is taking place at the UMD:
Reading and Language Development
Dr. Donald Bolger's research focuses on reading and language development. His efforts aim to improve our understanding of literacy skills in disabled readers. He is considering cognitive training as a way to improve reading, math and reasoning skills. The NACS Program allows him to work collaboratively with faculty in other departments such as Psychology and Kinesiology.
Memory and Brain Development
Dr. Tracy Riggins is examining memory and brain development in early childhood and it's impact on age-related improvements in memory ability. She stresses the importance of memory, calling it the "cornerstone ability on which we build knowledge of ourselves and the world around us." Her research will support the development of prevention and intervention programs for those diagnosed with neurodevelopmental disorders. She praises the NACS Program and attributes her success to the "supportive and stimulating intellectual community."
Origins of Morality
The research of Dr. Melanie Killen revolves around the origins of morality and the context of intergroup relationships. Killen hopes to help others understand the factors that contribute to in-group preference, biases and discrimination in childhood. She indicates that the NACS Program continues to encourage the intersection between natural and social sciences. "As a developmental scientist, I value the potential collaborative opportunities that exist."
Inappropriate Behavior and Reward Prediction
The research of Dr. Matthew Roesch sheds light on one's "capacity to inhibit inappropriate behavior, learn from errors in reward prediction, and make good decisions." Roesch is studying rats with varied deficits to compare neural firing patters and dopamine releases. He believes his research could add to the knowledge of brain circuitry and "the development of pharmacological treatment solutions, behavioral therapy and diagnostic strategies." The NACS Program is abetting boundless thought and encouraging lab work across disciplines; he foresees successful, shared grant proposals as a result.