Earlier this year, geographical information systems (GIS) major Andrew Morris decided to step out of his comfort zone and apply to a summer internship at California-based GIS company Esri--an organization he refers to as "the Microsoft of GIS." Esri builds ArcGIS which is "the world's most powerful mapping and spatial analytics software," according to the company's website. Although he had a guaranteed job as a web developer at a bank close to home, Morris applied to Esri as a "reach internship" because the company is the top software supplier in the GIS field and because he wanted a change of scenery for the summer.
Morris became one of only 120 interns across the nation admitted to the prestigious Esri program. He moved to the Redlands, California, office and began working. Esri primarily uses C++, a language that was foreign to Morris who has worked mainly with Javascript. However, Morris is a former computer science major, so his programming knowledge gave him an advantage. This prior experience paired with his passion for geography allowed Morris to thrive at Esri.
Morris was placed on the ArcGIS Runtime software development kit (SDK) team for Qt/QML. Essentially, he was responsible for creating samples and writing documentation for new versions of the runtime. "If you were writing an application in QML or C++, and you wanted to use Esri services, you would install the runtime to your machine and it would allow you to use all the functions you wanted from ArcGIS," he explained. The next version of the Esri runtime will be released in late-October and will contain most of the samples Morris wrote.
According to Morris, the work environment at Esri encouraged collaboration. Each morning, Morris would meet with the other interns to discuss their assignments, and once a week, he would virtually meet with his Minnesota-based mentor. The employees were not stuck in cubicles which allowed them to openly communicate and help each other. The company's supervisors weren't closed off either, so it was easy to approach them and ask questions--something that was important to Morris. "They understood that this was all a learning experience," he said.
Esri's July User Conference at the San Diego Convention Center was one of the highlights of Morris' summer. About 25,000 people attended the day-long event, and a variety of universities were present to showcase all the research they had conducted using Esri's software. "It was super fun, super informative and interesting to see what everyone is doing with GIS," Morris said.  
When he wasn't in the office of on the University of Redlands campus where he lived, Morris spent time exploring California with the other interns. They became close friends, and traveled to places such as San Francisco, Joshua Tree National Park and even to Las Vegas. Morris said the best part of the summer was simply "the adventure of it all."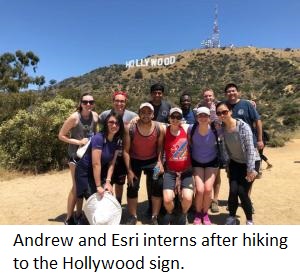 Morris said he originally switched into the GIS major because he was interested in the world around him, and he craved human interaction--something he did not find in computer science. He enjoys learning about the technical application of geography rather than sitting in programming classes. Through BSOS, Morris has "learned how to read maps not only from a scientific point of view but from a career point of view." One of his favorite courses thus far was an I-Series about natural disasters which sparked his interest in weather, city engineering and the preparation for natural disasters.
In the future, Morris said he would love to do work involving transit planning, and he has always been interested in urban geography--a field the GIS major would apply well to. As for Esri, Morris said he admires the company and would consider working there in the future. "Any Terp would be at home there, and the people are super nice and welcoming," he said.