As the sun beat down on Washington D.C. all summer, senior government and politics major Jay Westreich sat inside the climate-controlled offices of the National Center for Education Statistics (NCES) collecting and analyzing data. Westreich was placed at the NCES through a prestigious, nationally competitive Junior Fellows Program, which assigns students to federal agencies for paid summer internships in statistical analysis. He heard about the program through his Joint Program in Survey Methodology minor and felt it would be a beneficial way to combine the minor with his government and politics major.
"In my six and a half years (at this university), I haven't heard of one of our students winning a spot," Director of BSOS Internships Kathryn Hopps said about JPSM Junior Fellows Program.
Westreich could have been placed in a variety of federal agencies such as the National Opinion Research Center, the National Center for Health Statistics, the National Agricultural Statistical Service, the Research Triangle Institute or Pew. He worked with six other interns at the NCES whom he grew close to over the course of the summer--one of his favorite parts of the fellowship.
Westreich spent most of his time analyzing the Common Core of Data which houses information about every public school in the country. He worked closely with an advisor who assigned him specific projects each day. One of his favorites was examining how many teachers in America are covered under Social Security. This research began as a side assignment but grew into a much bigger project.
"The more I dug into it, the more I learned that there's so little information," he said.
Westreich had the opportunity to visit the U.S. Census Bureau to further investigate. At the Census, there was some talk about creating a new pilot survey to ask schools across the nation which teachers are covered, he said.
Each week, the interns participated in seminars taught by professors at the University of Maryland and University of Michigan. The JPSM interns also had the opportunity to visit the offices of the other federal agencies they were not working in. Westreich's favorite visit was to Pew, where the rooms are named after different cities around the world and the walls are covered with murals of data visualization. The politics department at Pew conducts political surveys and is always very busy, according to Westreich.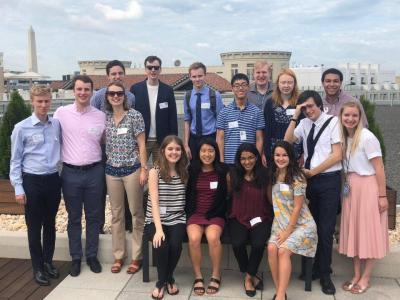 "That is exactly what I want to do," he said.
One of Westreich's biggest challenges of the summer was transitioning from statistical software package Stata, which he learned in GVPT classes, to R which is now a more widely used program throughout the field. GVPT classes have also switched to become more R focused by now, but Westreich said he just missed the curriculum change. The fellowship allowed him to become more comfortable with R and pure computer programming.
Although though he was "dead set" on becoming a lawyer when he entered college, Westreich's newfound interest in survey methodology is leading him down a new path. The New Jersey native first started working with data collection at Princeton University where he surveyed teen relationships over smartphones. This experience, paired with the JPSM minor and the fellowship, has pushed him to pursue different career options.
The various JPSM minor classes about questionnaire design, data collection and data analysis also helped Westreich earn his fellowship. He said it has been beneficial to take classes about each separate step of the survey process. In addition, the introductory government and politics GVPT201 sparked his interest in data.
"It's really just computer programming, and a lot of people come into government thinking they'll just read and write papers, but it's not that at all," he said. "I really enjoyed it, and I think that was definitely something that got me on the path of doing this type of work."