On a bad flight home from a business trip in 1995, BSOS alum Domenic Rignanese (ECON, '71) made himself a promise: When he landed, he would buy a building and turn it into an art gallery. Once Rignanese's plane touched down in Rhode Island, that is exactly what he did. He purchased a rundown establishment in the commercial area of Warwick and worked to refurbish the space. Soon after, he left his lucrative 25 years of work in corporate America behind to pursue this dream.
When Rignanese, a Rhode Island native, ventured to the University of Maryland in 1967 to pursue degrees in mechanical engineering and economics, he had no idea he would later establish Complements Art Gallery- one of the largest art galleries in New England. The first in his family to attend college, Rignanese worked his way through school and was ready to take any side jobs he could find. So, when his fraternity brother told him about a position at an art gallery in Bethesda, Rignanese jumped at the opportunity, despite his lack of interest in art. However, as he and his friend stretched oil paintings at the gallery every Saturday, Rignanese began to grow fond of the art and was surprised by the plethora of customers who entered the store.
After traveling to the National Gallery of Art, Rignanese became hooked on art and was especially infatuated with the quirky work of Salvador Dalí. Rignanese collected so much artwork in his subsequent years at the University of Maryland that when he was moving out after graduation, his parents had to rent a U-Haul to fit all his pieces.
Post-graduation life led Rignanese to a variety of corporate jobs including a position as vice president of a large electronic company. However, his passion for art always remained in the back of his mind. Whenever he traveled for work--too often, in his opinion--he would discuss art with people around the globe. Eventually, he came to a conclusion: "Everyone likes art, but no one wants to go through the effort of buying it."
Rignanese used this revelation to create a unique business model. Instead of encouraging customers to come into his gallery to buy a painting and lug it all the way home only to realize it does not fit or look good in the house, Rignanese decided to bring art to his customers. At Complements Art Gallery, customers can order specific artwork or even simply explain their color preferences, and Rignanese will deliver the paintings directly to customers' homes. He even takes the time to hang the artwork, so homeowners can see how the piece fits into their space.
"It's a very simple business model," he said. "But no one wants to work that hard or work those hours."
Rignanese and his wife work around the clock to accommodate customers' schedules, but the thrill they get from bringing color and life into homes that would otherwise be decorated with ordinary mirrors and posters, is worth all the time and effort, he explained. He enjoys the social aspect of his business and keeps in touch with clients long after he hangs their paintings for them. "Don't go for dollars, go for happiness," Rignanese said, encouraging others to strive for careers that satisfy their lives rather than their bank accounts.
In his opinion, the most important part of his work is to educate clients about art. Rignanese tells clients that art can seem risky, but it depicts a homeowner's personality to anyone to enters the home.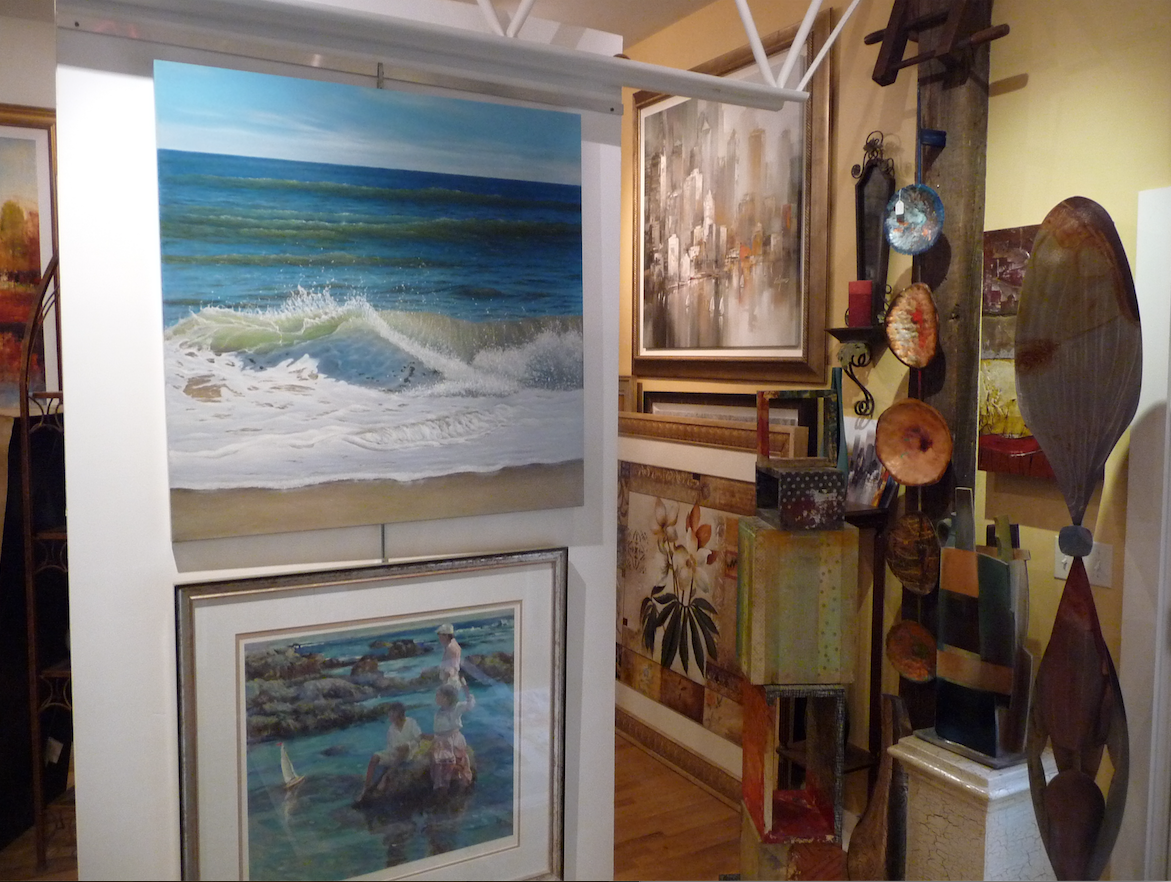 Art galleries have a 95 percent failure rate- the highest failure rate of any retail business- not because people do not like art, but because people who own art galleries are often artists themselves and have limited knowledge about business, Rignanese said. His advice for aspiring entrepreneurs at the University of Maryland is to gain business skills and take advantage of business classes whenever possible because students do not know where their lives might take them.
"You could be the best chef in the world, but if you don't know how to balance a checkbook or hire employees, your restaurant will fail," he said, explaining a concept he discussed with his entrepreneurship students at Johnson & Wales University, where he taught for nine years.
Rignanese said he often encounters art and design school graduates who want to work at his gallery but have limited knowledge about the business aspect of art. In his opinion, too much talent goes to waste when students don't use their school years to become well-rounded.
"College won't give you the right job, but it will give you the right mindset and knowledge to pursue the right job," he added.
Rignanese is still a Terp at heart and credits the university for giving him the skills necessary to pursue a job that not only fulfills financial requirements but fulfills him as a person.
"I still have the paintings I bought from that art gallery in Bethesda," Rignanese said. "The years I spent at Maryland were some of the best of my life, and those paintings remind me of that."