Life has always been a balancing act for University of Maryland alumna Samia Mahbub Ahmad (SOCY, PhD '05, M.A. '94): whether it's balancing her time between homes in Bethesda, MD, South Africa and India, or balancing family responsibilities with the demands of a professional music career.
"Balance is one of the key ingredients in our lives," Samia said.
One thing that has always brought balance to Samia's life is her love for Hindustani classical music. A complex genre with a rich history dating back more than 5,000 years, Hindustani music is known for the unique way in which it organizes melodies and rhythms—known as the raga and tala—against the backdrop of a consistent pitch, called a drone.
"Hindustani music is not only a powerful genre in itself but also provides a powerful, overarching framework," Samia said. "If trained properly in the classical field, one can reach out to many other genres of music in South Asia and beyond."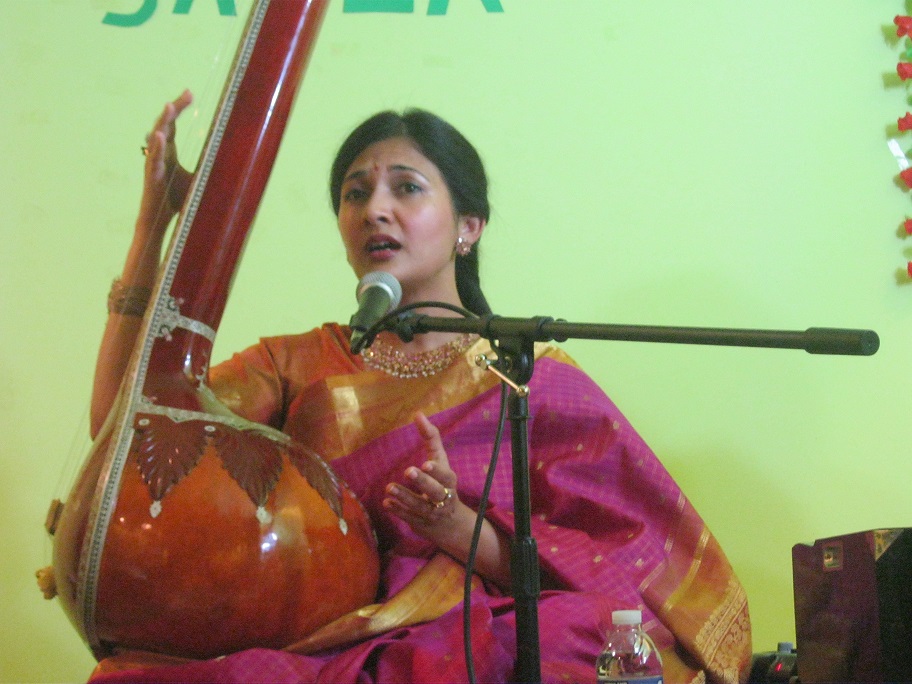 For the past 20 years, Samia has been a professional performing and teaching artist of Hindustani classical music. She has traveled the world, won numerous awards and performed for high-profile individuals including Archbishop Desmond Tutu, and former President and First Lady Jimmy and Rosalynn Carter. Known primarily as a vocal artist, also plays the tanpura, a long-necked string instrument, as well as the harmonium, a wind keyboard instrument similar to an accordion.
Despite her lifelong passion for music, Samia was not always certain she would pursue it professionally. She also harbored a natural curiosity for sociology starting at a young age while growing up in Bangladesh and received her bachelor's degree in the subject from Dhaka University (Bangladesh). In the early 90s, she relocated to Washington, D.C. with her 10-month old daughter and husband, where he was offered a job at the World Bank. Samia then decided to pursue a master's and Ph.D. in sociology from UMD.
"Within the field of social sciences, I find sociology to be a rich confluence of several disciplines: economics, social psychology, demography, gender, social stratification, ethnicity and more. This multi-disciplinary and inclusive nature of sociology presented me with a lens to view the world more holistically," Samia said.
As her degree completion drew to a close Samia found herself at a crossroad: She had to choose whether to continue on in academia as a sociologist or to devote herself full-time to her music.
"I decided to take an unconventional path to explore teaching, performing and recording for a year to see how it evolved. To my surprise and delight, the music practice flourished, and I ended up not looking back," she said. "Even more powerful was the realization that I never actually stopped being a sociologist."
Samia sees important parallels between her dual passions for music and sociology. For her, both are about connecting to people across boundaries.
"The universal language of music upholds a spirit of unity, in spite of differences in languages, ethnicity, race, culture or religion. Music celebrates commonalities in the midst of differences," she said.
Today, Samia divides her time between India and Maryland, residing in each location for four months at a time. She follows a strict regimen of practicing her craft at least three hours a day and teaching three to four lessons a week. In the midst of it, Samia continues to stay in touch with wonderful friends she made while studying at UMD and to remain connected to the university overall through alumni events, performances and master classes.
As for the future, Samia hopes to widen her practice of music to forge a partnership with health practitioners who incorporate music to provide therapy to people faced with mental, physical and emotional challenges to help them cope and relax.
"As I said, I believe music has an inherent ability to bring balance in our lives," she said.