Ever since she was 10 years old, Alexis Carpinteri knew she wanted to work for the FBI. Although her brothers and step-brothers told her "girls don't do that," she set out to prove them wrong.
The Rockville native enrolled in the University of Maryland in 1989 as a criminology major. She quickly immersed herself in the college community by joining a sorority, Maryland Images and a plethora of other organizations. Carpinteri said the school's well-rounded student body and academics prepared her well for her career.
After graduating, she earned her JD from Georgetown University as well as her master's in forensic psychology from Nova Southeastern University. With her law background, she began interning with the FBI. As she learned more about the organization, Carpinteri said she fell even more in love with it.
"I don't think I realized how important the issues the FBI deals with are," she said. "It's all about keeping people safe."
She began working as an agent and focused on investigating crimes such as bank robberies. Soon, Carpinteri realized there is a huge range of specialties for agents within the FBI, and she eventually decided to switch her focus to crimes against children.
She dedicated many years of her life to studying these crimes. Even when her demanding career sometimes kept her from being home with her own children, she said she still felt good knowing she was saving the lives of other children.
"When we investigate a certain topic we learn everything there is to know about it," she said. Using her extensive knowledge about crimes against children, Carpinteri contributed to a book entitled "Commercial Sexual Exploitation of Children" which analyzes the domestic and commercial exploitation of children. The book was published in 2014. She has also acted as an expert witness for crimes against children in court.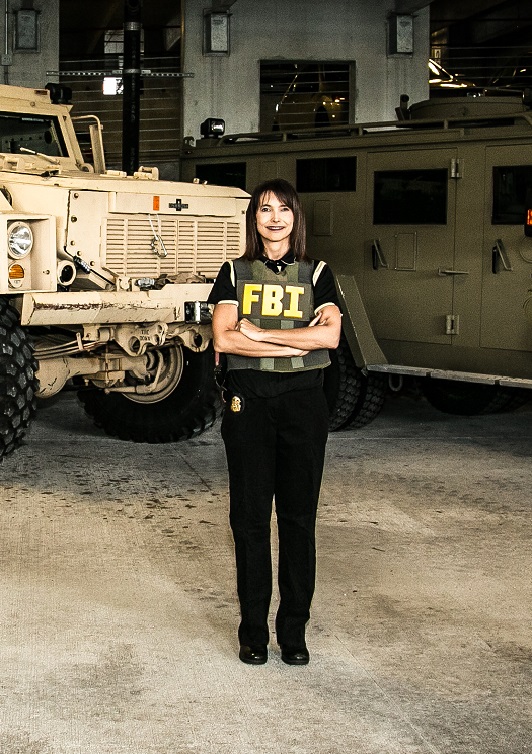 It's important for FBI agents to be curious and eager to learn about a wide variety of topics. Not only should agents be well-educated and physically fit, they should also be mentally and emotionally prepared for the often taxing work, Carpinteri said.
Now, Carpinteri works as an FBI recruiter and said finding the next generation of FBI agents is of utmost importance to her. While many criminology and law students approach the FBI for employment, Carpinteri has to actively seek out students with other majors to make the organization more well-rounded. She was shocked when she realized the high demand for STEM majors in the FBI.
Carpinteri advises students interested in the FBI to make good choices in college because their decisions as young adults can follow them throughout their careers. She also encourages students to become active members of their society. The FBI looks to see whether candidates can handle all aspects of life.
"Get involved, be a leader and give back to your community. Don't just sit in a dorm room and get a 4.0," she said. "Find what you're good at and be a rockstar."