When he was the speaker of the legislature for the University of Maryland Student Government Association, Byron Macfarlane ('05 GVPT) had no idea he would soon become one of the youngest people on the Howard County Democratic Central Committee and the first openly gay person elected to public office in Howard County.
Since high school, Macfarlane knew he wanted to be involved in government. He remembered being inspired when a teacher told him, "Don't let the future happen without you." From then on, he has dedicated himself to serving his community through a variety of government positions.
Throughout his time at the University of Maryland, Macfarlane not only worked with the SGA, but he was also an active member of the Maryland Democrats, the Maryland Student Legislature and more. Macfarlane said he was shy as a child, but the SGA helped him practice public speaking and gain more confidence in himself.
"Maryland gave me every opportunity to grow as a leader," Macfarlane said of his time as an undergraduate.
Upon graduation, he worked as a legal assistant to a state delegate and then decided to enroll in law school at the University of Baltimore. He said the most challenging part of law school was trying to balance his studies with his involvement in Howard County politics.
Macfarlane grew up in Howard County and spent time on the Democratic Central Committee while working toward his law degree. Despite his continued government involvement and busy schedule, Macfarlane graduated from law school in just two and a half years.
For any Maryland students interested in pursuing careers in government or politics, Macfarlane explained there are many career options outside of the hustle and bustle of Washington, D.C. He suggested students look into local or state government to gain more experience and "sink their teeth into public service" quickly after graduation.
Macfarlane worked with the federal government for a period of time after graduating from high school as well but said he prefers working with people and exercising his interpersonal skills in state government more than sitting behind a desk on Capitol Hill.
So, sticking to his roots, Macfarlane ran for the position of Howard County Register of Wills and was elected in 2010. The position is about serving the public and walking them through the sometimes difficult legal processes that occur after a death, he said. The most important part of the job is to proficiently explain the Maryland laws while remaining sensitive to clients during their time of mourning, he continued.
"First and foremost, it's about providing compassion and professionalism," Macfarlane said.
Macfarlane was recently elected to his third term as Register of Wills, and he said his main goal moving forward is to make the grieving process more efficient and less expensive for all people. To accomplish this goal, he has turned to technology.
Thanks to Macfarlane, people can now download and pay for their public records online with a credit card rather than taking the time and effort to travel to his office to obtain records. Also, he wants to implement the use of video conferencing technology, so his office can more easily connect to clients with mobility issues.
The Register of Wills position has allowed Macfarlane to meet colleagues in other counties around Maryland. Macfarlane takes pride in his community involvement and expressed interest in working in a position with similar statewide emphasis in the future, such as state Comptroller.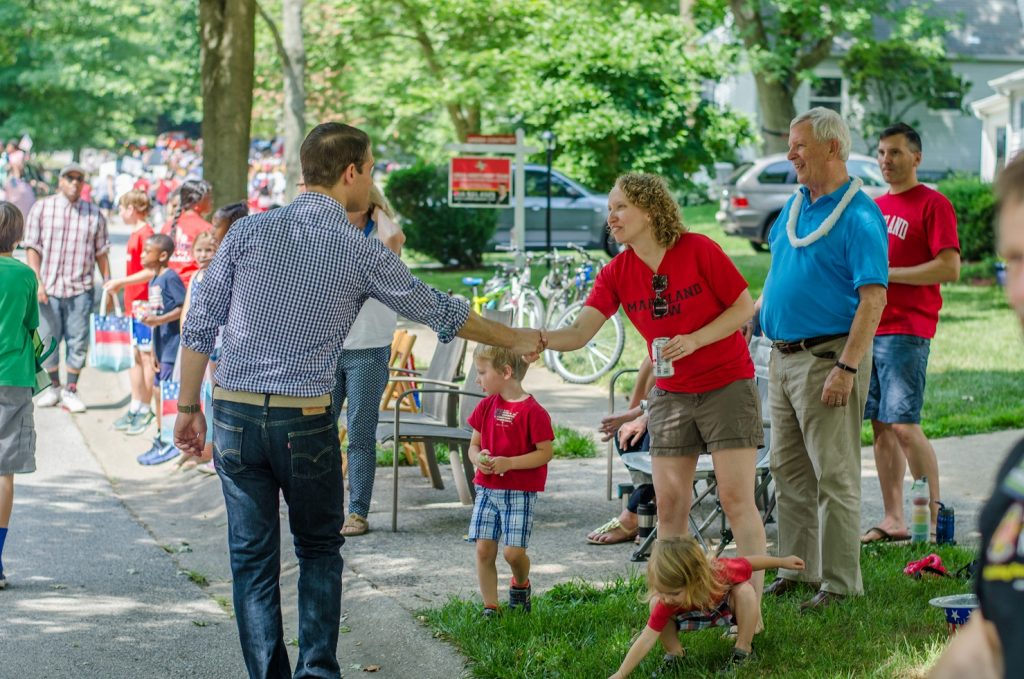 In addition, he is passionate about diversity and encourages young voters to elect government officials who reflect the diversity of the county or state. "My office had never had a person of color, but now 50 percent of my office identifies as a person of color," he said.
Macfarlane said he was initially drawn to the University of Maryland because of its diverse student body. He said he wanted to escape the homogeneity that surrounded him growing up in Western Howard County.
"Maryland students are used to diversity, so try to bring that to the government," he advised students.