Finding a Place in History: Anthropology Alumna Documents LGBTQ Heritage Sites for National Park Service
If you ask most Americans to name places historically significant to the LGBTQ community, some could likely come up with the Stonewall Inn in New York, the site of the 1969 riots considered the catalyst for the modern gay rights movement, and perhaps locations like the Twin Peaks Tavern or the Castro District in San Francisco.
Megan Springate (ANTH MA '15, PhD '17), however, can tell you about spots in every state that played important parts in the story of LGBTQ Americans through the years: Places like the UpStairs Lounge in New Orleans where 32 members of the gay community died in what many believe was an arson attack in June of 1973; the coffee shop in Alaska where LGBTQ people met in the 80s and 90s; or an office in Puerto Rico that housed the territory's first gay organization, founded in 1974 and inspired by Stonewall.
"There were places in big cities, little cities, small towns, rural areas, just everywhere," Springate said. "I knew LGBTQ history was American history, I knew it in my head, but looking at the map really brought it home to me."
Springate discovered these locations and their significance to LGBTQ history as an intern at the National Park Service (NPS) while she was working on her PhD in anthropology at the University of Maryland. At the time, only five places were listed on the National Register of Historic Places for their association with LGBTQ heritage. Springate's work in 2012 began where NPS work left off two years prior, with a list of a few dozen places that might be eligible for inclusion on the Register.
Springate reached out to leaders, archives, and members of communities across the country. In doing so, she discovered records of typed pamphlets from the 1940s and 1950s, and later, published guides that detailed places LGBTQ people could go without fear of discrimination. These were similar to the Green Book used by African Americans during the Jim Crow era.
"That any of them survived is amazing, because if anyone was found with them, especially in the early days, cops would assume you were queer and arrest you," Springate said.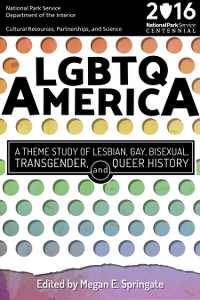 The Power of Place
In all, Springate compiled a list of more than 750 sites relevant to LGBTQ history and created a map to go with it. Shortly after her work was finished, the Gill Foundation donated money to the National Park Foundation to complete a theme study of LGBTQ history in America for the NPS. They asked Springate to lead the project. What resulted was a 1,200-page document, freely available on the NPS website, which provides a broad overview of LGBTQ history connected to physical places in the U.S.
"Place is a very important touchstone for communities," Springate said. "There's something very powerful about being at the place where something significant happened. It's almost like a pilgrimage."
The theme study, published in 2016, marked the first time a federal government anywhere in the world officially documented LGBTQ history and laid the groundwork for people to recognize and preserve LGBTQ heritage sites, including by going through the process of adding them to the National Register.
Since that publication, numerous places with LGBTQ history have been added to the Register: the Women's Building of San Francisco; the First Unitarian Society of Denver, Colorado; the Furies Collective House in Washington, DC; Whiskey Row in Louisville, Kentucky; the Bayard Rustin Residence and the James Baldwin Residence in New York City; and the Edificio Comunidad de Orgullo Gay (Casa Orgullo) in San Juan, Puerto Rico. The Pauli Murray Family Home in Durham, North Carolina and the Henry Gerber House in Chicago, Illinois have also been designated National Historic Landmarks – places with exceptional national significance. Stonewall has also been designated a National Monument and become a unit of the National Park Service.
Springate's journey documenting these historic spots has also turned her into somewhat of a celebrity within NPS and the field of archaeology. Often, when she attends meetings and conferences, people come up to thank her, hug her and sometimes weep openly.
"Almost every LGBTQ person I knew remembers being alive when the government was out to get us—we couldn't serve in the military, couldn't adopt kids, could be fired for just being who we were," she said. "To have the NPS then want to look at LGBTQ history in the U.S. was just incredible. The power of being seen and to have your story told is amazing."
Looking Back to Move Forward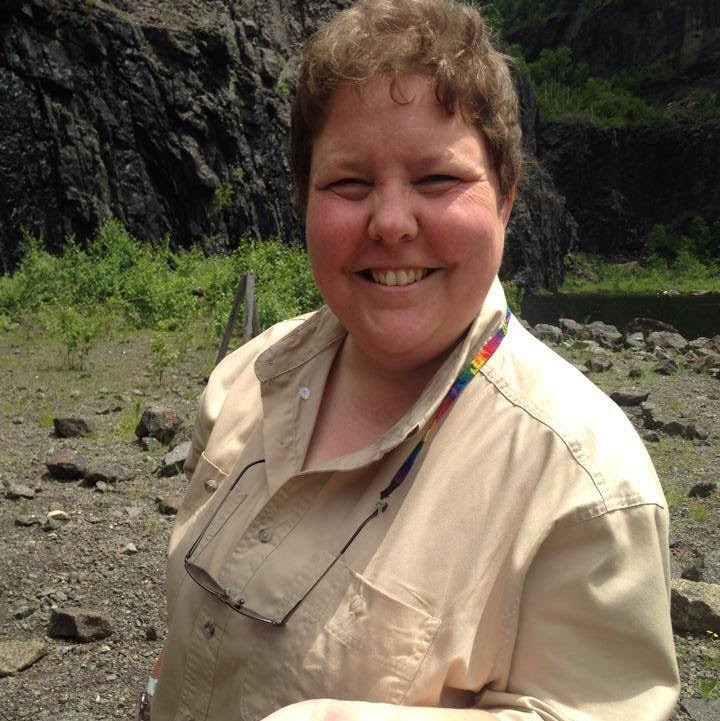 Springate still works at the NPS today but has shifted her focus to coordinating the agency's efforts to commemorate the centennial of the 19th Amendment to the U.S. Constitution, which enshrined the right for women to vote. While it's important to celebrate this watershed moment in history, Springate says the NPS also wants to highlight the plights of women who remained shut out from the polls after the amendment's ratification, including Native Americans, African Americans and Asian Americans.
"If the NPS represents all Americans, then we need to tell all Americans' stories," she said.  
Telling the stories of people often left out of history is what attracted Springate to archaeology in the first place during a10th grade field school trip in her hometown outside of Toronto, Canada. It's also what eventually drew her to the Department of Anthropology at UMD.
"There is an emphasis (at UMD) on the applied anthropology, not just about academics. It's not just about archaeology for other archaeologists, it's about using archaeology for the greater good in terms of what communities want and need and how we can learn from the past to help us look forward in a more understanding way," Springate said.
Looking back at her time at UMD and her path to the National Park Service, Springate says she never could have imagined where her journey would lead. For Terps currently studying anthropology and archaeology, she advises them to seek out multiple mentors and a support system, and not to be afraid to find them from different departments or universities.
"Find the people who are going to share the secret handshakes and find those doors to open and who are going to support your work and help you think differently about things and find them wherever you can," she said. "Also, tell anybody who will stand still long enough what you're working on. You don't know who knows who knows who."
Finally, she says, "Imposter syndrome – that feeling that everyone is smarter than you, and that you don't belong in your program – is real, and I guarantee you're not the only one feeling it. Don't be afraid to talk about it with others. There is great relief in shared experience."