As the executive vice president of Monster Worldwide's Monster Government Solutions, Steve Cooker (GVPT '77) is frequently called upon to speak in front of hundreds, even thousands, of people. However, when it came to addressing graduates at the Department of Government and Politics' May 20th commencement ceremony, he admitted it was "a bit scary."
"It's just a little bit out of my realm," Cooker said beforehand. "I'm feeling the pressure."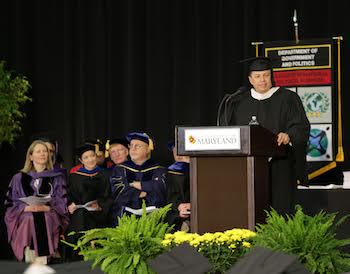 Part of the reason Cooker was anxious about his speech is because of the intense pride he has in his alma mater and an appreciation for how it helped shape his career. Raised in a small town in southern New Jersey, Cooker said he knew the University of Maryland was the place for him immediately following his first visit to College Park.
"I absolutely fell in love with the university," he said. "I thought the Government and Politics program was fantastic. It was close to Washington, DC and that provided access to our federal government. It's a government town and the university was at the center of that for me." 
While studying at UMD, Cooker became involved in student government and a fraternity and always had a keen eye for business opportunities. For instance, Cooker arranged it so that his fraternity could raise money by cleaning up the football stadium following Saturday home games. The only catch was that he and his brothers had to report to the stadium by 7 a.m. on Sundays.
"My job on Sunday mornings was to make sure we showed up," Cooker recalled. "I would have to turn the fire alarm on to get everyone up. Even that wasn't enough. I had to go around and bang on doors."
Cooker considered law school after graduating with his bachelor's degree from UMD but his interest in business ultimately led him to a job at IBM. Throughout his career, Cooker has held positions within the technology sector while always working closely with government agencies. Now, in his role at Monster Worldwide—a global talent platform connecting jobs to people—Cooker splits his time between offices in Boston, New York, London and Washington, D.C. Additionally, he oversees the Commercial Solutions business as well as Military.com, the largest online news and information resource for active duty and transitioning service members, veterans and their families. 
"I have always been attracted to taking a policy and converting it into an on-the-ground solution," Cooker said. "The critical thinking I learned at Maryland has prepared me for everything I've done as an adult."
Since receiving his degree, Cooker has remained a strong supporter of the College of Behavioral and Social Sciences. He is a current member of the College's Board of Visitors and regularly supports various programs and initiatives.
While he may have been slightly nervous about speaking to the Class of 2016, he was unwavering in the message he wanted to leave them with: "Know your X-factor--what makes you unique," he said. "Follow your passions and look for work that's meaningful to you."