Faiza Raja, a senior psychology major, will serve as the student speaker for the College of Behavioral and Social Sciences' Winter Commencement on December 20.
Although Raja has racked up numerous accomplishments during her time at UMD, she was surprised to be selected for this specific honor.
"I honestly didn't expect it because they had so many people to choose from, and when you go to such a big university it is so hard to think 'Iam going to stand out,'" Raja said. "There are so many other students that have good grades and other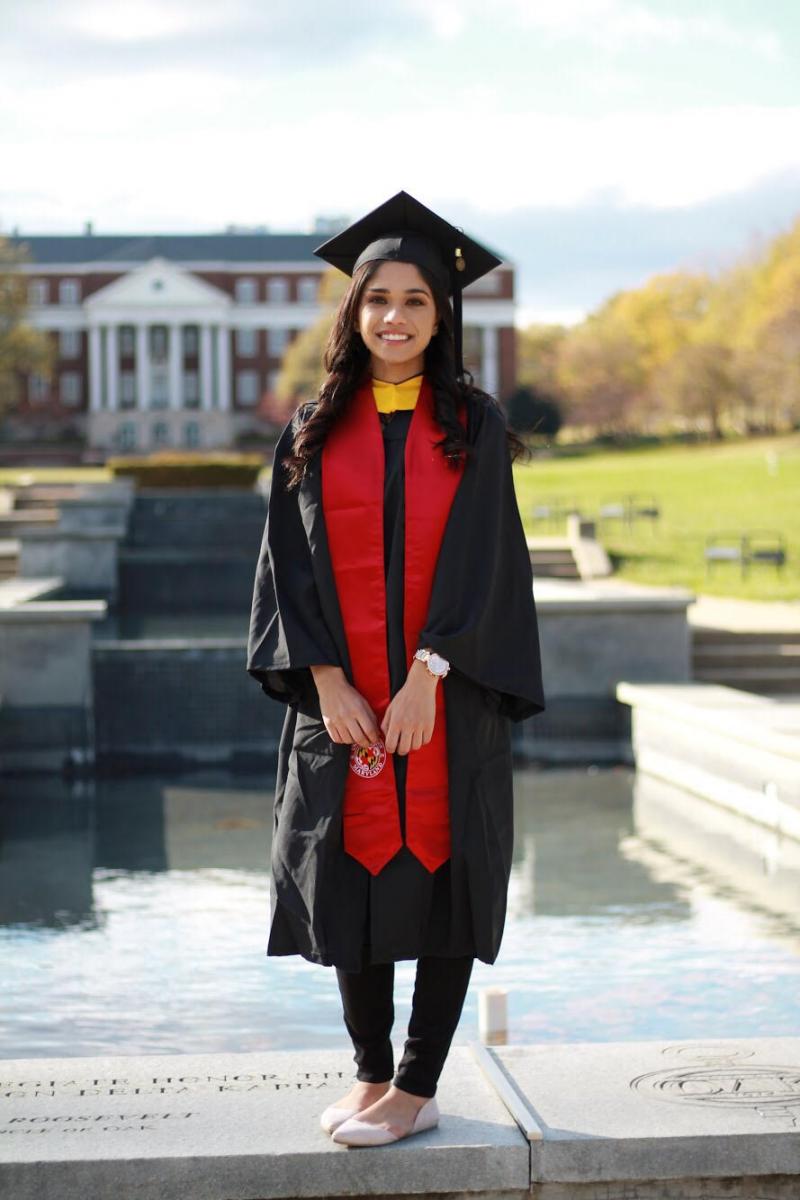 accomplishments. So I was very honored."
Raja's academic excellence gained her a position as a teaching assistant for Professor Nazish Salahuddin's class, Cross-Cultural Psychology (PSYCH354) for two semesters. Additionally, she keeps busy with her job at Life Fitness Physical Therapy and volunteering as a medical assistant at a clinic in Silver Spring, MD.
Many students who want to go into the medical field choose biology or pre-med for an undergraduate degree, but Raja chose psychology--a decision she doesn't regret.
"I feel like psychology gives you a completely different viewpoint on how to approach an individual and a patient," Raja said. "You aren't just looking at a patient based on their diagnoses, which is important, especially for patients that aren't compliant."
Throughout her time at UMD Raja has been involved in several clubs and organizations including: MSA, club softball team, and Pre-PA club. All of these experiences provided her with fond memories and academic guidance.
"Being in Pre-PA club was nice because we all shared the same goals and it is nice to talk to someone a little older who can tell you what classes are good to take or what schools would be good to apply to," she said. "Club softball also allowed me to have some fun, do something for me and de-stress a little."
Raja credits the BSOS faculty and staff for helping her achieve her goals.
"I feel like the advisors and the faculty actually really care for you. Anytime I had a problem with anything I always had people there," she explained. "These aren't people that will check the clock and wait for the next appointment. They are people that will run overtime and miss the first ten minutes of their meeting because they were there to help you."
After graduation, Raja will be attending Thomas Jefferson University for Physician Assistant school.