Normal
0
false
false
false
EN-US
X-NONE
X-NONE
/* Style Definitions */
table.MsoNormalTable
{mso-style-name:"Table Normal";
mso-tstyle-rowband-size:0;
mso-tstyle-colband-size:0;
mso-style-noshow:yes;
mso-style-priority:99;
mso-style-parent:"";
mso-padding-alt:0in 5.4pt 0in 5.4pt;
mso-para-margin-top:0in;
mso-para-margin-right:0in;
mso-para-margin-bottom:8.0pt;
mso-para-margin-left:0in;
line-height:107%;
mso-pagination:widow-orphan;
font-size:11.0pt;
font-family:"Calibri",sans-serif;
mso-ascii-font-family:Calibri;
mso-ascii-theme-font:minor-latin;
mso-hansi-font-family:Calibri;
mso-hansi-theme-font:minor-latin;}
Recent graduate Josh Wesnidge isn't afraid of the unknown; in fact, he will spend the rest of his life honoring it.
Before arriving at the University of Maryland in 2016 to study Criminology and Criminal Justice, Wesnidge served for three years in the U.S. Army stationed at Fort Myer, Virginia. During most of that period, Wesnidge served as a Sentinel at the Tomb of the Unknown Soldier in Arlington National Cemetery. While visitors to Arlington National Cemetery may be familiar with the Sentinel's crisp uniforms, unfailing composure and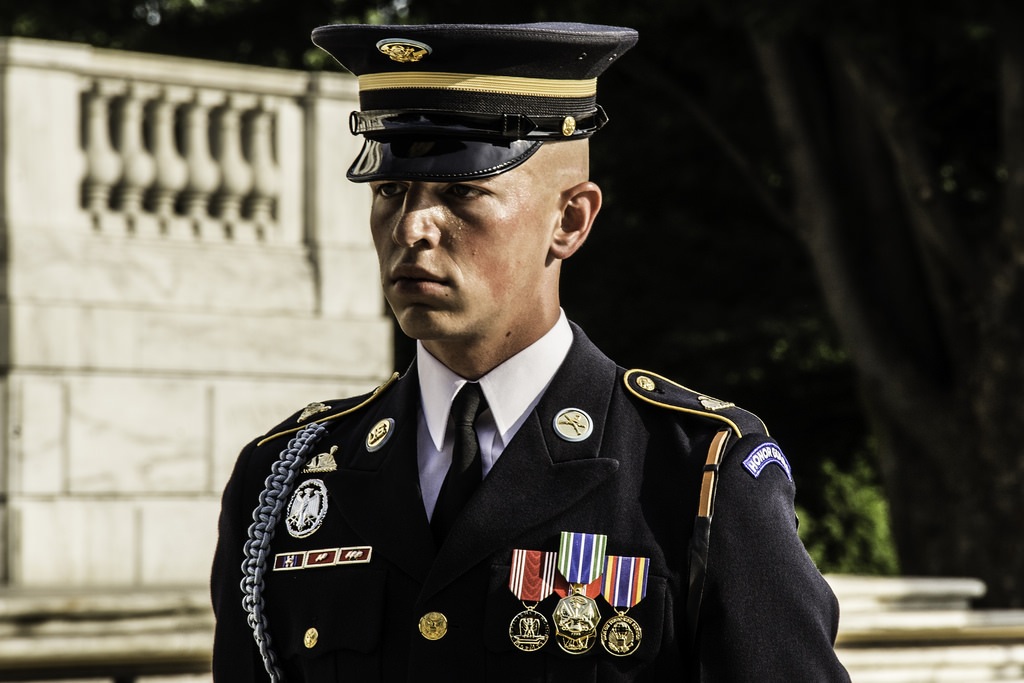 meticulously measured steps as they patrol the Tomb day and night, Wesnidge knows first-hand that the position involves much more.
"Serving at the Tomb came with a lot of pressure: Not only pressure that may be obvious, like not messing up the guard change or a wreath-laying ceremony, but also inward pressure that came with guarding the Unknown Soldier himself, which is a tremendous honor," Wesnidge said. "Because the Unknown Soldier gave literally everything they had, even their own name, they deserve the highest standards and utmost respect."
Becoming a Sentinel requires eight to 10 months of intense training during which soldiers become experts on uniform preparation and must memorize 17 pages of Arlington National Cemetery history, including significant grave locations of more than 100 veterans buried there. They also must master the precise 72 beats-per-minute cadence observed while walking on duty at the Tomb, as well as the intricate details of the famous Changing of the Guard ceremony. After meeting the training requirements and passing the final "Badge Test," the Sentinel is awarded the Guard, Tomb of the Unknown Soldier Identification Badge,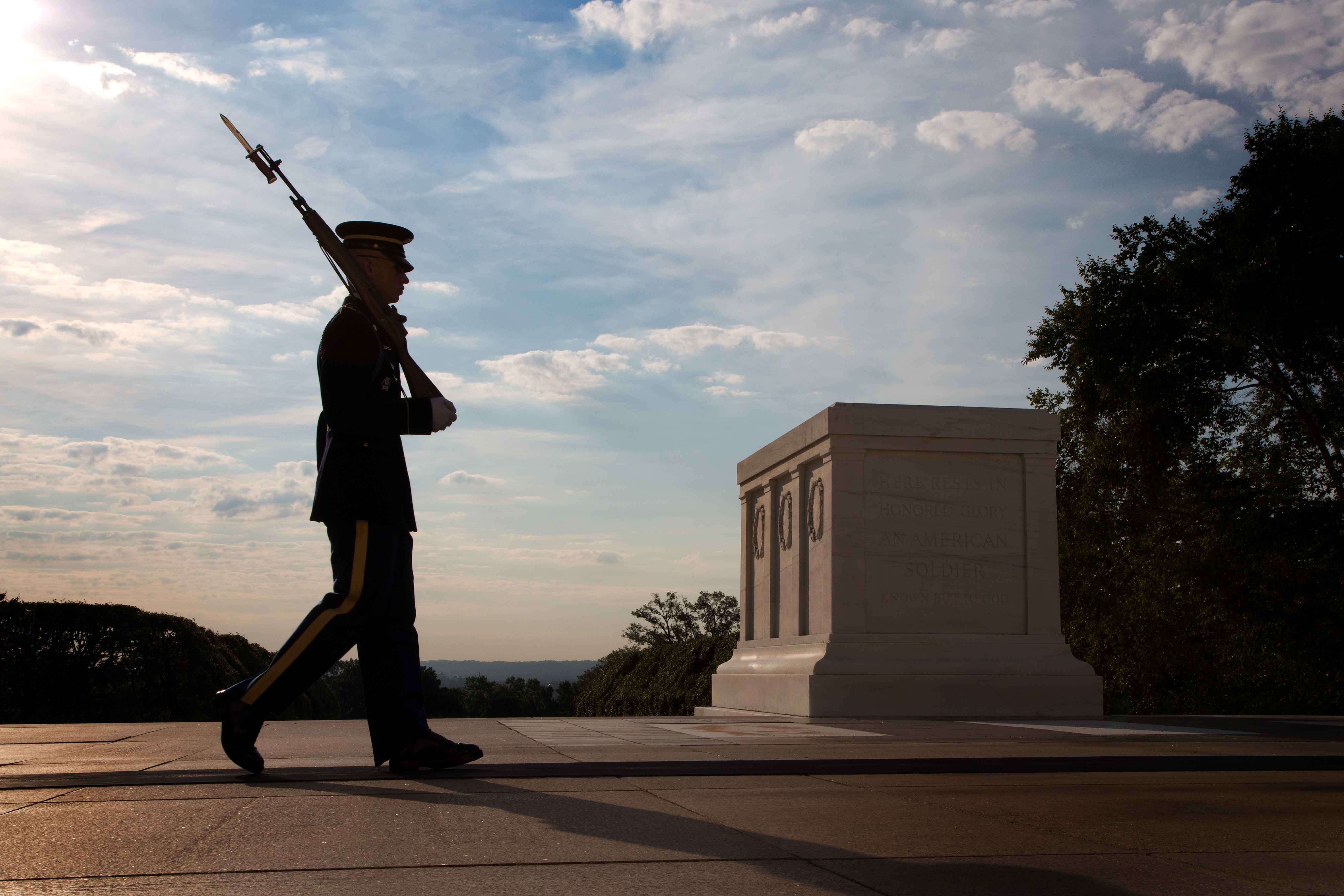 the only military badge that can be taken away from a soldier after he or she leaves the Army. Sentinels are expected to uphold the personal standards of the position for the remainder of their lives.
"I believe that serving at the Tomb of the Unknown Solider set the bar so high for my life after I left the Army," Wesnidge said. "Character traits like self-discipline and self-respect that I gained during my time as a Sentinel have been carried with me ever since."
Honoring Loved Ones
After completing his service, Wesnidge received his associate's degree from Montgomery College and then applied to the University of Maryland. He said he was initially attracted to UMD because of the obvious school pride exhibited by students on campus.
"When I first visited UMD, I noticed how so many students were wearing Terp gear and Maryland colors," Wesnidge said. "Coming from the Army, where pride in one's work, unit and branch of service is very important, I naturally saw UMD as a school that I would be honored and proud to attend."
Before arriving on campus, Wesnidge had already chosen to major in Criminology and Criminal Justice—a decision unfortunately motivated by personal tragedies. A family member struggling with drug addiction spent much of Wesnidge's childhood in and out of prison, causing Wesnidge to question substance abuse policies and their effect on the U.S. criminal justice system. 
Additionally, only a few weeks before his first semester at UMD, Wesnidge's cousin, Tyler, was murdered near his hometown in Oklahoma. The murderer was ultimately arrested, tried and sentenced to life in prison without the possibility of parole.
"My cousin's murder really made my interest in criminal justice much more personal," Wesnidge said. "I believe that I will have a much more in-depth understanding of what people and their families go through when they become victims of a violent crime."
Wesnidge received his bachelor's degree in Criminology and Criminal Justice at the College of Behavioral and Social Sciences' Winter 2017 Commencement. In the fall of 2018, he will begin the next phase of his academic life as a full-time law student at Georgetown University. Wesnidge hopes to become a prosecutor after receiving his law degree and aspires to eventually work as a U.S. Attorney or judge.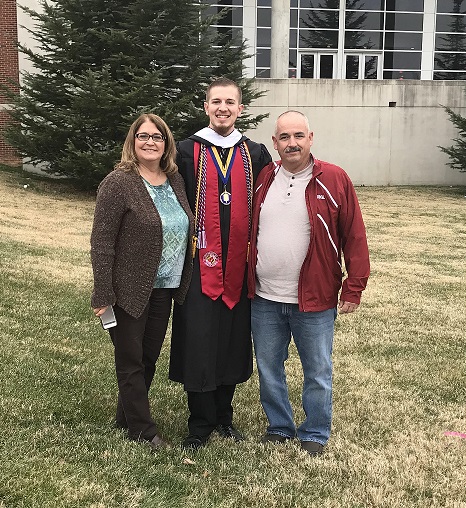 Wesnidge says his time at UMD prepared him for the future more than just academically, by encouraging him to step outside of his comfort zone to take risks and gain new experiences. He advises fellow Terps to "always give that little bit of extra effort."
"For example, if the class is silent when a professor asks a question, be the one to answer it. Even if your answer is wrong, your professor will take note that you're engaged in the class and are interested in the material," Wesnidge said. "Even though it may not seem like it, college does fly by and before you know it, it will be over."