When Margaret Moose Swallow (SOCY '75) looks back on her life journey so far, she can point to a number of significant events that shaped her path—one of which was receiving a scholarship to study at the University of Maryland.
"Going to Maryland was a dream and it wouldn't have happened without that scholarship," said Moose Swallow, who grew up in Silver Spring, Md. and was the second oldest of nine children in her family.
When she arrived on the College Park campus, Moose Swallow wasn't sure how she would ever decide on a major, with so many interesting options available. Eventually, she chose sociology because of its focus on people and a flexible curriculum that allowed her to take a number of elective courses.
Moose Swallow says she "took advantage of every opportunity" during her four years at UMD—writing for The Diamondback, interning nearly every summer in Washington, DC with various government agencies, hanging out on the mall, cheering on the Terps in Cole Field House and "just working really hard." Then, in her senior year, came another pivotal moment: A professor suggested she apply to Harvard Business School.
"I thought it was more likely I would go to the moon," Moose Swallow said. "I never would have considered it but I said, 'why not?'"
Moose Swallow was accepted to and eventually graduated from Harvard Business School. Afterwards, she worked in marketing for multinational consumer goods corporation Procter and Gamble (P&G). During her 23 years with the company, she became heavily involved in the global coffee industry (P&G owned Folgers at the time) and came to recognize the positive impact big business can create in the world.
"No company is perfect, but I know from my personal experience that big companies can be an enabler of social change," Moose Swallow said.
Java Journey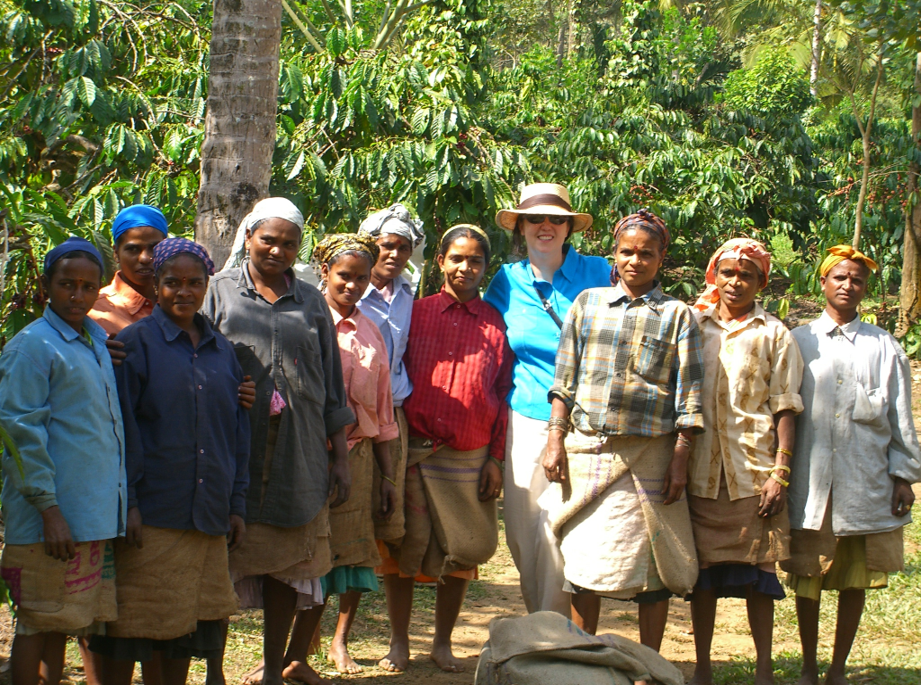 When Moose Swallow retired from P&G in 2002, she went to work for the Coffee Quality Institute (CQI)—a non-profit organization that works to improve the coffee industry and the lives of the people who produce it. Her work at CQI required her to travel to coffee farms in Central America, South America and Africa, where she discovered how many women worked in the industry, but how few of them held leadership positions.  
"My passion for coffee came from seeing the role that women play and wanting to help them in some small way have a stronger voice and improve their lives and the lives of their families," Moose Swallow said.
That passion combined with her career experience led Moose Swallow, along with five other women, to create the International Women's Coffee Alliance (IWCA) in 2003. The IWCA seeks to empower women working throughout the coffee industry by creating and supporting a network of women-led chapters across the globe. To date, the IWCA has 22 chapters in coffee-producing companies around the world.
Moose Swallow is also sharing her joy for the java industry with fellow Terps. She created a scholarship for students to participate in an Alternative Break course at a coffee farm in Guatemala. It's her way of giving back for the scholarship that shaped her own life.
"Thanks to that scholarship, I had the chance to do things I never thought possible," Moose Swallow said.
For Terps looking to make their own mark on the world, Moose Swallow says; don't overthink it.
"Whatever you do, you can help create change on some level," she said. "It might be as simple as being a resource or a coach or a mentor to help someone else. Trust me, there's a way to the world make a better place wherever you are."